Indie Focus: Getting started with the Golden Globes, 'New Year, New You' and 'Art of the Real: Los Angeles'
Hello! I'm Mark Olsen. Welcome to another edition of your regular field guide to a world of Only Good Movies.
This week's newsletter will be arriving in inboxes on the morning of the Golden Globes, which typically proves to be one of the more free-wheeling nights of awards season even if (or perhaps because) the award winners are chosen by an oddball assortment of foreign journalists.
Glenn Whipp provided this rundown of five things to look for in the show, including how many speeches Bradley Cooper may get to make accepting awards for "A Star Is Born." As Whipp wrote, "This year's Golden Globes ceremony arrives the day before academy members begin voting for Oscar nominations, providing the evening's winners with a spotlight and megaphone to remind everyone of their worthiness, charm and, in the case of Christian Bale, a visual sign of the extreme measures he took to portray Dick Cheney."
"Roma" is nominated for three Globes and The Times' Carolina Miranda recently spent time with filmmaker Alfonso Cuarón in Mexico City, talking about the architecture of the neighborhood where Cuarón grew up and the movie was also shot. The movie's story focuses on the life of the live-in nanny to an upper-middle class family and is based on the filmmaker's own experiences growing up. Writing the screenplay caused him to see many things in a whole new way.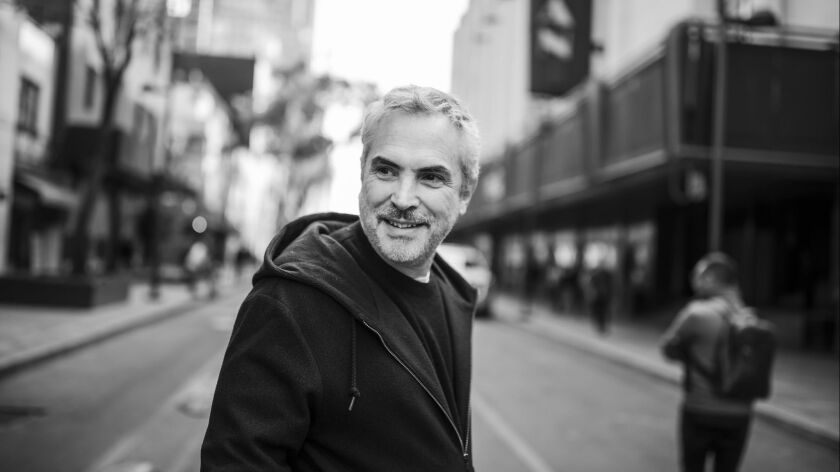 "It was a whole reconsideration," Cuarón says. "Not only seeing all of these layers of her, but, inevitably, the immense pain that it gave me that I had never stopped to consider those things — and in someone that I love."
For our entertainment podcast The Reel, I spoke to Carolina about her trip to Mexico City to interview Cuarón.
Ethan Hawke's performance in "First Reformed," has picked up numerous critics' prizes but did not earn him a Globe nomination. In the film, written and directed by Paul Schrader, Hawke gives a quietly anguished performance as the minister of a small parish having a crisis of faith.
Justin Chang wrote a career appreciation of Hawke. Of his turn in "First Reformed," Chang wrote, "There is more going on here than an actor submitting to an austere makeover or being cast successfully against type… The key to Hawke's performance is that it feels even more wrenching, more truthful, when seen in light of his past work, which is to say the emotional history we bring with us to every new performance by an actor we love.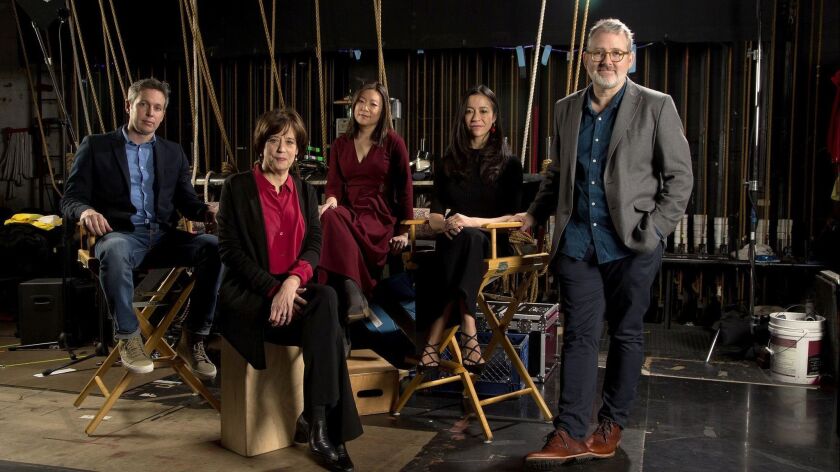 The Globes do not have a category to recognize documentaries, which seems especially outrageous in what has been an extraordinarily year for non-fiction filmmaking. The Times' Amy Kaufman recent hosted a documentary roundtable conversation with Betsy West, co-director of "RBG"; Morgan Neville, director of "Won't You Be My Neighbor?"; Elizabeth Chai Vasarhelyi, co-director of "Free Solo"; Tim Wardle, director of "Three Identical Strangers"; and Sandi Tan, director of "Shirkers."
As Neville said of the recent box-office boom for documentaries, "We're making the kinds of films you don't see that much anymore, which are adult, hopefully smart, entertaining films that engage with the real world. There's just a hunger for those types of stories that people aren't finding in scripted fare."
On Monday night, there will be a screening of "Won't You Be My Neighbor" followed by a Q&A with Neville moderated by the LA Times' Lorraine Ali. For information on upcoming events as part of our Envelope Live series, go to events.latimes.com/screenings.
We'll have new screening and Q&A events of our own soon. For info and updates on future Indie Focus screenings, go to events.latimes.com.
'NEW YEAR, NEW YOU'
Having recently premiered on Hulu as part of the Blumhouse-produced, holiday-themed horror anthology "Into The Dark," the movie "New Year, New You" is the latest from filmmaker Sophia Takal, a vibrant voice from the independent scene. Set on New Year's Eve, the movie stars Suki Waterhouse, Carly Chaikin, Kirby Howell-Baptiste and Melissa Bergland as four old friends who reunite to spend New Year's Eve together. Soon past rivalries, current jealousies and unhealed wounds cause the night to take a turn.
The Times' Sonaiya Kelley recently spoke to Takal about the project. Though her previous films such as "Always Shine" have played with the conventions of genre, Takal spoke about the shift to making a straight-on horror movie. As she said, "I think that something that's really exciting for me about working in this genre is that in the past it has been traditionally male-dominated — like much of movies in general — and so it feels like it's an opportunity for me to put out a new point of view or to show a new way of thinking about things within this genre.
At The Verge, Noel Murray wrote about the movie alongside one of the week's other new releases, Adam Robitel's "Escape Room," by saying, "Righteous revenge and ironic justice are common drivers of horror movie plots, from slashers to home-invasion thrillers to torture-porn…The problem with this approach, as seen in many of the later 'Saw' films, is that it tends to dehumanize the victims, turning them into indistinct fodder for whatever clever slaughter the villain has planned. 'New Year, New You' overcomes this trap by emphasizing characters over gimmicks. Takal and [co-writer Adam] Gaines have a few big twists to spring throughout the episode, but they don't get to any of them until they've spent almost a third of their running time fully introducing their four friends."
ART OF THE REAL: LOS ANGELES
Presented in partnership between the UCLA Film and Television Archive and Acropolis Cinema, the series "Art of the Real: Los Angeles" will screen selections from the first five years of the Film Society of Lincoln Center's program on international non-fiction and hybrid filmmaking, all making their Los Angeles premieres. The series will begin with a double-bill of soccer-themed films by Romanian director Corneliu Porumboiu, 2018's "Infinite Football" and 2013's "The Second Game." With guests including curators Dennis Lim and Rachael Rakes plus filmmakers Kazuhiro Soda and Ju Anqi, the program will run from January 11-17 with events at the Billy Wilder Theater and the Downtown Independent.
Email me if you have questions, comments or suggestions, and follow me on Twitter: @IndieFocus.
---
Get the Indie Focus newsletter, Mark Olsen's weekly guide to the world of cinema.
You may occasionally receive promotional content from the Los Angeles Times.