Indie Focus: Emotions and adventures in 'Love, Simon,' 'Tomb Raider' and 'Flower'
Hello! I'm Mark Olsen. Welcome to another edition of your regular field guide to a world of Only Good Movies.
The South by Southwest Film Festival in Austin, Texas, wrapped up this week, and this turned out to be a pretty exciting year. Jen Yamato and/or I was there for the well-received studio-sponsored premieres of "A Quiet Place," "Blockers" and "Ready Player One," along with independent discoveries such as "Jinn" and "Support the Girls."
Jen and I finished our time in Austin with a conversation that attempted to capture what is special about this festival in relation to others. As she put it, "It has its own specific vibe, a feeling of eccentric discovery driving its programming, particularly compared with the Sundance, Cannes and Toronto film festivals."
Later in March, we will have a screening and Q&A event with Aaron Katz's Los Angeles-set "Gemini." We'll have more details soon. For info and updates on future events, go to events.latimes.com.
'Love, Simon'
Directed by Greg Berlanti and adapted from Becky Albertalli's popular young-adult novel, "Love, Simon" is being touted as the first gay teenage romantic comedy from a major studio. In the film, a high school boy (Nick Robinson) is going through the confusion, difficulties and self-realizations of coming out. Jennifer Garner and Josh Duhamel play supporting roles as his parents.
In his review of the film for The Times, Justin Chang wrote, "At first glance, this movie's crowd-pleasing, PG-13-rated slickness may seem the very opposite of fresh or vital," but "it nonetheless accomplishes its own, not-insignificant form of progress. There may be little in this movie that you haven't seen before, but the perspective through which you're seeing it can make all the difference."
Amy Kaufman spoke to the film's star, Nick Robinson, who is straight, about taking on the role.
"There were moments when we were making it when I would wake up some mornings and be, like, 'I don't know if I can do this,'" said Robinson. "But Greg was always there to remind, not just me, but everyone, why what we were making was different and, dare I say, important."
Tre'vell Anderson took a look at the strategy behind the marketing of the film. As Pam Levine, president of worldwide theatrical marketing at 20th Century Fox, put it, "It really became a passion project for us in the sense that the film is so great and special and we felt deserved to be seen and embraced by a really broad audience. We challenged ourselves with, 'How do we come up with a campaign that aspires to be as special as the film?'"
Anderson also placed "Love, Simon" within the context of other recent films that have been exploring "the queer gaze." He wrote, "A direct response to the oft unspoken of yet ever-present 'straight gaze,' the queer gaze recognizes how lesbian, gay, bisexual, transgender and queer people create and view art. Moreover, it challenges binary notions of existence and storytelling employed in many male gaze versus female gaze conversations where the context is nearly always heterosexual."
Reviewing the film for Vanity Fair, Richard Lawson grappled with how the movie might play to be adults and younger people, by saying, "There's still a part of me that wonders if kids now, with YouTube and Instagram offering up a plethora of gay peers to look in on, are quite as starved for this movie as older generations were. But whether or not Gen Z-ers find something nourishing and of value in the movie, what are we gay adults to do with it? Does it even matter what we do with it?"
'Tomb Raider'
As some may recall, way back in the early 2000s there were two movies starring Angelina Jolie as the video game adventure heroine Lara Croft. Now comes an updated version of the story, "Tomb Raider," directed by Norwegian filmmaker Roar Uthaug and starring Oscar-winning Swedish actress Alicia Vikander. Adventure is had, tombs are duly raided, Dominic West, Kristin Scott Thomas, Walton Goggins and Daniel Wu are part of the supporting cast, and the movie has gotten better notices than many might have predicted.
In his review for The Times, Justin Chang called the film "a sturdy, serviceable new action extravaganza" while going on to add of Vikander that "her Lara Croft is one tough fighter but also vulnerable and untested, an action heroine with little to lose and everything to prove."
Jen Yamato talked to one of the film's supporting players, Daniel Wu. Born in America, Wu has become a superstar acting in Asia. After trying for some time to reverse-engineer his way back into Hollywood, it may finally be his moment.
"I think the difference now is the audience is different," he mused. "The audience is more diverse now not just culturally, but the white kids growing up today are eating Asian food. When I was growing up white kids were like, 'Hey, what are you eating?' And that was only 20 years ago."
For the New York Times, Manohla Dargis wrote, "There are many ways for a movie to go wrong, and 'Tomb Raider' goes wrong in many of the most obvious: It has a generic story, bad writing, a miscast lead, the wrong director and no fun." She added, "The art of the blockbuster is too rarely acknowledged. It takes a true skill set and a distinct pop sensibility to turn a large-scale commercial property with no pretense to art and a great many moving parts into a smoothly enjoyable diversion."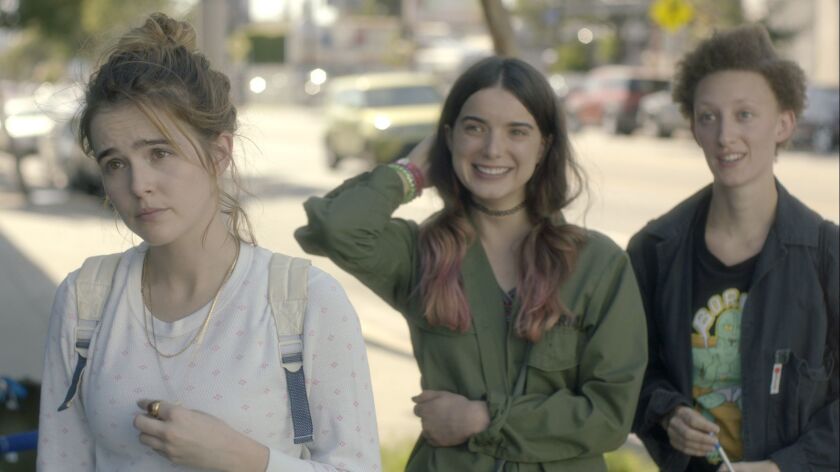 'Flower'
Directed by Max Winkler, who co-wrote the script along with Alex McAulay and "Ingrid Goes West" filmmaker Matt Spicer, "Flower" is the story of a troubled teenage girl (Zoey Deutch) accustomed to using her sexuality as a transactional instrument to get what what she wants who finds herself in an emotionally confusing situation that involves both her family and an older man she may or may not have genuine feelings for. Adam Scott, Kathryn Hahn, Tim Heidecker and Dylan Gelula are also among the cast.
In her review for The Times, Sheri Linden wrote, while the film "pushes the credulity envelope beyond the point of no return, Zoey Deutch manages something nearly miraculous: She imbues her often horrid character with gravity-defying charm and nuanced vulnerability beneath the tough veneer."
Sonaiya Kelley spoke to Winkler and Deutch about the film and the challenges of the lead character.
"This is an exciting part to play," said Deutch. "This is a part where I get to delve deep, do research, kick ass, work my ass off. I'm not saying it's easy, but it wasn't hard. Hard is a one-dimensional female character in a male-driven comedy. Which I've done. Trying to make an underwritten part interesting is like … near impossible."
At Vulture, Emily Yoshida had a strongly dissenting opinion, writing. "'Flower' goes completely off the rails in its final act .… But I'll give 'Flower' props — in an age when so many teen movies are grasping so desperately for message-y topicality, it does the impossible, and manages to be about nothing at all."
Email me if you have questions, comments or suggestions, and follow me on Twitter @IndieFocus
---
The complete guide to home viewing
Get Screen Gab for weekly recommendations, analysis, interviews and irreverent discussion of the TV and streaming movies everyone's talking about.
You may occasionally receive promotional content from the Los Angeles Times.