Indie Focus: Love and power in 'Vice,' 'Cold War' and 'On the Basis of Sex'
Hello! I'm Mark Olsen. Welcome to another edition of your regular field guide to a world of Only Good Movies.
This week we published the third and final report from this year's Envelope roundtables. We brought together seven actresses for a wide-ranging conversation, with Viola Davis for "Widows," Nicole Kidman for "Destroyer" and "Boy Erased," Marina de Tavira for "Roma," Lupita Nyong'o for "Black Panther," Amy Adams for "Vice," Saoirse Ronan for "Mary Queen of Scots" and Melissa McCarthy for "Can You Ever Forgive Me?"
All of these women are at remarkable places in their careers. Yet, as Davis said in acknowledging the difficulty of maintaining passion and momentum, "You don't come into yourself just overnight. It's gradual. You sort of fail, you get back up, you hit another wall, you fail again, you have a moment of success .… But I still feel like I'm coming into myself, because now I'm at a point where I sort of am losing some passion, because this [promotion] can kind of do it to you. You're feeding two monsters — the actor and this [gestures to the group]. And feeding this can take away from the actor, it really can."
For our entertainment podcast "The Reel," I was joined this week by Kenneth Turan and Justin Chang to talk about our respective year-end best-of lists. There were four titles that appeared on all three of our lists: "Black Panther," "BlacKkKlansman," "Leave No Trace" and "Roma."
I was also joined by Times TV critics Lorraine Ali and Robert Lloyd and TV reporter Yvonne Villarreal to talk about the year in TV, including "Barry," "Lodge 49," "Escape At Dannemora" and "Atlanta."
For information on upcoming events as part of our Envelope Live series, go to events.latimes.com/screenings. We'll have new screening and Q&A events of our own soon. For info and updates on future Indie Focus screenings, go to events.latimes.com.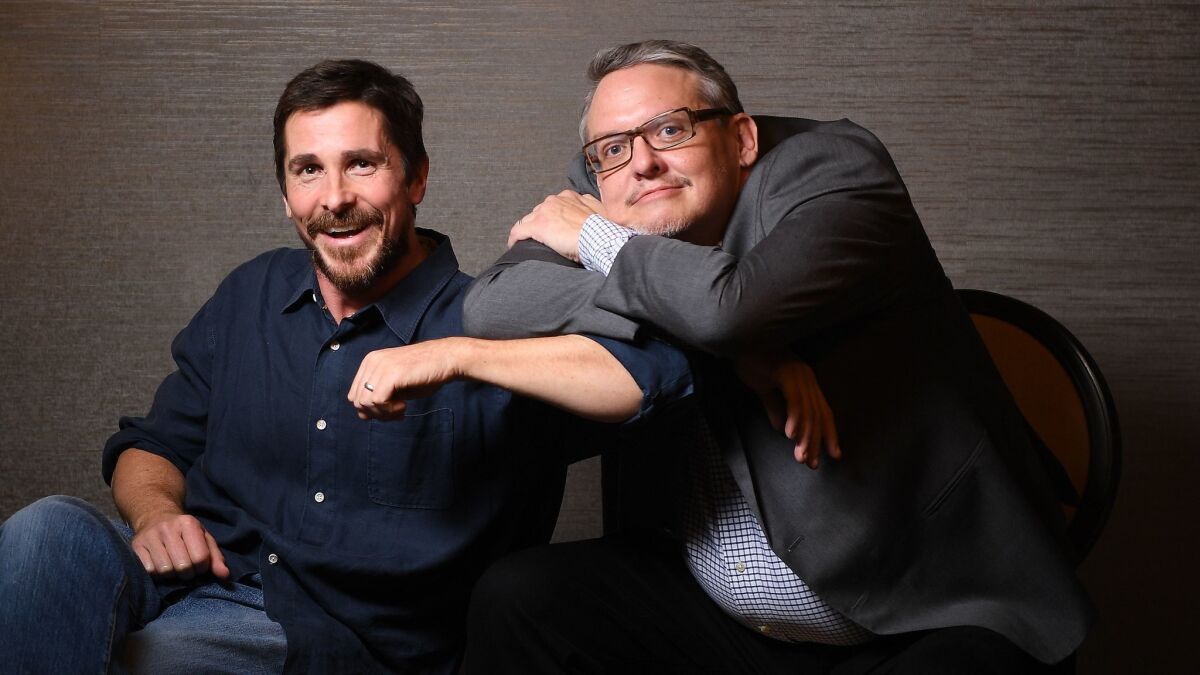 'Vice'
As the follow-up to his Oscar-winning take on the financial crisis with "The Big Short," writer-director Adam McKay returns with "Vice," a portrait of former Vice President Dick Cheney. The film manages to be both a scathing satire and, while not exactly sympathetic, an understanding of how Cheney came to be a political force and the global impact of what he envisioned. Christian Bale stars as Cheney, while Amy Adams appears as his wife Lynne, Steve Carell is Cheney's one-time mentor Donald Rumsfeld and Sam Rockwell plays President George W. Bush. Whether you find the film funny, enraging, sickening or all of the above may depend on your own political persuasion.
In his review for The Times, Kenneth Turan wrote, "Brainy, audacious, opinionated and fun, 'Vice' is a tonic for troubled times. As smart as it is partisan, and it is plenty partisan, this savage satire is scared of only one thing, and that is being dull."
Josh Rottenberg talked to McKay and Bale about the movie and its conception of the Cheney family. As McKay said, "No one is born evil or good or a hero or a villain. Life is incredibly complicated and we're all doing the best we can, even the worst of the worst among us .… We felt like it's not ours to judge. We just have to show this story, this portrait of power. And first and foremost, I think that's what the movie is: It's a portrait and a love story."
For the New York Times, A.O. Scott wrote, "It will break no news and spoil nobody's fun to note that McKay is not a fan of his protagonist .… But 'Vice' offers more than Yuletide rage-bait for liberal moviegoers, who already have plenty to be mad about. Revulsion and admiration lie as close together as the red and white stripes on the American flag, and if this is in some respects a real-life monster movie, it's one that takes a lively and at times surprisingly sympathetic interest in its chosen demon."
For Time, Stephanie Zacharek wrote, "If 'Vice,' Adam McKay's creaky romp through the life and career of former Vice-President Dick Cheney, really is aimed at adults, why does it treat its audience like idiots? ... Bale and McKay shape a portrait of Dick Cheney as a slippery son-of-a-gun, a kind of human eel. But in the end, McKay has more respect for Cheney's wiles, as distasteful as they may be, than he does for his audience. He's hip to Dick Cheney's intelligence; he just doesn't think much of ours."
'Cold War'
The latest from Polish filmmaker Pawel Pawlikowski, who won an Oscar for his previous film "Ida," is "Cold War," a ravishing love story in the face of authoritarian oppression that is based in the story of his own parents. The movie stars Joanna Kulig and Tomasz Kot as two musicians struggling to be together. Pawlikowski won the directing prize at this year's Cannes Film Festival, the film recently won five prizes at the European Film Awards and "Cold War" also made it through to the shortlist of nine films in competition for the Academy Award for best foreign-language film.
In his review for The Times, Kenneth Turan wrote, "'Cold War' succeeds because of its compelling portrait of a volatile relationship, an examination of what we do for love and what love won't do for us. It's a tale that's been told before, and more than once, but this film makes it light up the screen like it's the very first time."
Turan also interviewed Pawlikowski at Cannes. There, the filmmaker talked about how the movie is based on the relationship between his parents, saying, "As a teenager I thought my parents were something to be embarrassed about, but as an adult I think they were the most interesting people I've ever known .… They were two equally strong people, dependent on each other but couldn't stand each other. They shared love and the inability to be with each other. Neither was a pushover, nobody gave in. I couldn't have made the film if they were alive, I'd be censoring myself too much."
Reviewing the film for the New York Times, Manohla Dargis wrote, "If you want more, it's because the worlds [Pawlikowski] opens up and his two impossible, irresistible lovers are so beguiling that you would like to linger longer, learn more, see more. The movie is filled with ordinary and surprising beauty, with gleaming and richly textured surfaces, and the kind of velvety black chiaroscuro you can get lost in. Its greatest strengths, though, are its two knockout leads, who give the story its heat, its flesh and its heartbreak."
At Vulture, Emily Yoshida wrote, "Like nearly any Broadway musical you can think of, 'Cold War' is a love story told through love songs .… 'Cold War' is itself a kind of love song itself, and their volatile togetherness is the hook, the only thing that really matters. Pawlikowski understands the mythic, destructive pull such narratives have on us — as audience members and those swept up ourselves."
'On the Basis of Sex'
The story of the early years in the legal career and rise to prominence of Ruth Bader Ginsburg, who would go on to become Supreme Court justice and unexpectedly revered public figure, "On The Basis of Sex" is directed by Mimi Leder and written by Daniel Stiepleman, Ginsburg's nephew. Felicity Jones stars as Ginsburg, with Armie Hammer playing her husband, Martin.
Reviewing the film for The Times, Justin Chang wrote, "'On the Basis of Sex' does its best to prove otherwise, but it is hindered by its own lack of imagination, its contentment with an easy-listening summary of its subject's accomplishments. It would be silly to expect this movie to achieve the cinematic equivalent of Ruth Bader Ginsburg's brilliance, but you can't help wishing it had more to offer than righteous speeches and stirring glances, that it put a few more ideas in your head to go with that lump in your throat."
Amy Kaufman spoke to Jones for a story that will be publishing soon. As the actress said of what she took away from the role and learned about the accomplishments of the real Ginsburg, "I think she taught me how important it is to not be scared to speak publicly, actually, and to be fearless .… Actually, it was playing Ruth when I finally thought: 'Right, you've just got to get on with this and embrace it, in fact, and don't be scared of it.' This is an opportunity to be out there and stand up for what you believe in."
Email me if you have questions, comments or suggestions, and follow me on Twitter @IndieFocus.
Get our L.A. Goes Out newsletter, with the week's best events, to help you explore and experience our city.
You may occasionally receive promotional content from the Los Angeles Times.