Overrated/Underrated, Summer sneaks: 'Infinity War' without end, and two reasons to see 'Deadpool 2'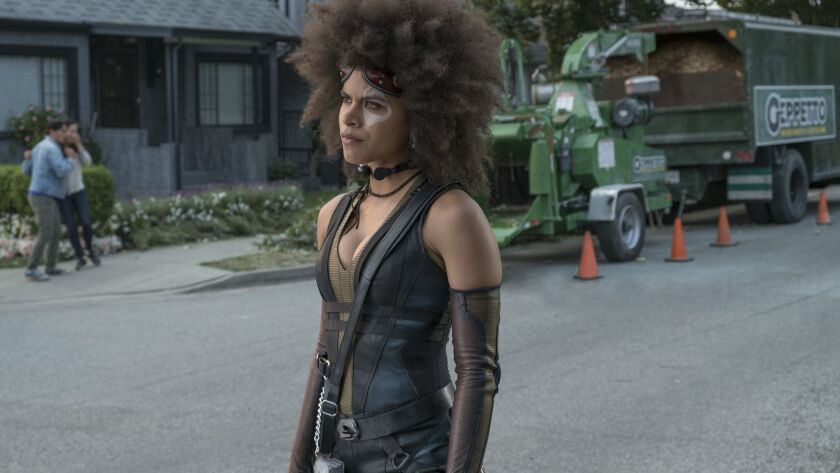 UNDERRATED
The supporting cast of 'Deadpool 2': Violent and vulgar, the first "Deadpool" felt a little like watching a stand-up comic who keeps stopping his set to remind you how edgy his material is. The second (May 18) isn't likely to deviate from the bro-friendly formula, but there's reason for hope in the "X-Force" additions of "Atlanta's" Zazie Beetz as the luck-controlling Domino, and internet comedy mastermind-"Catastrophe" co-creator Rob Delaney as Peter, whose superpowers seem confined to his dad bod and robust mustache. If the film could just dispense with its stars, it might have something.
'Sorry to Bother You' (July 6): In case you missed the whirlwind of film festival buzz and subsequent co-sign from Jordan Peele, it's time to get excited about this barbed sci-fi comedy. The debut feature for writer-director Boots Riley — best known as the vocalist for the politically minded Oakland hip-hop group the Coup — the twisted, timely film features rising star Lakeith Stanfield as Cassius, who takes a telemarketing job to pay off his back rent to his uncle (Terry Crews) and discovers the power of his "white voice," a hidden talent that opens up all sorts of economic opportunities.
FULL COVERAGE: 2018 Summer Movie Sneaks »
OVERRATED
'Avengers: Infinity War': Less of a film franchise than it is a long-form final exam after some 14 movies of homework, this hydra-headed superhero blockbuster had one truly redeeming quality for those who have not spent the last several years absorbing its story on their way to the multiplex: It was, at least, an ending. Now, with the film (and its cliffhanger conclusion) debuting to surely gargantuan numbers, it's clear that Marvel's perpetual-motion machine couldn't even get that right, and the only real infinite war is the one the studio is waging against a superhero-free night at the movies.
'Slender Man' (Aug. 24): If you're looking to start a cheap horror franchise, throwing some money at the winner of an online Photoshop contest for your subject is probably cost effective. Except, this movie is well behind the curve on its star, whose popularity among the darker corners of the Internet peaked years ago, to say nothing for the detail that a disturbed teenager attacked a classmate in 2014 after becoming obsessed with the character, as seen in the truly scary HBO documentary "Beware the Slenderman." Even for a genre not known for good taste, this is pretty thick-headed.
See the most-read stories in Entertainment this hour »
READ MORE: See the full list of summer release dates »
Follow me over here @chrisbarton.
ALSO:
Overrated/Underrated: 'The Simpsons' fails fans with Apu, and what's left of Fleetwood Mac
Bill Hader breaks out of the 'SNL' mold with HBO's 'Barry,' the story of a hit man with a dream
'Westworld's' stars on how season 2 speaks to the #MeToo movement
---
The complete guide to home viewing
Get Screen Gab for weekly recommendations, analysis, interviews and irreverent discussion of the TV and streaming movies everyone's talking about.
You may occasionally receive promotional content from the Los Angeles Times.