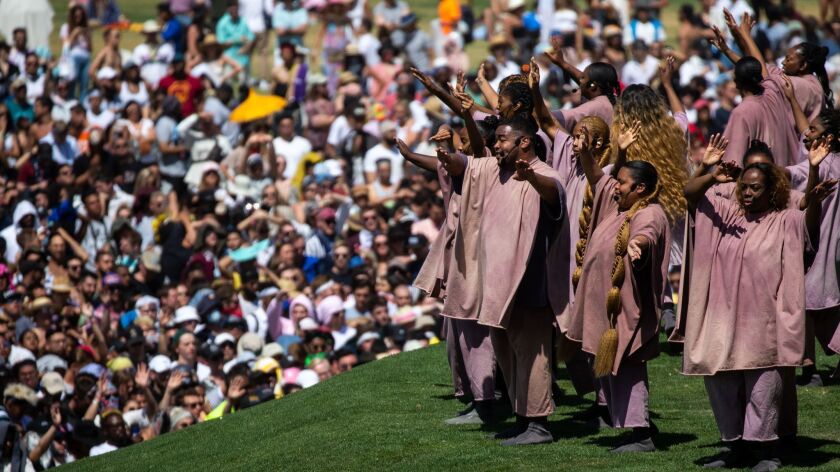 Just after 10 p.m. on Sunday night, concert promoter Paul Tollett was near the end of leading two weekends of this year's Coachella Valley Music and Arts Festival, marking its 20th year in 2019. But things weren't yet slowing down, as he walked quickly through the artist compound backstage, occasionally looking up from his smartphone.
"No, it's action-packed," Tollett said with a laugh, dressed in his usual black Dodgers cap and pullover. He wouldn't be done on this windy desert night until 2 a.m.
The day began extra-early for the longtime president of Goldenvoice Productions with the 9 a.m. arrival of Kanye West, who led a vibrant, gospel-fueled "Sunday Service" to celebrate Easter on the festival campgrounds. In a mostly full space set aside for 90,000, the two-hour performance by West's troupe of live musicians, singers and dancers widened the definition of what Coachella could be with a performance of real emotional and spiritual resonance.
"I actually had never seen anything like it. The morning, with no production or lights, has an innocence that's hard to beat," said Tollett, who co-founded the festival in 1999. "I saw so many people crying. I'm not even sure why, and I'm not sure they knew why, but something was happening."
FULL COVERAGE: Coachella 2019 »
West's gospel collective was performed on a grass-covered hill that didn't exist a week earlier. It was built beside an existing hill specifically for West and included hidden loudspeakers (designed by Tollett's older brother, Perry).
"On Tuesday morning, we started putting the dirt in," Tollett said. "On Thursday night and Friday, we started putting sod down."
The performance was a dramatic rebound for West, who canceled his planned headlining appearance back in January, then tweeted about the limitations of Coachella's staging. Less than a month before Easter Sunday, Coachella and West announced a plan to bring the rapper's still-new Sunday Service to the large festival audience.
"Our team works pretty hard out here. I told them we're going to add a Sunday morning show with Kanye, and there's a chance the hill we have needs some augmenting — aka another hill," Tollett recalled. "You'd think there'd be groans: 'Please, don't do that to us.' It was the opposite. It was 'Oh, wow, can I work on it?'"
Almost every year's Coachella comes with its own set of wild rumors, including one report that the festival was constructing a church for West. Last week, gossips were speculating that Ariana Grande was being paid twice what Beyoncé received the year before.
"I read a bunch of stuff. Nothing was accurate," Tollett said of the latest rumors. "Early on, I used to get upset. I used to correct it. Now I'm whatever. It's not hurting anyone."
Goldenvoice doesn't release attendance figures, but the 2018 festival headlined by Beyoncé reportedly drew a quarter-million fans. In a fluctuating festival market, Coachella remains the unchallenged standard-bearer, in both cultural cachet and the revenue it generates for parent company AEG Presents ($114 million in 2017, according to Billboard). "It's the most well-known festival in North America, maybe the world," said Billboard senior correspondent Dave Brooks. "It sets the tone for other festivals."
Tollett won't discuss the fees he pays to artists. (Some reports have both Grande and Beyoncé receiving $8 million each for the two weekends.) Many of the headliners who might top the bill at Coachella also share representation, he added, making gross disparity between superstars less likely.
Tollett said that these rumors tend to overlook the reality behind creating a production to fill the Coachella main stage. These million-dollar fees aren't simply direct-deposited into an artist's personal bank account — it's the budget for their entire show, including musicians, dancers, production, travel and more. Some cost more than others.
"A lot of artists aren't thinking about profit. They're just trying to cover the expenses from rehearsals and flights," Tollett said. "The Kanye thing was pricey to put together; you saw how many people were up there. They all needed hotels and to get here for rehearsals. All these artists are like that to some extent."
This year's lineup has been characterized as the festival's full embrace of pure pop on the upper reaches of the bill, but more significant to Tollett was the deepening international representation of talent. On opening day of both weekends, the main stage began with Los Tucanes de Tijuana, a Mexican norteño band in matching cowboy suits and hats.
There were also packed sets from Colombian reggaeton star J Balvin, Puerto Rican trap artist Bad Bunny and surging South Korean pop quartet Blackpink. There were Latin rockers and rappers and singers from Nigeria and Trinidad, and EDM artists from multiple continents.
Their appearance on the Coachella poster coincides with the festival's growing emphasis on multimedia projects and live-streaming on YouTube. Increasingly, Coachella is something that can be experienced at home, and this year "Couchella" traffic nearly doubled that of last year, from 42 million online views during Week 1 in 2018 to 82 million for opening weekend in 2019.
Childish Gambino's headlining set on opening night was an exceptionally cinematic production, as gripping on the screen as the performance was live in Indio. And the just-released Netflix documentary "Homecoming" documents Beyoncé's groundbreaking 2018 Coachella performance with multiple cameras, capturing a show choreographed like a modern movie musical.
The festival also introduced a new series of mini-documentaries, "Coachella Curated," which followed the stories behind several Coachella artists, from DJs Idris Elba to Diplo, Rufus Du Sol to Calypso Rose. Many of the short films, streamed on Coachella's YouTube channel, were filmed at artists' homes overseas.
"These artists have some really good stories," Tollett said. "It'd be fun if the public knew more about them."
That mission didn't stop even when the festival went dark. Between the two weekends, Coachella brought Calypso Rose into the Los Angeles studio of Rancid's Tim Armstrong to record "Amazing Grace" with the ska-punk band the Interrupters.
"We filmed, edited, mixed it and live-streamed it 48 hours later. If we can do things like that, why not?"
The direction of Coachella remains fluid, as some fans mourn the reduced role of the festival's original alternative-rock comfort zone. Rock was still represented at Empire Polo Field, but aside from Tame Impala and Weezer on Saturday's main stage, it was mostly found lower on the bill. Many other music festivals still thrive following their original formulas, but Coachella is meant to remain current, he insisted.
"The worst thing would be a stale Coachella," said Tollett. "I couldn't live with that. I would rather it change in the wrong way."
After the festival's final hours, Tollett would enjoy his first real day off in many weeks. "I get a rest day tomorrow. That's exciting," he said, knowing that he'd be back at work in Indio again for Stagecoach next weekend.
Then he'll find time to decompress at the Malibu home he rents from neighbor Lou Adler, the veteran music impresario who hosted the influential Monterey Pop Festival in 1967. In the living room is an acoustic guitar with a broken string, ready whenever Tollett feels like bashing out the Ramones riffs he learned at high school in La Puente. But his staycation will quickly wind down, and he'll turn his attention to 360-odd days from now: next year's Coachella.
---