Beyoncé, Frank Ocean, Lucy Dacus, Chance the Rapper and more: L.A. Times music writers pick their favorite albums of 2016
The Los Angeles Times' music team is diverse — sometimes even argumentative — in its opinions. But one artist united almost all of us this year: Beyoncé. What follows is the 10 favorite records from each contributor to the music section.
Chris Barton, Times staff writer
For the record:
5:19 a.m. Aug. 18, 2022An earlier version of this article misidentified Frack Ocean's "Endless" as "Effortless."
1. Beyoncé "Lemonade" (Parkwood/Columbia). What if Beyoncé wrote a record as sprawling as her ambitions? What if it chronicled (real or imagined) marital strife? What if she made a rock song? What if she wrote a protest anthem? In a year best remembered for all we lost, "Lemonade" gave us so much. Listen.
2. David Bowie "Blackstar" (Columbia). After a life of exploring and establishing his own terrain in music, David Bowie does the same under the shadow of his own death. With Donny McCaslin's nimble, furious jazz band at his back, Bowie never stopped and kept finding a way to look ahead. Listen.
2. Radiohead "A Moon Shaped Pool" (XL). After more than 20 years of reflecting an endangered and indifferent modern culture, Radiohead reaches further inward on an album framed by strings, choir and delicate folk guitar, only to find, after the end of a long relationship for Thom Yorke, things are broken there, too. Listen.
4. A Tribe Called Quest "We Got It From Here … Thank You 4 Your Service" (Epic). Coming to life in the shadow of the loss of founding member Malik "Phife Dawg" Taylor, ATCQ's first (and probably last) album in 18 years carried so much immediate brilliance, it was like the return of an orbiting comet, burning even brighter than you remembered. Listen.
5. Lucy Dacus "No Burden" (Matador). With a cozy, half-awake drawl, this 21-year-old Richmond, Va., singer-songwriter is a one-person reminder of the continued power of deftly drawn indie rock. The churning guitar menace of Dacus' "Troublemaker, Doppelganger" gets your heart racing and then the spare "Trust" breaks it. Listen.
6. Xenia Rubinos "Black Terry Cat" (Anti-). "How do you spell angry brown girl?" asks this Afro-Latina singer-songwriter near the end of an album that deftly mixes rock, jazz and hip-hop. Nodding to Nina Simone and Abbey Lincoln, Rubinos doesn't sound that angry, but amid her bracing sound are a lot more blunt, essential observations. Listen.
7. Laura Mvula "The Dreaming Room" (RCA). Nominated for Britain's Mercury Prize, this sophomore release finds Mvula's luminous voice navigating lushly orchestrated ballads drawn during a battle with depression. But she soars higher still on uptempo anthems such as "Let Me Fall" and the Nile Rodgers-assisted "Overcome." Listen.
8. Anderson .Paak "Malibu" (Empire/OBE/Steel Wool/Art Club). The breakthrough album from the Oxnard-born singer, songwriter and drummer is an exuberant dive into '70s funk and soul through the prism of '90s hip-hop and intimately drawn lyrics that reflect a life that wasn't all palm trees and surf. Listen.
9. Drive-By Truckers "American Band" (ATO). Easy to take for granted headed into their 11th album, the Southern rock band turn their always sharp songwriting toward the country's ugly, unsettled present with songs that address deep-seated racial divides, recent mass shootings and, most pointedly, the deaths of Trayvon Martin and Michael Brown. Listen.
10. Nicolas Jaar "Sirens" (Other People). Opening after a moment of silence that shatters in an explosion of piano keys, the latest category-defying record from this Chilean composer reflects a sense of global unease in shape-shifting washes of electronics, plaintive keyboard and distant vocals. Listen.
::
August Brown, Times staff writer
1. Beyoncé "Lemonade" (Parkwood/Columbia). Undisputed. The album we'll turn to when everything gets worse. And then again when it someday gets better. Listen.
2. YG "Still Brazy" (Def Jam). The home of the only protest song that mattered in 2016, and 16 other cuts from the darkest corners of L.A. hip-hop. Listen.
3. Skepta "Konnichiwa" (Boy Better Know). Drake got a Boy Better Know record label tattoo, and it was the smartest thing he did in 2016. Grime's crossover finally happened, 15 years late. Listen.
4. Nicolas Jaar "Sirens" (Other People). One of the must fundamentally musical electronica producers discovers his inner radical and his family history, and it's entrancing. Listen.
5. 21 Savage/Metro Boomin "Savage Mode" (Slaughter Gang). Rarely have such harrowing lyrics been said with such a chilling lack of affect. It's a horror movie on mute. Listen.
6. Blood Orange "Freetown Sound" (Domino). Pop much as liberation: It's a cliche because it's true; rarely more so than on this deeply swinging, deeply felt LP. Listen.
7. Anohni "Hopelessness" (Secretly Canadian). If the seas rise and global warming takes its final toll, it will be no comfort that Anohni made such a beautiful letter of forewarning. Listen.
8. Omar S "The Best" (Fxhe). The world re-discovered deep house in 2016, but the veteran Omar S. left everyone else in the dust. Listen.
9. Conor Oberst "Ruminations" (Nonesuch). I hope you're OK, Conor. It really doesn't sound like it here, but these are your best songs since "I'm Wide Awake, It's Morning," so keep writing them. Listen.
10. Rihanna "Anti" (Westbury Road Entertainment / Roc Nation). Dark, hazy, moody, trippy, and yet, undeniably pop. Listen.
::
Gerrick D. Kennedy, Times staff writer
1. Solange "A Seat at the Table" (Saint/Columbia). A meditation on being black in America, Solange's first full-length project in eight years was an exploration of identity, empowerment, rage, grief and healing that was exquisite, cathartic and especially urgent. Listen.
2. Beyoncé "Lemonade" (Parkwood/Columbia). "Lemonade" was the rallying cry heard around the world that put the tribulations of a union through the lens of black womanhood. Whether or not Beyoncé's famous marriage was the inspiration is secondary to its brilliance as a deeply experimental multimedia presentation boasting her most incendiary work. Listen.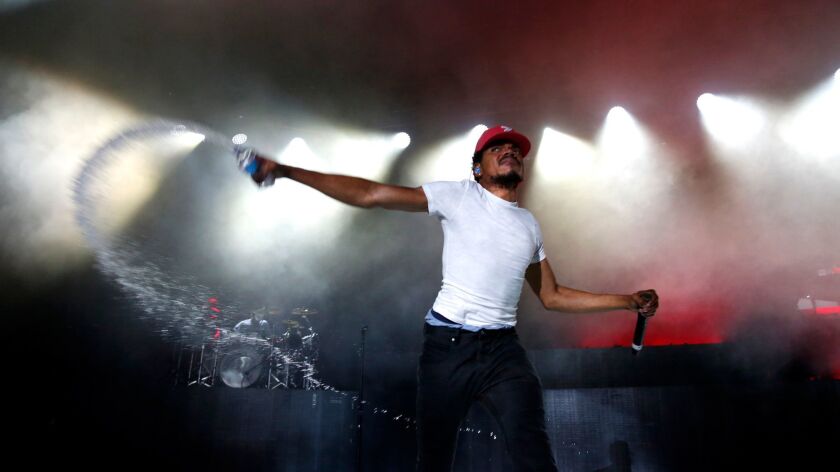 3. Chance the Rapper "Coloring Book" (self-released). Inspirational, introspective and deeply informed by gospel, Chance's breakthrough mixtape was the jubilant, necessary reminder that though weeping may have endured much of this year, joy still comes in the morning. Listen.
4. Anderson .Paak "Malibu" (Empire/OBE/Steel Wool/Art Club). Covering genres from '70s-era soul and psychedelic funk to jazz, rock, classic hip-hop, beat-driven electronic music and contemporary R&B, "Malibu" was a lush, layered listen befitting a church-raised soul singer, hip-hop purist and free-spirited musician. Listen.
5. Rihanna "Anti" (Westbury Road Entertainment/Roc Nation). The biggest hitmaker of a generation unleashed her most understated offering, and it was well worth the unusually long wait (by Rihanna standards). Warm, adventurous, intimate and heavy on mood setting, "Anti" is a punch — even if it was slower to hit the senses. Listen.
6. Frank Ocean "Blonde"/"Endless" (Boys Don't Cry). From the hazy trip of "Blonde" to the contemplative, free-flowing "Endless," Ocean's dual release is an intense, complex glimpse at an enigmatic singer releasing art on his own terms, something that is a beautiful triumph within itself. Listen.
7. Nao "For All We Know" (Little Tokyo Recordings). One of the year's most exciting debuts came from this dynamic British R&B singer. Her voice is enchanting and this sprawling collection of funky electronics and sweet retro R&B flourishes is bright. It's also primed for the dancefloor. Listen.
8. Dvsn "Sept. 5th" (OVO Sound/Warner Bros.). Dvsn has an eye toward the heady, electronic progressive R&B of late as well as one of the genre's golden eras of the '90s. The elusive act's debut is inspired, almost wholly, by copulation, but these bedroom knockers are for adults who have moved beyond casual one-flings to long-term commitment. Listen.
9. D∆WN "Redemption" (Our Dawn/Local Action). The final installment of her masterful "Heart" trilogy extends the experimental singer-songwriter's idiosyncratic spin on R&B and dance. "Redemption" is an introspective, dense and imaginative record that challenges at every turn. Listen.
10. Kamaiyah "A Good Night in the Ghetto" (self-released). Inspired by R&B/hip-hop innovators Missy Elliott and TLC, Kamaiyah's debut mixtape is a joyful celebration of life. Whether she's rapping or singing about being broke, loving sex, partying or yearning, she's doing it over beats that recall the bounce of G-funk and the minimalism of more recent R&Bass. Listen.
::
Randy Lewis, Times staff writer
1. Paul Simon "Stranger to Stranger" (Concord). A masterful songwriter and record maker in absolute top form. The fresh, lyrical, musical and sonic vistas Simon has created are breathtaking. Listen.
2. Sturgill Simpson "A Sailor's Guide to Earth" (Atlantic). Simpson is in full command of his gifts in this career-redefining outing celebrating the arrival of his first child. All the hope, fear, faith, wonder and heart-on-sleeve love that come with nascent parenthood are in high relief. Listen.
3. Leonard Cohen "You Want It Darker" (Columbia). Cohen's music inevitably hones in on the eternal facets of human experience. Musical gravitas at its deepest. Listen.
4. Allen Toussaint "American Tunes" (Nonesuch). A gorgeous pianistic trip through American music from the mind, heart, soul and fingers of the great New Orleans musician. Forunately, producer Joe Henry persuaded him to add his honeysuckle voice to Paul Simon's "American Tune" as the album's tear-inducing finale. Listen.
5. Neil Young "Peace Trail" (Reprise). The veteran rocker has delivered one of his strongest collections in recent decades, the fire in his belly over various social, political and personal issues matched by the poetic power of his pen. The album seethes with righteous indignation, but also soothes with considerable human empathy. Listen.
6. Parker Millsap "The Very Last Day" (Okra Homa/Thirty Tigers). This raw, bluesy musical excursion could provide the Coen brothers with subject matter for a half-dozen of their noir-ish, character-rich comedy-dramas. The astuteness of Millsap's writing is equaled by the unbridled spirit of his nimble band. Listen.
7. Brandy Clark "Big Day in a Small Town" (Warner Bros.). The sophomore album from this member of country music's new class of singer-songwriters is as funny as it is smart, and often in the same breath. The pithy tradition of Loretta Lynn and Buck Owens is alive and well. Listen.
8. Margo Price "Midwest Farmer's Daughter" (Third Man). Price is a welcome arrival in the world of Americana country for a songwriting style that honors both the expansive narratives of a Lucinda Williams and the concise, punchy jukebox-ready fodder of a Harlan Howard. Listen.
9. Rolling Stones "Blue & Lonesome" (Rolling Stones). Loose but powerful, vibrant yet confident, the Stones sound utterly at home, and in their element, in this full-album homage to the American blues that got them rolling in the first place. Listen.
10. Mike Eldred Trio "Baptist Town" (Great Western). A haunting exploration not just of the musical heritage of the American South, but the region's social and political history as well. Singer, songwriter and guitarist Eldred also makes his songs sound like a 2 a.m. drive along Highway 61. Listen.
::
Todd Martens, pop music editor
1. Chance the Rapper "Coloring Book" (self-released). Hope, in the face of the darkest, most seemingly helpless adversity. The Chicago-based Chance the Rapper mixes gospel, hip-hop and jazz to chronicle life's struggles in America's third largest city. It's protest music that chooses to celebrate rather than preach. Listen.
2. Jamila Woods "HEAVN" (Closes Sessions). Big questions — "Will I become a chalk line?" — disarm the listener. Yet like her hometown peer Chance the Rapper, Woods chronicles life's struggles, a divided nation and urban decay with a life-affirming soulfulness. Whether working with beats or an acoustic guitar, Woods has crafted a soft, welcoming album that seeks to define what it means to be a black woman in America today. Listen.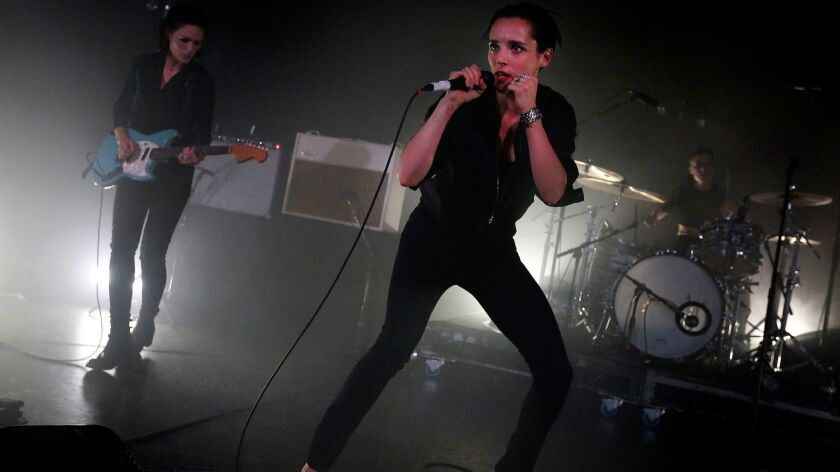 3. Savages "Adore Life" (Matador Records). Is it OK to love — guilt-free — when times are hard? U.K.'s blisteringly intense Savages counter any notion that love is some sort of fairy tale; instead, this aggressive, confrontational album propels listeners to act. Hug someone, before it's too late. Listen.
4. Frank Ocean "Blond" (Boys Don't Cry). An album of dream-like sounds — guitars and electronics blur into one — and hazy snapshots. Ocean's quiet, contemplative work invites close listens, all while songs chronicling coming-of-age moments flicker, disappear and haunt. Listen.
5. Solange "A Seat At the Table" (Columbia). Pair it with Jamila Woods, as the singers have similar goals on their 2016 works, but Solange does it with a more assertive groove and more biting lyrics. R&B weariness and exhaustion gradually coalesces into outright dissent. Listen.
6. Drive-By Truckers "American Band" (ATO). Ferguson, Mo.; domestic violence; the Confederate flag. Southern rock stalwarts Drive-By Truckers created a career masterpiece in "American Band," a work that doesn't flinch from big topics and never stops challenging with questions. The large, rootsy riffs make it all go down easy. Listen.
7. PJ Harvey "The Hope Six Demolition Project" (Island). A bluesy album full of shadows and disarming horns, as well as lyrics that veer into progressive journalism. Harvey's vision of our streets is that of a war-torn world full of beggars and the forgotten. But if times are tough, as Harvey seems to be saying, we may as well go down swinging. Listen.
8. Beyoncé "Lemonade" (Parkwood/Columbia). It feels like a protest album — and there are certainly protest songs — but "Lemonade's" true gift is how it manages to place domestic strife into a global context. This is modern, genre-hopping R&B, but Beyoncé bends it to her will and turns the most personal of songs into a soundtrack for the resistance. Listen.
9. Wilco "Schmilco" (Dbpm Records). These veteran, adventurous rockers have gone acoustic — and emerged even weirder and angrier for it. "Schmilco" is equally harmonious and disjointed, viewing nostalgia and maturity with equal doses of cynicism. It turns out that Wilco's quietest album is one built for a time of tension. Listen.
10. Angel Olsen "My Woman" (Jagjaguwar). "I just wanna be alive, make something real," sings Olsen at the start of her third album, and the result is a bold, large and emotionally combative work. It's timelessly vintage, yet thoroughly modern in its dissection of our emotional roadblocks. Listen.
::
Randall Roberts, Times staff writer
1. David Bowie "Blackstar" (Columbia). As a masterful final act, the late David Bowie issued this album just after he died. In doing so, he bid his devoted fan base the most loving farewell one could hope for. From the fury of the song "'Tis a Pity She Was a Whore" to the bittersweet album closer, "I Can't Give Everything Away," "Blackstar" doesn't have a single weak moment. Listen.
2. Danny Brown "Atrocity Exhibition" (Warp). Frantic, smart and burning with energy, Detroit rapper Danny Brown's 2016 album succeeds through his wit, phrasing and taste in beats. But it's the brute force of "Atrocity Exhibition" that makes it memorable. Each song is a nail that Brown hammers into place, and the resulting construct is as sturdy as it is awe-inspiring. Listen.
3. Beyoncé "Lemonade" (Parkwood/Columbia). So many words have been written about this album that to spend mere sentences praising its virtues seems a little pointless. Listen to the darn record for a lesson in how an artist makes commercial pop music that punches with the fury of an experimental album. Listen.
4. A Tribe Called Quest "We Got It from Here … Thank You 4 Your Service" (Epic). Truth be told, the final album from A Tribe Called Quest could've been mediocre and still landed on many critics' list. It was released after the death of founding member Phife Dawg, so the hip-hop group's devoted fan base would've been fine with a few choice tracks. What Tribe did, though, was offer a lesson in how to make an intense, fat-free work that revels in wordplay while addressing the politics of race as viewed through the lens of black lives, immigrants and outsiders across the world. Bonus: It's catchy as heck. Listen.
5. Anohni "Hopelessness" (Secretly Canadian). Everything is not OK, and the artist Anohni spends the entirety of this shocking electronic dance album outlining her critique of the world. Unlike many dance records that preach positivity, Anohni subverts the entire genre with dance-floor bangers that wrestle with politics public and personal. Listen.
6. William Tyler "Modern Country" (Merge Records). The instrumental music of Nashville guitarist Tyler wanders near the intersection of folk, country and rock, but he has little interest in picking sides. The title of the album might hint at his allegiances, but the way Tyler and his expert band dance around the issue by incorporating German "krautrock" and John Fahey-inspired instrumental folk guitar repeatedly upends expectations. Listen.
7. Lambchop "FLOTUS" (Merge Records). Nashville avant-country band Lambchop has issued a dozen records since the early 1990s, and "FLOTUS" just may be its best. A tapestry of quiet electronic beats serve as a foundation for singer and songwriter Kurt Wagner's meditations on solitude, love, death and the disco dance "The Hustle." He and his bandmates overlay these rhythms with piano melodies, lots of dub-inspired bass and just a touch of twang. Listen.
8. Angel Olsen "My Woman" (Jagjaguwar). With a striking voice and self-assured delivery, the St. Louis-born singer and songwriter Angel Olsen took a huge leap forward on "My Woman." Her earlier albums were musically sparse, seemingly so she could highlight a wondrous voice that dances among the octaves. For "My Woman," Olsen moved closer to pop, but not gratuitously so. Rather, she rightly decided that her voice is strong enough to handle some instrumental competition. Listen.
9. Chance the Rapper "Coloring Book" (self-released). The Chicago rap prodigy has repeatedly upended expectations, whether in the way he's handled his business dealings or how he's harnessed success to help his native city address issues of gang violence. But the reason people are paying attention to him in the first place is his preternatural skill at making buoyant hip-hop, something that is evident throughout both his "Coloring Book" and his career-expanding moment on Kanye West's "Ultralight Beam." Listen.
10. The Double "Dawn of the Double" (In the Red). A single 40-minute song that features one repetitive riff executed by guitarist Emmett Kelly and drummer Jim White, it could arguably be called the most essential rock song. It has a good beat, you can dance to it and that's all that matters. Listen.
Mikael Wood, pop music critic
1. Beyoncé "Lemonade" (Parkwood/Columbia). Idolatry isn't the reason — or isn't the only reason — that Beyoncé scored more Grammy nominations this month than anyone else: With songs that pull assuredly from pop, soul, rock, country and gospel, "Lemonade" fits into each of the many genres its many listeners might want it to. Yet the album's real genius is how it uses that musical breadth to tell a personal story of brutal (if perhaps fictional) specificity: the breakdown of a marriage as experienced by a woman determined not to be played. Listen.
2. Maren Morris "Hero" (Columbia Nashville). "A '90s baby in my '80s Mercedes" is what Nashville's next big thing calls herself on her sly, sparkling debut, and that description gives you a pretty good sense of how Morris thinks about country music tradition: not as a prison but as a vehicle. Listen.
3. Kanye West "The Life of Pablo" (Def Jam). Has he said he's done tweaking it? Or did we just decide it's finished? On an album in large part about the continuous renegotiation of celebrity, West's protracted fiddling with his music (following its appearance on the streaming service Tidal) felt at least as important as the music itself. Which isn't to discount the pure sonic achievement of a track such as the gorgeous, gospel-inspired opener, "Ultralight Beam." Listen.
4. Chance the Rapper, "Coloring Book" (self-released). Brought to the attention of many mainstream listeners by his stunning guest verse in "Ultralight Beam," this young Chicago MC carried West's gospel fixation forward on his own streaming album filled with rich choral arrangements. But where "The Life of Pablo" charts an uncertain spiritual quest, "Coloring Book" presents Chance as a guy with good news to share. Listen.
5. The 1975 "I Like It When You Sleep for You Are So Beautiful Yet So Unaware of It" (Interscope). Only Bruno Mars was bolder and more skilled than this British group at recycling old sounds and textures. But unlike Mars' showy yet impersonal "24K Magic," the 1975's second album — with pitch-perfect echoes of INXS, David Bowie and Whitney Houston — made you feel for singer Matty Healy, just about the most pitiful art-school misfit you could imagine. Listen.
6. David Bowie "Blackstar" (ISO/Columbia). Nearly 12 months later, it's not any easier to hear Bowie sing, "Look up here, I'm in heaven," as Donny McCaslin's saxophone traces a haunting melodic line. Easy, though, wasn't the idea behind Bowie's daring farewell, which now makes you wonder what other experiments we'll never hear him try. Listen.
7. Prince "HitNRun Phase Two" (NRG). Bowie built the fact that he was dying into "Blackstar," but Prince didn't know the end was near. So his final album (which actually came out in late December 2015) wasn't meant to offer some unified theory regarding life and death. And that's exactly why it hurts: Even on a record as casually considered as this set of creeping funk tunes and lush R&B ballads, Prince could flip your wig if you let him. Listen.
8. Britney Spears "Glory" (RCA). Years after she seemed to stop taking any pleasure in being a pop star, Spears somehow found renewal in Las Vegas, which gave this surprising comeback album a needed boost of style and attitude. Listen.
9. A Tribe Called Quest "We Got It From Here … Thank You 4 Your Service" (Epic). This influential hip-hop crew was in the middle of making its first record in nearly two decades when one of its founding rappers, Phife Dawg, died in March. The searing album his mates went on to complete pays tribute to a departed friend — and ponders the broken world he left behind. Listen.
10. Shawn Mendes "Illuminate" (Island). Teen idol is discovered. Teen idol hits it big. Teen idol wants to mature. Teen idol pulls it off. Listen.
ALSO:
The 10 best albums of a year defined by loss
Times music writers pick their favorite songs of 2016
Michelle Obama. Chance the Rapper. N.W.A. Green Day. Bob Dylan. The year's most memorable pop moments
---
Your essential guide to the arts in L.A.
Get Carolina A. Miranda's weekly newsletter for what's happening, plus openings, critics' picks and more.
You may occasionally receive promotional content from the Los Angeles Times.