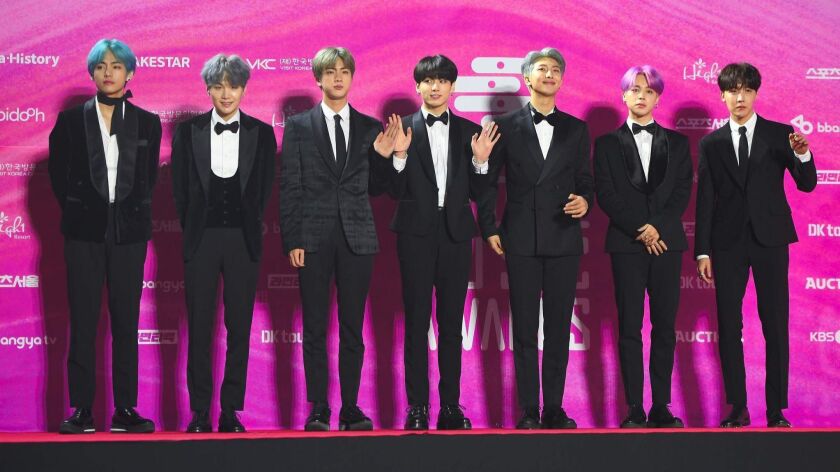 Halsey? Check.
Charli XCX? Yep.
Zara Larsson? You know it.
And now add Juice WRLD to the growing list of artists eager to collaborate with BTS, the K-pop band bound for world domination.
Emo-rap star Larsson's feature with BTS, "All Night," debuted Friday at midnight and is available on streaming services and YouTube. The song was produced by South Korean rapper RM and American rapper Powers Pleasant.
The song already has close to a quarter million views on YouTube on the group's official page and tens of thousands more views on nonofficial pages.
BTS fans strut in style at the K-pop boy band's Rose Bowl show »
But what's the occasion for BTS' recent team-ups?
The Larsson, Charli XCX and Juice WRLD tracks will be featured on the group's "BTS World Original Soundtrack," the soundtrack to its upcoming one-to-one interactive mobile game "BTS World." It has yet to announce the other songs on the soundtrack, which might include more collaborations.
The group's recent and wildly popular song with Halsey, "Boy With Luv," however, will not be featured on the soundtrack.
Much like the Jonas Brothers' new song with reggaetón star Daddy Yankee, Drake's feature with Bad Bunny, Justin Bieber's cameo on "Despacito," just to name a few, BTS' collaborations add to the trend of English-language artists teaming up with international acts.
"BTS World Original Soundtrack" is scheduled for a June 28 release, and "BTS World" will be available for download in the U.S. starting June 25.
---