Before another Grammy gala, Clive Davis is hopeful a new generation will inspire cultural change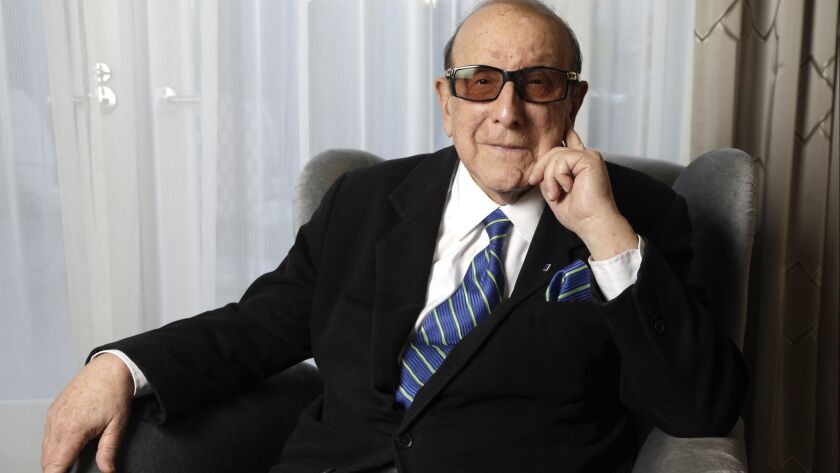 Following some deeply troubling years, the overall outlook, the chief executive pronounced on Tuesday, is strong.
He also voiced optimism at some encouraging signs of unity he claims to have witnessed across the fiercely competitive and often hotly partisan landscape.
This state of the union didn't come from Washington, D.C., but from 2,300 miles away in a plush hotel suite in Beverly Hills. And the man making the proclamations has been at his job in various capacities for more than half a century.
"The music of 2018 was very encouraging — it was a very strong year," music mogul Clive Davis, 86, said from his chair at a small glass-top table filled with documents detailing various aspects of the annual Pre-Grammy Gala, which he will cohost with the Recording Academy on Saturday night at the Beverly Hilton Hotel, less than 24 hours before the Grammy Awards are presented Sunday at Staples Center downtown.
READ MORE: Why the perfectly reasonable Grammy nominations feel like something of a letdown »
The Grammy eve party typically draws a who's-who gathering not only from within the music industry but also A-list guests from film, television theater, sports and politics.
"Nancy Pelosi is probably at the height of her career as speaker of the House," Davis said, as his eyes picked out her name from a pages-long list of hundreds of heavy hitters who have RSVP'd to attend on Saturday.
"For her to make the time to come and be present for one of her favorite nights, to have her and Tim Cook and Eddy Cue from Apple, along with members of Metallica, Chick Corea, Marc Anthony and Quincy Jones — it really is an evening like no other."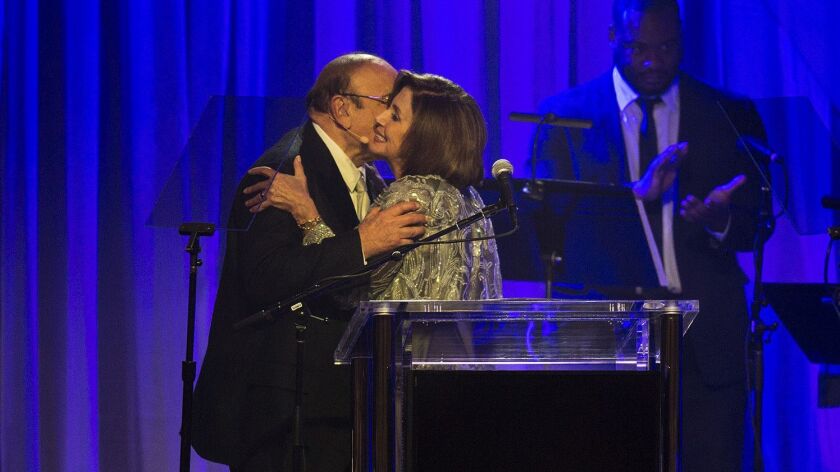 For starters, Davis, who in recent years has been chief creative officer for Sony Music Entertainment, said that while many challenges lie ahead, he's encouraged by the return of at least a modicum of stability and even evidence of growth as consumers have made the move from owning music to streaming services.
"There have been various times when we were concerned about the degree of counterfeiting, the idea of taping music for free, and you were worried about the health of the future of music," he said referencing some earlier instances that challenged him and others in the music business.
Still, today's music industry reckons with various issues of diversity. Although female musicians dominate the pop, R&B album and singles sales charts these days, it's often a very different story behind the scenes.
A new USC study released last week details the hurdles facing women interested in jobs other than singing. It concludes, in part, that woman are "isolated. They're dismissed, they're objectified."
It adds to the picture that USC's Annenberg Inclusion Initiative painted last year by examining several categories of Grammy Award recipients and finding that 91% went to males, just 9% to females.
It's an issue the Recording Academy has placed as a high priority since launching a task force last year to examine biases that impact women as well as people of color and other minorities working in the music business.
"I just got a copy of this task force [report and recommendations] on diversity and inclusion," Davis said. "They're really trying to expand the opportunities for female producers and engineers. It's very admirable, very worthwhile."
Such hurdles can extend well beyond professional disadvantages into various forms of inappropriate behavior, sexual harassment and outright abuse, as detailed in stories that have emerged forcefully in the #MeToo era. Such topics are sure to be front-of-mind at Grammy events, especially in the wake of Lifetime's six-part docu-series "Surviving R. Kelly," which detailed the singer's long history of alleged sexual abuse crimes, many of them involving underage girls.
"I am greatly saddened by some of these real experiences people have had," Davis said, declining to specifically address R. Kelly. "It is clear it has caused a much-needed examination of what is appropriate behavior. It has been a painful wake-up call, and I think things will be different in the future."
He's hopeful a new generation will inspire cultural change.
"For one, they've certainly had less time to build bad habits," Davis said. "This younger generation has a whole different attitude toward sexuality, and I'm optimistic that the future will have at its core a stronger value structure and appropriate conditions in the working environment."
2019 Grammys: Full list of nominees and winners »
Davis also hailed the recent passage of the Music Modernization Act, a measure aimed at updating federal laws governing music copyright and royalties. The bill gained bipartisan support in the House of Representatives and Senate and was signed into law by President Trump in October.
"It's a tough era we're living in right now," Davis said. "The fact that there was bipartisan support for this just shows that music is nonpolitical and that it really is such a binding force. I think it is a dramatic example of what the potential in the right area of bipartisanship is to know when they align together as they could on this act."
Beyond his role as impresario of Saturday's pre-Grammy gala, Davis is one of the guiding forces behind the forthcoming CBS special saluting Aretha Franklin. He worked closely with her and became close friends for nearly 40 years after signing her to his Arista Records label after her long relationship with producer Jerry Wexler and her contract with Atlantic Records came to an end.
Davis had floated the idea of a tribute show well before Franklin died in August at 76.
"This came up when Aretha was healthy, and so I called her to get her permission," said Davis, who helped orchestrate the rejuvenation of Franklin's career in the '80s with hits including "Freeway of Love," "Jump to It," "Who's Zoomin' Who" and "Sisters Are Doin' It for Themselves."
"She was thrilled with the idea of artists performing her classics in a live setting," he said. "She and I had several conversations before I learned of the serious battle [with illness] that she would be facing.
"So it certainly was with mixed emotion that I approached the Shrine [Auditorium in Los Angeles] when the concert was actually taking place," he said of "Aretha! A Grammy Celebration for the Queen of Soul."
The show will feature performances by Janelle Monae, Smokey Robinson, Yolanda Adams, Alessia Cara, Kelly Clarkson, Common, Celine Dion, Jennifer Hudson, Alicia Keys, John Legend, Patti LaBelle, SZA and BeBe Winans, among others, and is to air March 10.
"The artists, they did her so proud."
Follow @RandyLewis2 on Twitter.com
For Classic Rock coverage, join us on Facebook
---
From the Emmys to the Oscars.
Get our revamped Envelope newsletter, sent twice a week, for exclusive awards season coverage, behind-the-scenes insights and columnist Glenn Whipp's commentary.
You may occasionally receive promotional content from the Los Angeles Times.