Open letter inspired by #TimesUp asks for white-rose show of support at Grammy Awards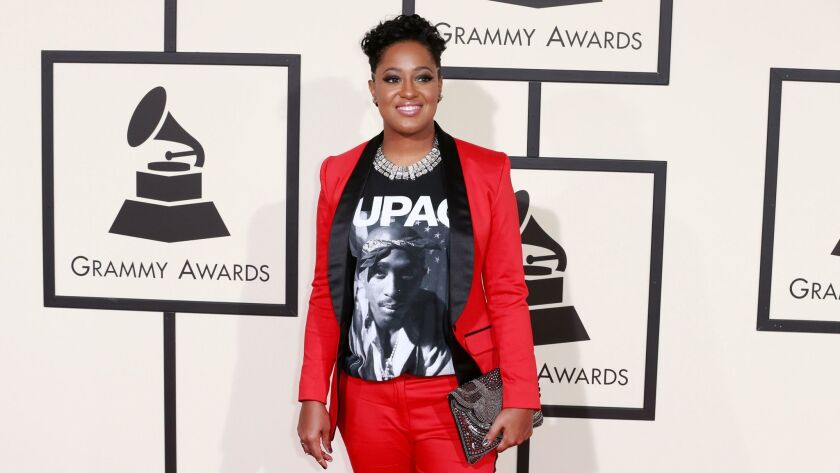 As waves of gender discrimination and sexual assault allegations continue to envelop the entertainment industry, the music business, with a couple of high-profile exceptions, has remained relatively unscathed by the shift.
Yet an open letter circulating among the music industry this week – just days before the Grammy Awards occur at Madison Square Garden in New York — may spark a change.
Written earlier this week by advocates within the music biz calling themselves the "Voices of Entertainment," the letter takes its cue from the Times Up campaign, which gained national exposure at the Golden Globes.
It requests that Grammy attendees and nominees wear white roses in support of "equal representation in the workplace, for leadership that reflects the diversity of our society, workplaces free of sexual harassment and a heightened awareness of accountability …"
The response?
"It's been insane," said Meg Harkins, one of the group's organizers and an executive at Roc Nation. "People have really embraced it and it's become a key talking point going into the weekend, which is exactly what we wanted."
So far the letter has been supported by artists including Halsey, Fergie, Kelly Clarkson, Bebe Rexha, Cyndi Lauper and Rapsody, according to Harkins.
In addition to the marquee names supporting the Voices of Entertainment letter, dozens of artists, managers and music business workers also signed the document. Among them are employees of major music companies including Warner Music, Sony Music and Universal, as well as broadcasters including New York radio station Hot 97 and CBS Radio.
The campaign came together quickly after a number of prominent women in the music industry asked about the plan for Sunday's ceremony, Harkins said. They had all watched as the movie business experienced what she described as "a tsunami of powerful men doing predatory things that were called out."
Realizing that no one had yet acted in advance of the Grammys, they convened Monday night in New York.
"We knew we had to do something that was meaningful, quick and easy," Harkins said. "It could be men and women, people could either customize and go crazy with their white roses or be very subtle."
Acknowledging inspiration from Times Up, the letter states that the group chose a white rose "because historically it stands for hope, peace, sympathy, and resistance."
Time's Up was formed in the wake of allegations against powerful entertainment figures including Harvey Weinstein, Kevin Spacey, Brett Ratner and James Toback.
The campaign is "still trying to find our footing," the actress Scarlett Johansson told The Times' Jen Yamato at Saturday's women's march in downtown Los Angeles, "but I think it's given all the women in the organization a sense of unity, which I think in turn brings a sense of relief just in terms of knowing you're not alone. There's a safe place to share and a collective desire to move forward. It's been very powerful."
In the wake of the Golden Globes publicity, the Times Up campaign earned more than $15 million, Harkins noted, and added that Voices of Entertainment's goal was to make people aware that "in this industry and our musical family, there's a need and that we're here, too. It's not just Hollywood. It's a broader conversation that we should be a part of."
A statement sent to supporters by Times Up on Thursday acknowledged the Grammy campaign. "We are grateful for anyone in the music industry who would like to use this platform to raise awareness about safety and equity in the workplace and are excited to support this organic industry-initiated show of solidarity," it read in part.
The need for change seemed to be confirmed by a team of USC academics, who offered hard data about gender disparity in the music industry. The study, in part, looked at the gender breakdown of Grammy Award nominees, and found a wide imbalance. A total of 90.7% of nominees between 2013 and 2018 were male, meaning just 9.3% were women.
Undertaken by the university's Annenberg Inclusion Initiative, the paper found that gender gaps in the music industry are widespread, especially in songwriting and production.
It revealed that between 2012 and 2017, a full 87.7% of songwriters credited for the top tracks of the period were male, a ratio of more than seven men for every one woman. Nine male songwriters accounted for nearly a fifth of all tracks surveyed in the study.
Behind the mixing board, the imbalance is even worse. Only 2% of production credits over the time period went to women, and 95.7% of all songs had no female production credits at all. Only two women of color received any production credits over the time surveyed.
The study did not yet directly link these disparities to the issues raised by #MeToo and Times Up. But they did suggest that, like in film and television, pressure from fans and industry peers about how and why women are excluded could lead to positive change.
"We see consistent ratios of leadership roles in film and television," Stacy L. Smith said of her study with Marc Choueiti and Kate Pieper. "Consumers can ask why nine male writers were responsible for 20% of the songs we studied."
Hoping to propel awareness of this disparity, Voices in Entertainment will strive to be an advocate able to say, "We see you. We hear you. And there's a fund," Harkins said.
For tips, records, snapshots and stories on Los Angeles music culture, follow Randall Roberts on Twitter and Instagram: @liledit. Email: randall.roberts@latimes.com.
---
UPDATES:
1:55 p.m.: This article has been updated throughout with interviews and findings from a USC study.
This article originally published at 10:35 a.m.
---
Your essential guide to the arts in L.A.
Get Carolina A. Miranda's weekly newsletter for what's happening, plus openings, critics' picks and more.
You may occasionally receive promotional content from the Los Angeles Times.