Review: Kacey Musgraves is for lovers at post-Grammys Valentine's Day show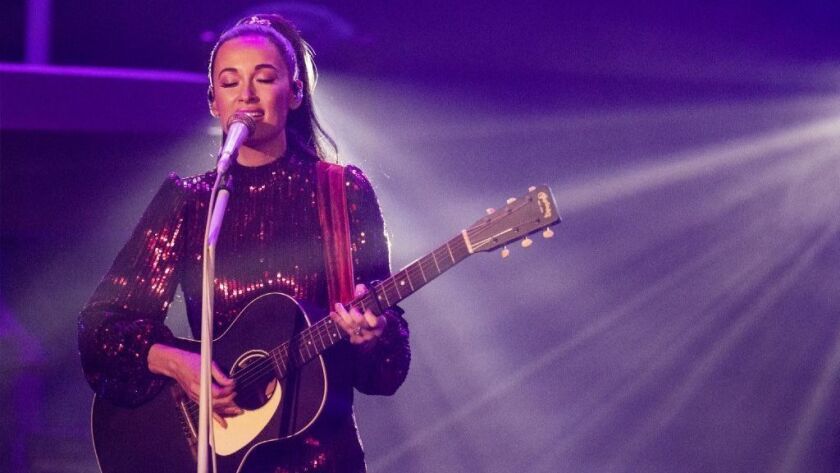 Kacey Musgraves is now at the point in her career where you probably won't hear her sing alone in concert anymore.
Her songs – plain-spoken odes to family ties, love's complexities and life in a small Texas town – are no longer just for her. They ring out in surround-sound singalongs as if ripped from the diaries of her fans, no matter where they grew up or whether they consider themselves followers of contemporary country music.
And there's a soft sweetness to her singalongs, reminiscent of when Taylor Swift revisits the vulnerability of "Fifteen" or when the Dixie Chicks dust off "Travelin' Soldier."
This week proved that Musgraves has a songbook to rival those artists and could be destined for the same magnitude of success. When the lights went down at the Theatre at the Ace Hotel in downtown Los Angeles on Thursday, the roar from the crowd nearly eclipsed the tender modesty of her opening "Slow Burn."
For the first of two consecutive, sold-out nights at the Ace, the audience had come to bask in the amber glow of Musgraves' victorious night at the Grammy Awards. She went home with the trophy for album of the year on Sunday, along with three more in the country-music categories, and held her own performing alongside Dolly Parton and former tour mate Katy Perry.
"I don't know if you heard, but this past week has been … awesome," she said. "Let's celebrate together!"
"Golden Hour," which catapulted Musgraves, 30, from indie star to Grammy darling, is an album that scrambles genres and moods. Sure, it's a pastiche of country and pop, but it also feels untethered to time and place. Every single song is a hit — or could be if Musgraves got the radio play she deserves (and might finally be getting).
Released nearly a year ago, it was a slight curveball for Musgraves, whose down-home spunk put her first two studio albums more firmly in the country realm. ("A Very Kacey Christmas" was its own holiday confection.)
Her latest release has the warm, luminous textures of a Linda Ronstadt song seeping out of the radio at sunset circa '77. At the Ace, her six-piece band and two backing vocalists conjured its supple beauty with the ache of pedal steel, pluck of banjo and a surplus of acoustic guitar. They kept their fingerprints light on the ballads ("Rainbow," "Oh, What a World"), but also flexed some might on the disco thump of "High Horse" and "Velvet Elvis."
For a handful of songs, Musgraves and her band even huddled close in a more intimate setting, a clever ploy often reserved for stadium shows, but almost comical in the relatively cozy confines of the Ace Hotel's theater.
In concert, "Golden Hour" is a joy to behold, particularly on Valentine's Day. And Musgraves was ready to play Cupid, looking like a valentine come to life, the sequins of her crimson dress shimmering in a backlight that illuminated a long, high ponytail perhaps on loan from Ariana Grande. Couples swayed and smooched – even when the songs grappled with the fraught vagaries of romance ("Happy & Sad," "Wonder Woman").
Musgraves brought out her own valentine, husband and fellow musician Ruston Kelly, to sing a stark duet of "To June This Morning," a Johnny Cash poem for June Carter set to music. After a peck on the lips, Kelly started to exit with his wife's guitar slung around his neck. "I kinda need that," she said. You could feel the collective swoon in the room.
The whole evening – a brisk 90 minutes devoted to the entirety of "Golden Hour" and choice cuts from her earlier work ("Merry Go 'Round," "Follow Your Arrow," "Family Is Family") – was a musical valentine between the artist and her admirers. Those singalongs grew louder and clearer, and Musgraves thanked everyone for spreading "such good vibes."
The show had its share of frothy fun too. In a salute to her surroundings, in the middle of "High Time," Musgraves asked the crowd, "How are your CBD edibles feeling?" ("Gooooood!" a woman in Row N called out.) On "Space Cowboy," after reassuring her beloved that she wasn't trying to fence him in, Musgraves flashed a proud middle finger to express what polite words couldn't.
And if you forgot she's a child of the 1990s, Musgraves delivered an irony-free version of NSync's "Tearin' Up My Heart," a boy-band jam that sparked yet another singalong. She even brought out a duet partner, Sophie Allison, who performs under the stage name Soccer Mommy, and earlier commanded her band in an opening set of dream-pop that veered from spectral to jagged.
"Opening for Kacey Musgraves in LA w my valentine was.. the best date ever," Allison tweeted the next morning. Perhaps more accurate: the best date for everyone.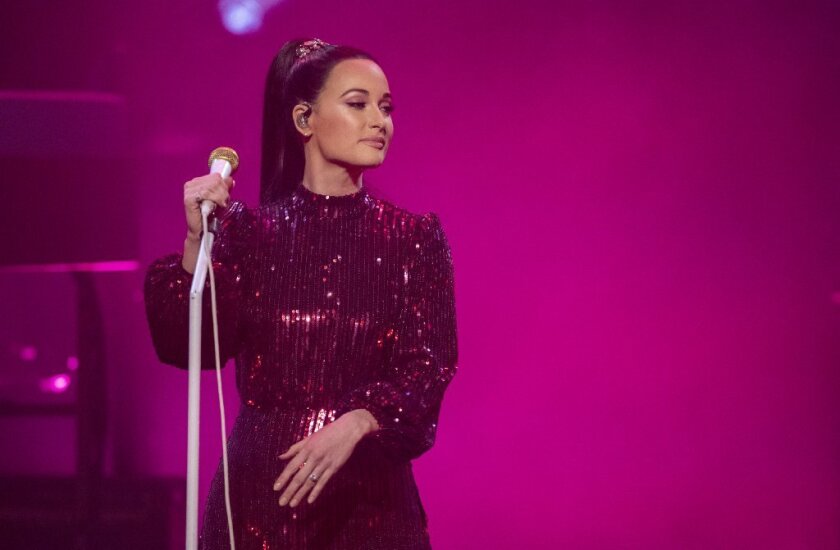 Follow me on Twitter @jreedwrites.
---
The complete guide to home viewing
Get Screen Gab for weekly recommendations, analysis, interviews and irreverent discussion of the TV and streaming movies everyone's talking about.
You may occasionally receive promotional content from the Los Angeles Times.