Review: On her way to Coachella, Kali Uchis' Novo set showed the range of her new album and Latin pop itself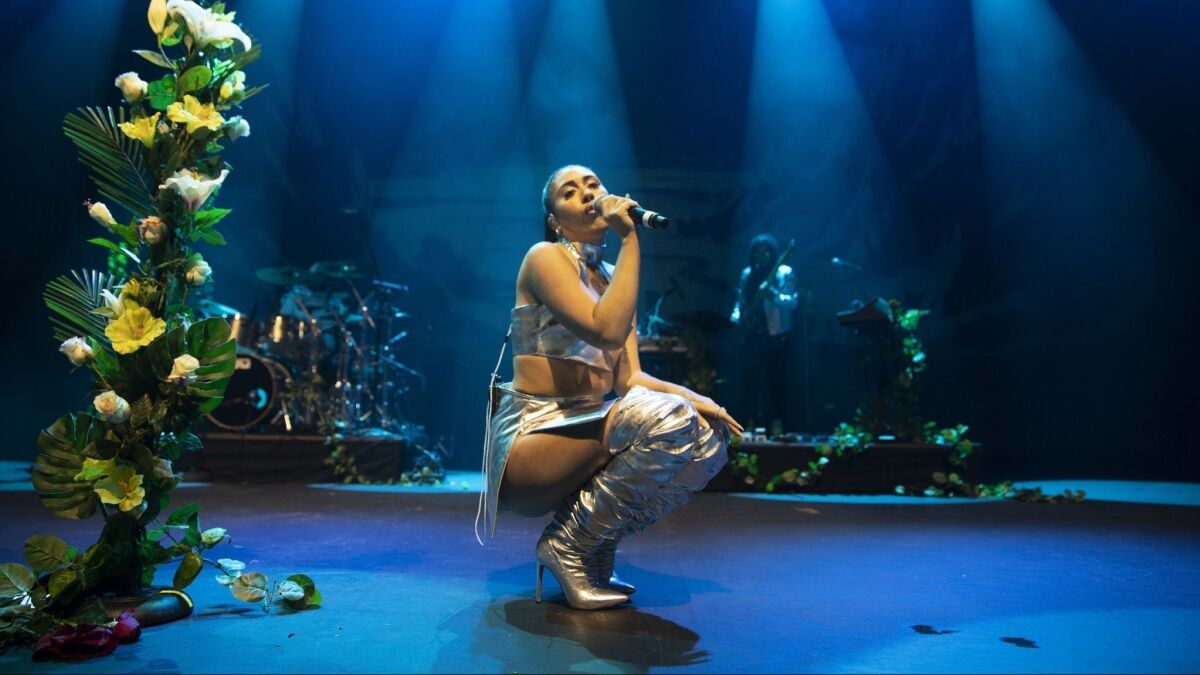 Pop Music Critic
Kali Uchis opened her concert Tuesday night at downtown's Novo club with the same song that opens "Isolation," the lively and unpredictable debut album she released last week.
"There's no tracking where I'm going," she sang over an airy bossa nova groove in "Body Language," and that certainly was true of the wild proliferation of ideas she laid out in this show, which jumped from rubbery funk to thumping reggaeton to lush throwback soul.
For "In My Dreams," Uchis' band worked up a tinny shuffle beat that recalled the Cure's "Close to Me"; later, "Tyrant" made an unlikely rhyme of the names El Chapo and Brigitte Bardot.
Raised between Virginia and her parents' native Colombia, the 23-year-old Uchis (who now lives in Los Angeles) is part of an emerging generation of young Latin-pop artists whose adventurous music is helping to expand the way we think about that broad-to-begin-with genre — and where it fits into the world after the door-opening success of "Despacito."
Uchis is also one of several Latin-pop acts on the bill at this weekend's Coachella Valley Music and Arts Festival in Indio, along with Los Ángeles Azules, the long-running cumbia group from Mexico, and Hawthorne's Cuco, who opened Tuesday's show with his dreamy ballads about teenage romance.
Not that the increased presence of Spanish-speaking artists has remade that festival's image as a playground for the privileged.
"Anyone going to Coachella?" Cuco's drummer asked with what sounded like genuine excitement at the beginning of their set, to which one guy in the audience replied, "We ain't white."
But they were devoted Uchis fans. The capacity crowd at the Novo sang along with every shape-shifting tune in the singer's hourlong set — which was especially impressive given that she pulled heavily from "Isolation," which had been out for only a few days. (The concert marked the first performance of much of the new material, she said.)
Wearing a bold silvery outfit and a high ponytail that swished each time she moved, Uchis sold her songs with plenty of old-fashioned show-biz razzle-dazzle; her vocals too were very strong in cuts as diverse as "Nuestro Planeta," with a heartbeat of pulsing club bass, and "Killer," an Amy Winehouse-style weeper for which her keyboardist played what appeared to be a toy xylophone.
For "Just a Stranger," Uchis was joined by Steve Lacy, another young and open-minded Angeleno who bounced around the singer as he delivered the song's hook about a woman who doesn't want him for his love but for his hundred-dollar bills. (Damon Albarn of Gorillaz also showed up, albeit as a prerecorded voice, to do his bit from "In My Dreams.")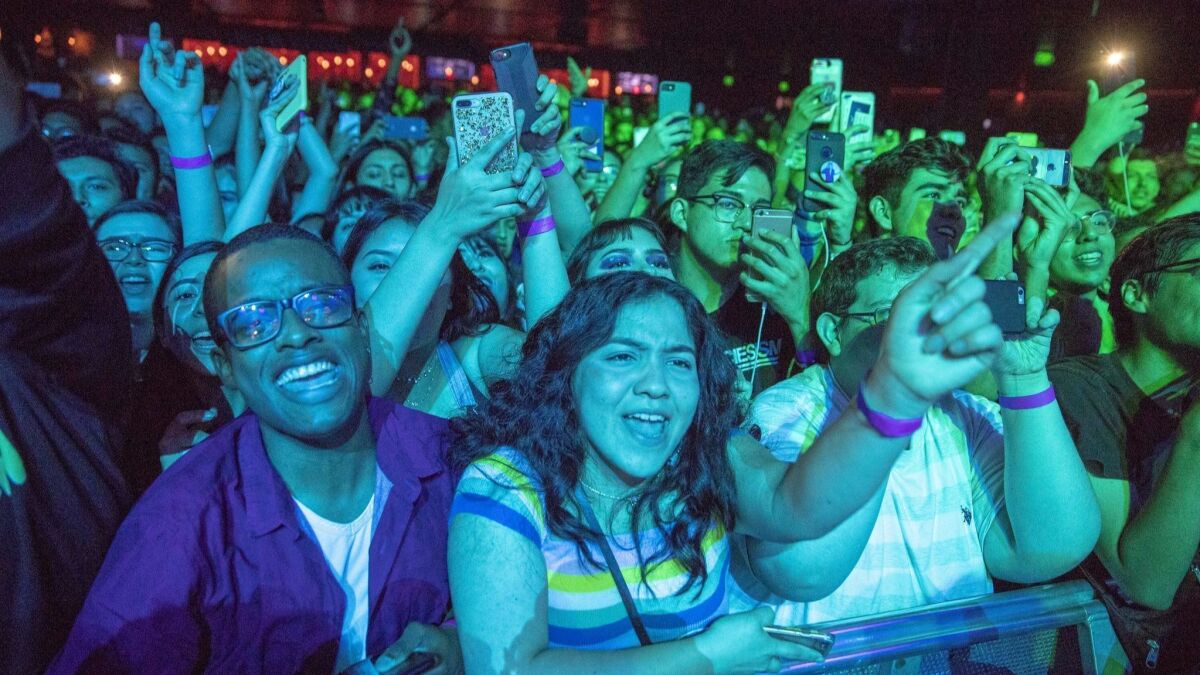 Yet just as important as Uchis' performance skills was her faith that her fans could hang with the changes she was throwing them — indeed, that they'd want her to roam as widely as she was in order to demonstrate that Latin pop means whatever one says it means.
You got that as well from Cuco, who broke from his trademark sound to play a new song — "a straight-up rap song," he called it — that was much rowdier and harder-edged than anything he's released so far.
"Lucy in the sky / Diamonds in my eyes," went the lyrics, which went on to mention "Santana in my blood."
After it was over, Cuco paused for a minute before singing the woozy and tender "Lo Que Siento," a more characteristic ode to a lover he thinks about "when I wake up in the morning until I go back to sleep."
He was out of breath, he explained between huffs and puffs — but not out of inspiration.
ALSO
Nile Rodgers' influence stretches all over Coachella, beaming the sound of a better future
Beyond Beyoncé: Here's who else you need to see at Coachella
Portugal. The Man is a rock band with a pop hit at Coachella
Coachella-bound Black Madonna has emerged as one of electronic music's most potent advocates for change
All the amazing things you'll be eating at Coachella (Guerrilla Tacos, Shake Shack!), plus a survival guide to the festival
Twitter: @mikaelwood
---
Your essential guide to the arts in L.A.
Get Carolina A. Miranda's weekly newsletter for what's happening, plus openings, critics' picks and more.
You may occasionally receive promotional content from the Los Angeles Times.