T-Pain won 'The Masked Singer.' Now what?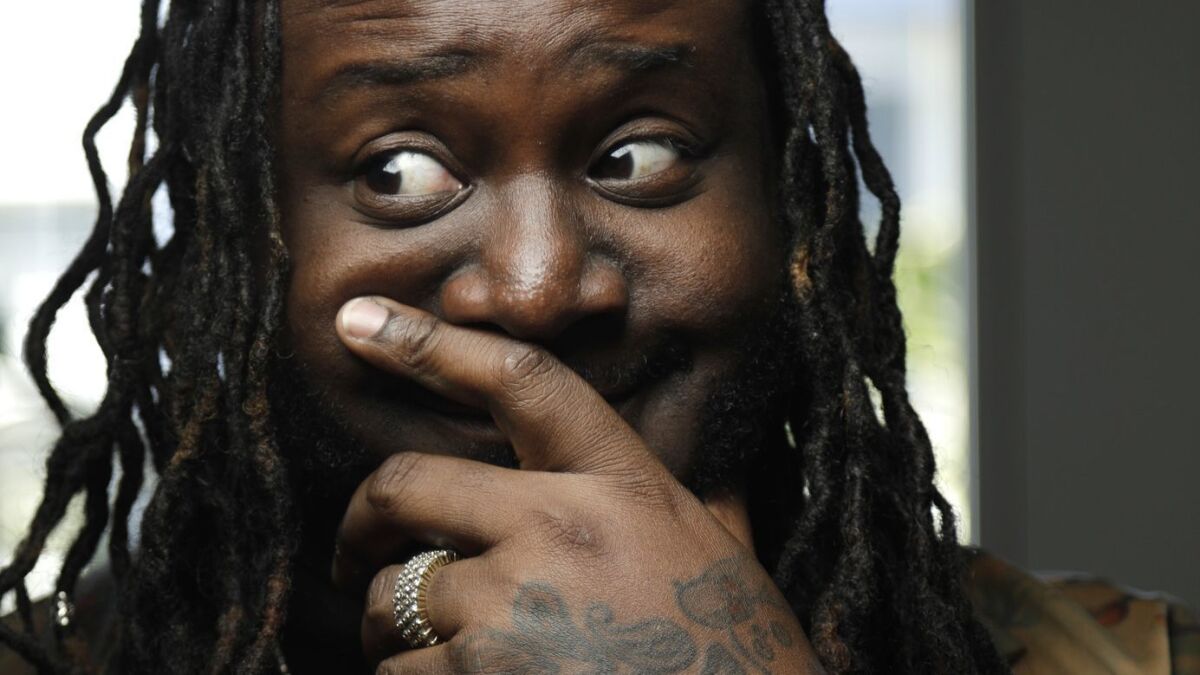 Pop Music Critic
T-Pain would not have picked the monster costume if he'd known he was going to stick around.
"I figured I'd get voted off super-quick," the hip-hop star said of his stint on "The Masked Singer," Fox's wacky competition show that put T-Pain and other celebrities in elaborate disguises as they waged vocal war with one another this past winter. "So I was like, 'Lemme just wear the most ridiculous thing I can before I get up out of here.'"
As viewers of the surprise-hit series know, that's not what happened.
After vanquishing rivals including Gladys Knight (who dressed as a bee) and Donny Osmond (a peacock), T-Pain won "The Masked Singer" in February, finally removing his oversize monster head to reveal his identity to a shocked judges' panel.
It was perhaps an unlikely victory for a singer associated more than any other with Auto-Tune, the vocal-processing software T-Pain's been using since the mid-2000s — in songs like "Buy U a Drank" and "Can't Believe It" — to give his voice its signature emotional-android effect.
"The soul that you put down on this show, man, I am just amazed," Robin Thicke, one of the "Masked Singer" judges, told him on the finale.
But T-Pain knew he could sing without Auto-Tune, which for him (and many of the artists he's inspired) isn't a corrective tool so much as an aesthetic device.
The reason he expected to lose was because he'd been "trained," as he put it on a recent afternoon, to believe that any creative idea he had would result in failure.
"What do they call it when you make somebody think they're crazy?" he asked. "My wife knows the word."
Gaslighting?
"That's it," he replied. "I got gaslit. Big time."
Sipping tequila as he sat in a Beverly Hills hotel room, T-Pain seemed to be in high spirits the day before he began a tour behind his new album, "1Up." (He'll play the Novo in downtown Los Angeles on Thursday night.)
The 33-year-old singer, who lives with his wife and children in Atlanta, had come to town to host last month's televised iHeartRadio Music Awards — another gig, like "The Masked Singer" and his tune from "The Lego Movie 2" soundtrack, that's widened his audience 15 years after he got started.
"I went on an Instagram rant the other day and somebody told me, 'Little white kids are looking at you now — stop your cursing!'" he recalled with a laugh. "I was like, … you're right.'"
Yet not so long ago, things were worse for T-Pain. After years of creating hits for himself and with other artists such as Kanye West and Flo Rida, the singer says his record label, RCA, lost interest in him and his work in the wake of a backlash against Auto-Tune crystallized by Jay-Z's 2009 single "D.O.A. (Death of Auto-Tune)."
Little white kids are looking at you now — stop your cursing!
— T-Pain on being told to behave himself on social meda
He described a listening party he threw at his home — "catered the whole thing, hired bartenders, flew everybody in" — shortly before his excellent 2011 album "Revolver" was due to come out.
"I start playing the music and by Track 2, everybody's in full conversation, including the president of the label, who was at my house to hear the record that he's gonna be held accountable for.
"And he's talking super-loud about something he did two weeks ago." (An RCA representative didn't respond to a request for comment.)
T-Pain said he eventually blew up at his guests, telling them, "If this was Chris Brown's party, y'all wouldn't be doing this."
"And literally the day after that," he said, the label withdrew its support. "No promo, no interviews, no nothing."
The lack of enthusiasm stung, T-Pain admitted; it also led to a creeping worry that maybe he was wrong to think his music was still any good.
What was really vexing, though, was that RCA wouldn't drop him even when he begged to be let go. The label, he said, didn't want another company to sign him lest Auto-Tune come back into vogue and he find success elsewhere.
So with one album remaining on his contract, he said he asked, "What kind of music y'all want me to make?" The result was 2017's tellingly titled "Oblivion," on which he bent his trademark sound toward the popular trap style.
His take on the record now?
"Hate it," T-Pain said. "It just wasn't my music, man. That was T-Pain being fake."
Friends asked him why he was suddenly "trying to sound like these young dudes," to which he'd respond that that's what RCA had asked for.
"It was the only way they were gonna release me," he said.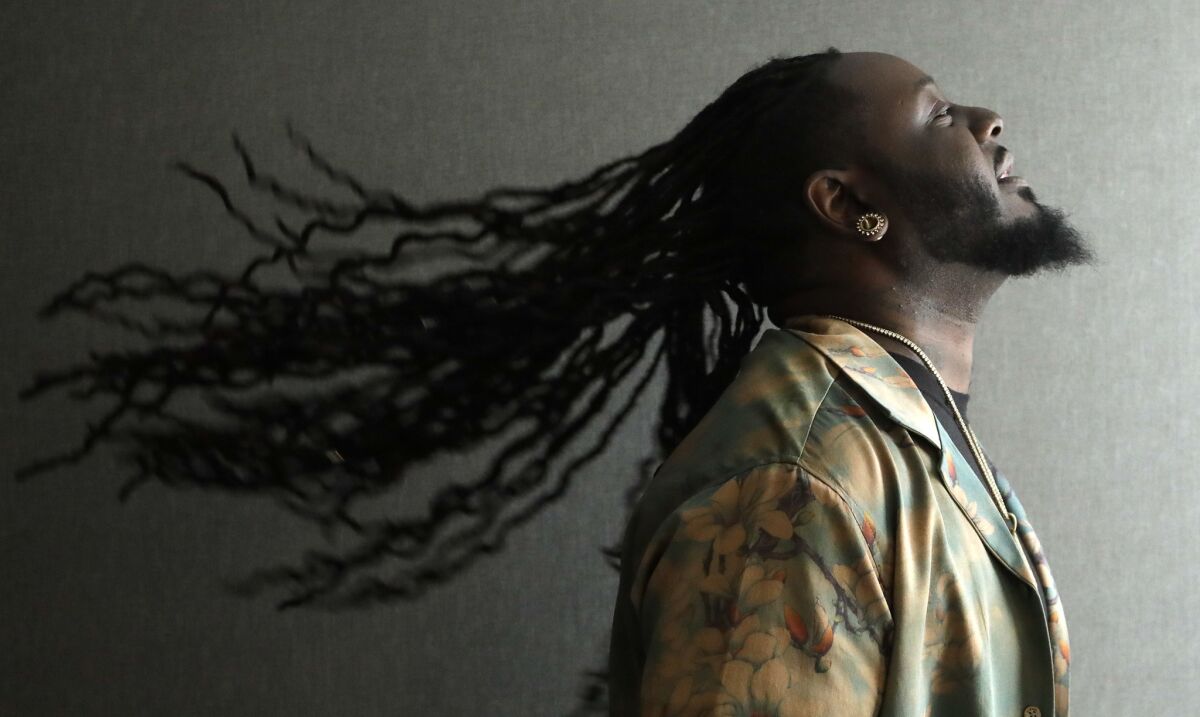 Which brings us back to today. With new management and a new label, Cinematic Music Group, the singer says he's relearning to trust his instincts — and just as Auto-Tune has resurged among youthful hip-hop hitmakers like Juice WRLD and Lil Uzi Vert, whose music proudly accentuates the technological effects Jay-Z bemoaned a decade ago.
Even Jay-Z's wife, Beyoncé, used Auto-Tune on the couple's "Everything Is Love" album from 2018.
T-Pain sees himself at the beginning of a sonic lineage that extends through Lil Wayne (who guests on "1Up"), West, Future, Chief Keef — "and then literally everybody else," he said with a laugh.
"If you put that combination in a pot, you could make every other hip-hop artist right now."
As he poured himself another tequila, the singer said his role as a pioneer made him bitter at first — "because these new people were going up while I was going down."
And truth be told, T-Pain isn't exactly giving his inheritors a scare on the charts. "1Up" entered the Billboard 200 last month at No. 115; the next week, Juice WRLD's latest debuted at No. 1.
But he said he'd rarely felt better than when he played his album for his new team for the first time and saw that "nobody was answering emails on their phone."
"And I've seen only good reviews since it came out," he added. "To see everything come together after not having all the pieces — it's like building a robot and it actually works.
"We got functionality, people."
Twitter: @mikaelwood
Get our L.A. Goes Out newsletter, with the week's best events, to help you explore and experience our city.
You may occasionally receive promotional content from the Los Angeles Times.