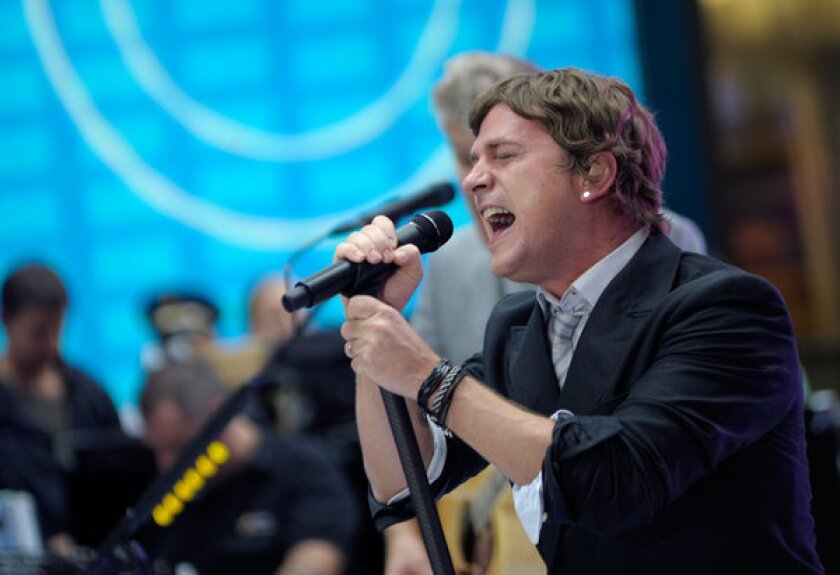 It's a good week to be in a major label rock band. Nineties survivors Matchbox Twenty and relative newcomers Imagine Dragons own the top two spots on this week's pop chart, and both are winning sales with hand clap-driven mid-tempo singles.
"North," Matchbox Twenty's first album of entirely new material in a decade, lands at No. 1 after selling 95,000 copies in the U.S., according to Nielsen SoundScan. The Rob Thomas-led band hasn't been entirely missing in action, as a 2007 hits collection, "Exile on Mainstream," mixed in new material with older hits and bowed at No. 3 on Billboard's charts, doing so after selling 131,000 copies.
The Atlantic Records act has a hit in "She's So Mean," a single that has reached the top 40 on Billboard's Hot 100. The song, about a bratty femme fatale who scratches her suitor's record collection, plays it light, boasting rather percussive verses that bring a communal vibe to Matchbox Twenty's late-'90s rock.
Interscope's Imagine Dragons mine similar territory with hit "It's Time," an anthemic, ukulele-friendly rocker that has thus far peaked at No. 63 on Billboard's singles chart. The band's debut, "Night Visions," sold 83,000 to land at No. 2 on the chart. Billboard's data show that 90% of the sales of "Night Visions" were downloads, no doubt helped by heavy discounting at both iTunes and Amazon.com.
Also new in the top 10 this week is "Gravity," the latest from Christian rapper Lecrae, which enters at No. 3 after selling 72,000 copies, and Cat Power's "Sun," which hits No. 10 after selling 23,000 copies. "Sun" misses Cat Power's best-ever sales week by about 7,000 copies, but it is the highest-charting album from the indie singer-songwriter, whose work has grown increasingly layered and orchestral.
L.A.'s Frank Ocean enjoyed a healthy sales boost after his appearance at the MTV Video Music Awards last week, where he performed his "Thinkin' Bout You." The artist's debut, the murky electronic-focused R&B; of "Channel Orange," jumped from No. 45 to No. 21, earning a 60% sales increase to 14,000 copies.
To date, Def Jam's "Channel Orange" has sold 295,000 copies, and it should have another strong week this week. Ocean is the musical guest on the season premiere of this weekend's "Saturday Night Live."
The digital singles chart is all Taylor Swift, as her "We Are Never Getting Back Together" remains No. 1 for a fourth week. According to Billboard, the single sold an additional 284,000 downloads after surpassing the million mark last week.
Meanwhile, Swift's "Ronan" lands at No. 2 after selling 211,000 downloads. "Ronan" was released Friday to coincide with the benefit "Stand Up to Cancer." The song is a tribute to young cancer victim Ronan Thompson and was inspired by the writings of his mother, Maya. A charity single, the song is not slated to appear on Swfit's upcoming album, "Red," which is due Oct. 22.
ALSO:
The futuristic hum of Django Django and 'Hail Bop'
Goldenvoice's Coachella proposal could add 2 more festivals
MTV Video Music Awards: Frank Ocean provides a stunner
PHOTOS AND MORE:
PHOTOS: Iconic rock guitars and their owners
PHOTOS: The Rolling Stones at 50
John Cage, radical composer for the 20th century
---