Netflix is expanding its stand-up comedy reach with specials focusing on emerging and global voices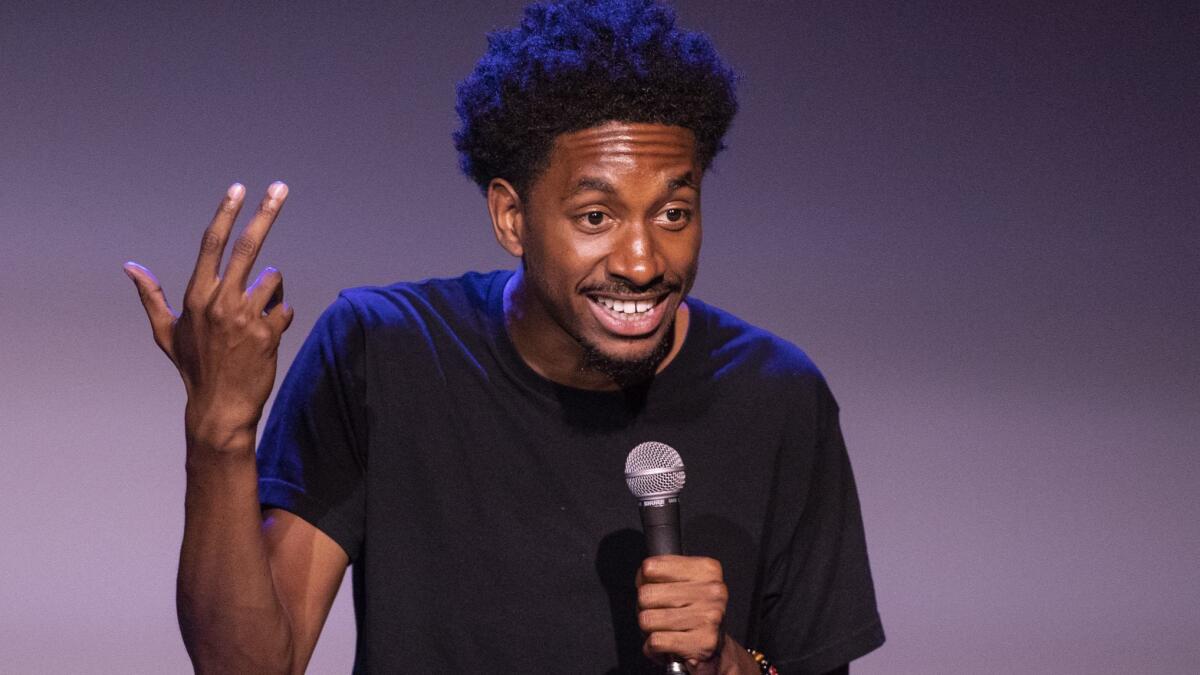 The night before he was to tape his first Netflix comedy special, Jak Knight, whose gigs not long ago included "coffee shops and the back of a dude's house," was pacing his hotel room and polishing jokes when the enormity struck him: "I have 15 minutes to show the entire world my personality."
Knight traveled to Atlanta in February with other rising comics — diverse in race, gender and humor — to tape stand-up specials in Netflix's latest expansion into comedy. He hopes his short set in "The Comedy Lineup," which debuted this month, will ignite his career much like late night TV shows, HBO specials and Madison Square Garden concerts propelled stars like Richard Pryor, Jerry Seinfeld and Amy Schumer.
"This Netflix thing is like the new [Johnny] Carson show. Everybody gets to see you," said Knight, whose 15-minute set riffed on birth control and generational divides. "This is where everybody is looked at, where all the eyes are going to be. This is where I get to do shows in Singapore and London. This is a big, big deal."
Netflix is transforming stand-up comedy and making it integral to its future. The company, expected to spend a reported $12 billion this year on overall original content, has streamed scores of stand-up specials, including comedians who speak Italian, Spanish, Portuguese and German. The strategy is to tap emerging comics and headliners, such as Bill Burr and Dave Chappelle, and push its brand to distant capitals. It is launching a comedy radio channel with SiriusXM and is planning a TV series next year featuring 47 comedians from 13 regions, including Africa and the Middle East.
"When Netflix started, HBO and Comedy Central were viewed as the destination for comics," said Brian Volk-Weiss, head of Comedy Dynamics, which has produced specials for Aziz Ansari and Kevin Hart. "HBO had been doing it for 25 years by the time Netflix started making originals. It took Netflix barely two years to become the dominant force. That's what's amazing about it. There was no dip in quality, combined with a staggering, unprecedented jump in volume.
A huge piece of the puzzle is that [Netflix Chief Content Officer] Ted Sarandos loves stand-up comedy, and he's got a really nice checkbook.
— Brian Volk-Weiss, head of Comedy Dynamics
"A huge piece of the puzzle is that [Netflix Chief Content Officer] Ted Sarandos loves stand-up comedy, and he's got a really nice checkbook."
Netflix executives declined to comment for this story; the company did not respond to specific questions about its stand-up program.
Streaming to more than 190 countries and reaching about 125 million subscribers, Netflix gives relatively little-known comedians like Knight the chance to exponentially increase their audiences at a time when stand-ups are competing in a universe that includes clubs, Twitter, YouTube, sitcoms, podcasts and film. The company's voracious need for fresh material is spurring it to reach deep below marquee names for alternative and boundary-pushing comics who are often overshadowed.
"In these 15-minute Netflix sets, there's a gay white woman, two gay white guys, and then there's three black woman — me, another women who you wouldn't know is black and a black lesbian — and an Asian guy and a woman from Britain," said Janelle James, who's appearing later this year in "The Comedy Lineup." "People who are stuck in the old ways would say that this is kind of casting by numbers. 'Oh, they've got one of everything.' But to Netflix's credit, we all crush. We're not tokens."
There's an added enticement, said James: "Netflix is where the money is, so that's A No. 1."
Netflix's reach
This widening reach into comedy comes as Netflix's influence is being felt across film and TV. The Cannes Film Festival this year banned Netflix movies from competition because they hadn't been released in theaters, a decision that highlighted the debate over how films should be released and viewed. And, at the Emmy awards in September, Netflix will have more nominations than any company, a distinction that for nearly two decades was owned by HBO.
Figures vary widely on what Netflix pays stars and up-and-comers like Knight and James. The streaming service reportedly paid $100 million for two Seinfeld specials and his series "Comedians in Cars Getting Coffee." Discrepancies over pay and allegations of gender and race bias went viral in January when black comedian and actress Mo'Nique complained that Netflix offered her $500,000 for a show — way below the $20 million she claimed black males Chris Rock and Chappelle received, and $13 million reportedly offered Schumer.
Netflix uses algorithms to decipher the tastes of its audiences. Its comedy format fits the cultural preoccupations and technological fascinations that span the 20- to 40-something generation. Last year, it launched "The Standups," a series that included Dan Soder, Beth Stelling and other comics performing 30-minute sets. The new series of 15-minute sets is the latest attempt to discover new talent and play to the shrinking attention spans and quicksilver viewing habits of younger generations driven by social media, YouTube and outlets that play easily on smartphones.
Some fear stand-up comedy's hyper-expansion over the last decade — Netflix specials, arena shows and endless open-mike nights — may lead to oversaturation, diminished creativity and, ultimately, a reckoning. There is also the question of how emerging stars can rise to the level of a Chris Rock at a time when the media landscape is democratized and splintered with choices and platforms.
"It's great that comedy has reached a level of such mainstream exposure where it isn't really taboo anymore to be part of, either as a viewer or a performer," New York comic Eddie Gamez wrote in an essay on the website Comedians on the Loose. "However, it comes with a price, because it was that taboo element that made comedy so intriguing before I even started." He added that with "so much to consume on the airways, quantity becomes the main focus as opposed to quality."
"I hear all the time the bubble's going to pop. But there is no bubble," said Comedy Dynamics' Volk-Weiss. He added that social media and streaming have changed the rules: "You can watch anything you want, whenever you want. In the short run, you're going to see a lot of other companies begin to compete with Netflix.
"In the long run, as with any genre, it will continue to grow at a 1 to 3% a year clip and then it will stabilize, and you'll look at stand-up comedy the way you look at horror films. Sometimes they're extremely popular, sometimes they're not."
A Netflix special that catches the zeitgeist can transform a career. A relatively unknown comic can go from selling fewer than 100 tickets at a club to selling thousands at a theater after appearing on Netflix. Ali Wong's 2016 stand-up special, "Baby Cobra," filmed when she was seven months' pregnant, was a star turn for the actress and "Fresh off the Boat" writer. Her new special, "Hard Knock Wife," reaffirmed the growing appeal of female comics, including Sarah Silverman, Jen Kirkman and Maria Bamford, in a profession long dominated by men.
"It's changed drastically since I started," said James, who has a mischievous, smooth delivery in skits ranging from a kung fu-obsessed father to her support group for "the formerly hot." "I used to be the only woman at open mikes, and there were certainly no female headliners. But now there are so many women. Just across the board — women and men — comedians are better today. The struggle is you have to be amazing."
James' first set as a comic was an open-mike night eight years ago at a biker bar in Champaign, Ill. She moved there after working in the fashion industry in New York. "I knew I was innately funnier than the people I saw," she said. "I wrote everything out and practiced in the mirror. I did pretty well, and I got really cocky. I bombed the second time. I became obsessive about it. This is my life. Trains, planes and automobiles ever since I started. It's all stage time. I don't know if I've done 10,000 hours, but I'm following that method."
A mother who has since returned to New York, James landed a spot on the Netflix series after she opened for Rock during the taping of his special, which premiered in February. "All the Netflix people were there, and they saw me live," she said. "Right place, right time and ready when it happens. That's all comedy is."
"The Comedy Lineup" will likely expand the audiences for James and the other comics. But she said "it will be our responsibility to promote it."
"Who knows? What we all want is for someone that has a huge [social media] following to tell their people to watch it," she added. "That's when things happen. But I don't put any stock or hopes and dreams in it. You don't want to set yourself up for disappointment."
It's a blur. You keep doing it until your brain knows that's the only way to do it. That's how you get better.
— Jak Knight
Knight, who has written for the animated comedy shows "Lucas Bros Moving Co" and "Big Mouth," did his first stand-up gig after bragging at his Seattle high school that he was funny. He put his name in a bucket at an open-mike night and bombed. It was so bad, he said, that it could get only better. With few other prospects, he moved to Los Angeles and started telling jokes wherever he could find a spot.
"I got a job in comedy pretty quickly," said Knight, who onstage comes off as a wise yet raw prankster, taking on police brutality, the #MeToo movement and President Trump. "It's like you're very, very, very broke, then you're not very broke, then you're broke again, and the whole time you're going from coffee shops to the back of a dude's house to performing in a garbage can on fire. It's a blur. You keep doing it until your brain knows that's the only way to do it. That's how you get better."
One night, after working a shift at Target, he went to an open-mike night and Burr showed up. "There's, like, seven people there," said Knight. "Burr had his beanie on and a stupid trucker jacket and he had a couple of notes. He was just running jokes, and they were kinda bad and I was, like, 'Oh, damn.' And I realized until the end of this, you gotta work. He's the funniest dude doing it, and he still comes in and works. If the gods can come down from heaven and play in the dirt with you, who am I to say anything different?"
Knight's comedy — like Burr's — has a bite, dealing with race, age and gender. "I call white women swans," he jokes, " 'cause they're white and majestic and people get upset when I chase them through parks."
He's not a man to self-censor; he can challenge an audience's sensitivities. "It's a dream for a comedian to go on Netflix, because they don't tell you what to say or how to say it," he said. "I don't even think I had to send in a transcript. You're telling me I can be my full, artistic self for money. Is this a trap?"
See the most-read stories this hour »
Twitter: @JeffreyLAT
ALSO
From 'Sling Blade' to 'Goliath': Billy Bob Thornton finds his peace
Documentary films explore the despair of America's heroin and opioid epidemic
Get our L.A. Goes Out newsletter, with the week's best events, to help you explore and experience our city.
You may occasionally receive promotional content from the Los Angeles Times.