Review: Was it the Oscars or the Grammys? How music and pop culture saved the show
Television Critic
It was like a case of Freaky Friday, but on Sunday, when it appeared that the Grammy Awards had returned for a second time this month to honor the best of 2018.
Queen opened the nationally televised awards ceremony with a medley of "We Will Rock You" and "We Are the Champions." Gillian Welch and Dave Rawlings performed in Western sequined Nudie suits. Tom Morello, Queen Latifah and Pharrell presented. And Lady Gaga delivered her perennial acceptance speech about the power of tenacity, believing in yourself and all that other stuff about how hard she's worked. Twitter lit up.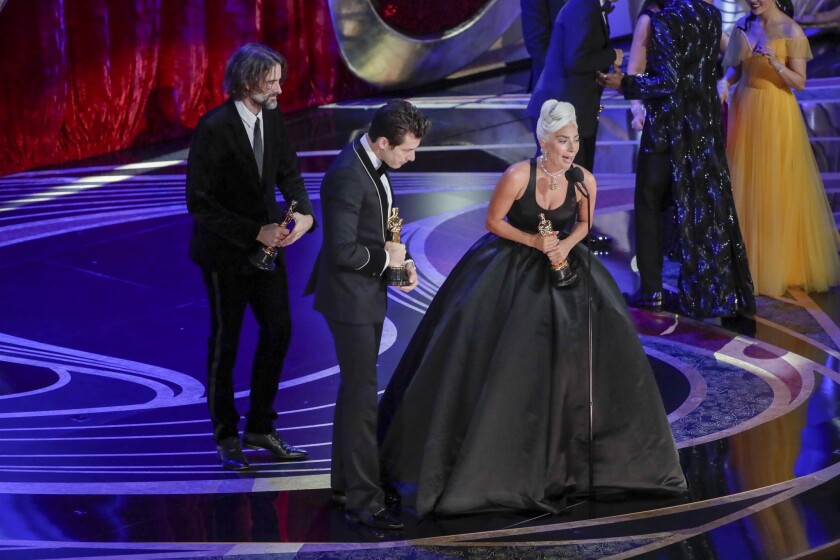 This, however, was the Oscars. And on film's big night, it wasn't the magic of Hollywood that saved this year's show. It was the power of music.
The 91st Academy Awards aired Sunday without a host for the first time in 30 years, and there were big questions about how the ceremony would fare, especially given that its ratings have consistently declined, even with competent hosts like Jimmy Kimmel at the helm. Last year the Oscars hit an all-time low in audience ratings, so when 2019's scheduled host Kevin Hart dropped out less than two months before the big day, the academy was clearly scrambling to find someone, or something, to buoy the sinking ship.
The organization's impossible task of attracting a wider audience while keeping the notoriously fussy industry happy had them announcing then shelving ideas at an alarming pace. Those short-lived ideas included floating a popular picture category and shortening the show by cutting out most of the music performances and giving away non-sexy Oscars at commercial breaks.
The three-hour-plus telecast, however, showed that the Oscars found its inspiration in an unlikely place: the redheaded stepchild of awards season, the Grammys. Sunday's Oscars relied on music performances and pop culture personalities to keep the wheels greased and attract a younger demographic that might otherwise stream bits and pieces after the fact.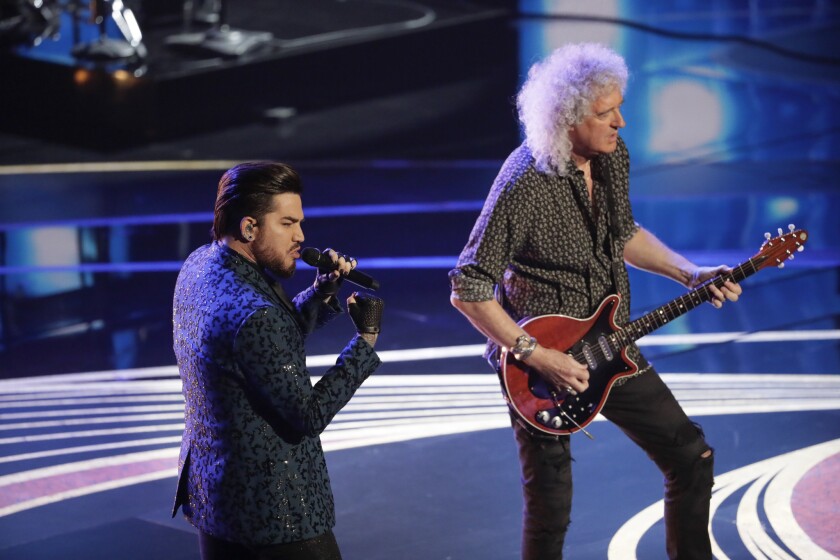 MORE: At this year's Grammys, Alicia Keys showed the value of a strong host »
Adam Lambert fronted Brian May and the rest of Queen in the opening number as celebrities and awards contenders, including Emma Stone and Jordan Peele, sang along from their seats in Hollywood's Dolby Theatre. Jennifer Hudson performed "I'll Fight" from the documentary "RBG" about Justice Ruth Bader Ginsburg. Lady Gaga sang "Shallow," her Grammy- and now Oscar-wining song from "A Star Is Born," with Bradley Cooper.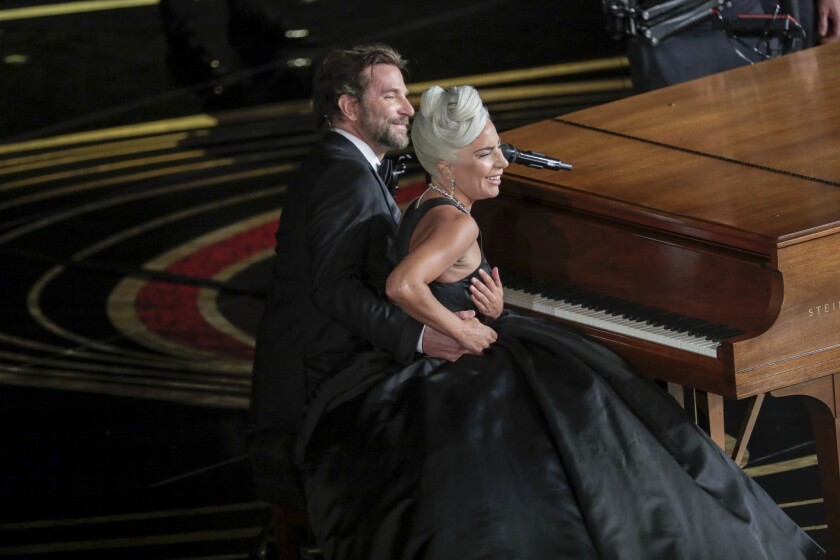 MORE: Lady Gaga and Bradley Cooper are so good at the Oscars that they need to go on tour »
Several of the best picture contenders revolved around musicians — "Bohemian Rhapsody," "A Star Is Born" and "Green Book" — demonstrating that the crossover of film stars from the big screen to TV is not the freshest story in the migration between mediums.
The academy must have also sighed a breath of relief when it realized that relegating smaller categories to the commercial breaks would have been an idea worse than the Rob Lowe/Snow White skit debacle of yore. The folks running the show should have already known that it's the acceptance speeches from non-celebrities that often yield the night's most moving and poignant moments.
When Ruth E. Carter made history as the first African American woman to win for costume design for her work on "Black Panther," she said: "Marvel may have created the first black superhero, but through costume design, we turned him into an African king…. Thank you to the academy, and thank you for honoring African royalty and the empowered way women can look and lead on screen."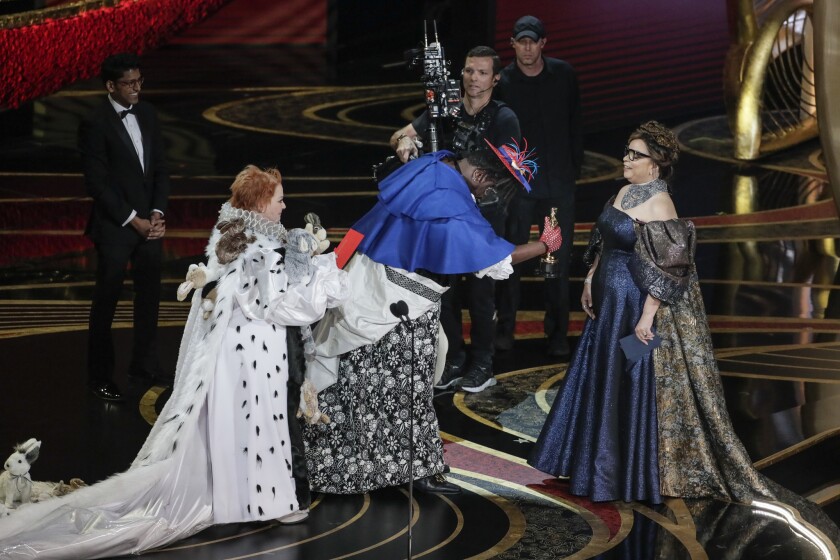 MORE: Why do the Oscars run long? We analyzed 10 shows and this is what we learned »
Hannah Beachler, who became the first African American ever to win for production design, read her thank yous off her smartphone: "I stand here stronger than I was yesterday. I stand here with agency and self-worth because of ["Black Panther" director] Ryan Coogler…. I stand here because of this man who offered me a different perspective of life. Who offered me a safe space."
And when a film set in rural India — about menstruation, no less — won for documentary short, "Period. End of Sentence" creator Rayka Zehtabchi said, "I'm not crying because I'm on my period or anything. I can't believe a film on menstruation won an Oscar."
What's more, keeping those underling categories in the telecast contributed some of the show's better gags. Melissa McCarthy came out with Brian Tyree Henry dressed in wildly absurd costumes — hers covered in stuffed bunnies — spoofing "The Favourite."
Backstage at the Oscars: Gaga's tears, Spike's posse and Melissa's crazy bunny dress »
The lack of a master of ceremonies inspired better gags too — ones that didn't involve selfies, snacks or pizzas. Keegan-Michael Key dropped from the ceiling holding an umbrella like Mary Poppins to introduce Bette Midler's musical performance. And the Oscars poked fun early in the show at its hostless conundrum with an appearance from Tina Fey, Maya Rudolph and Amy Poehler.
"Good evening and welcome to the one-millionth Academy Awards," Fey said. "We are not your hosts, but we're going to stand here a little too long so the people who get USA Today tomorrow will think that we hosted."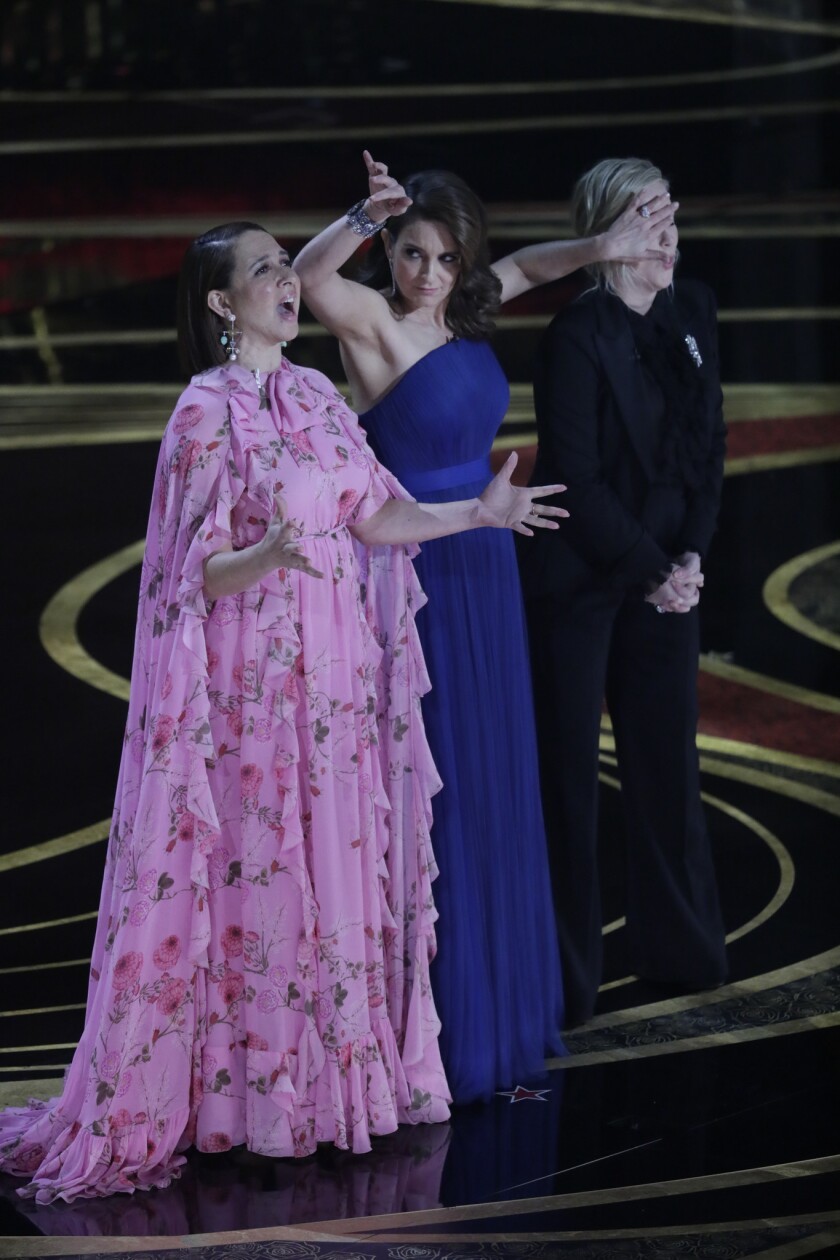 MORE: Tina Fey, Amy Poehler and Maya Rudolph shake up Oscars with first award »
"And just a quick update in case you're confused," Rudolph said. "There is no host tonight, there won't be a popular movie category and Mexico is not paying for the wall."
Overall, the political speeches and anti-Trump sentiments of recent ceremonies were significantly toned down this year and replaced with a more celebratory tone — but not of Hollywood itself. The cheers and standing ovations happened in response to comments and examples of the progress made in Hollywood.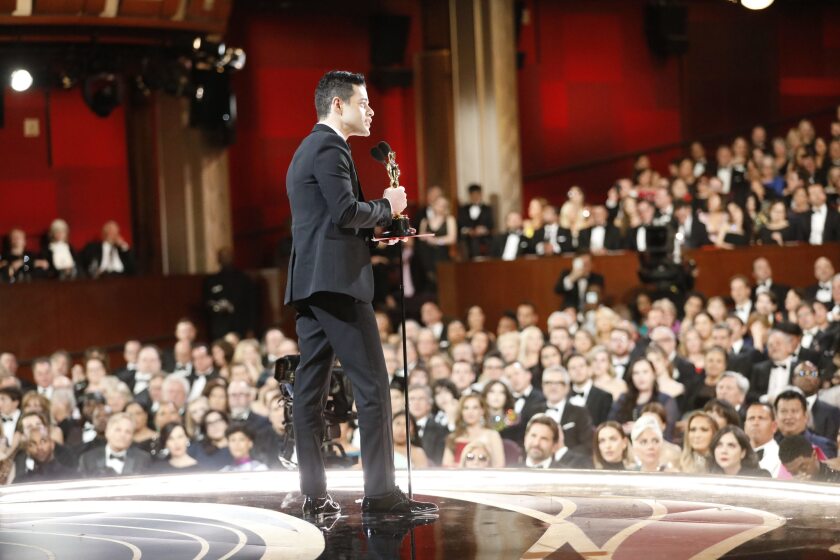 Egyptian American Rami Malek, who won the lead actor Oscar for his role as Queen's Freddie Mercury, received rousing applause when he spoke about what an honor it was to play the son of immigrants, an artist seeking his identity. Progress, yes — and an opening rock-and-roll anthem that got Hollywood out of its seats and back on the radar.
2019 Oscars: See the full list of winners and nominees »
---
From the Emmys to the Oscars.
Get our revamped Envelope newsletter, sent twice a week, for exclusive awards season coverage, behind-the-scenes insights and columnist Glenn Whipp's commentary.
You may occasionally receive promotional content from the Los Angeles Times.