A Los Angeles billboard touting Showtime's Roger Ailes miniseries "The Loudest Voice" was defaced on Wednesday by a group of conservative street artists collectively known as the Faction.
The billboard, located on the corner of Shelbourne and Sunset, features an image of Russell Crowe as the late Fox News chief, standing in front of red, white and blue TV screens. As of early Wednesday morning, it was altered with a cutout of Ailes as an angel saying, via word bubble, "Haters gonna hate!"
A member of the Faction, which describes itself as "an anonymous group of free-thinking street artists," told The Times on Wednesday that the addendum is meant to echo Van Halen's "1984" album cover and that the group considers it an "analog meme." The group began brainstorming the stunt after spotting the newly installed billboards earlier this week.
"Most of what we do is humorous, hyperbolic, sarcastic — we're not mean or angry or yelling at people," said the anonymous group member. "We're not even huge fans of Roger Ailes and Fox News. Our only allegiance is to the truth, it's not right or left."
The stunt occurred just days before Showtime airs its first episode of "The Loudest Voice" on Sunday. Naomi Watts, Sienna Miller, Seth MacFarlane and Josh Charles are also part of the five-episode project, based on the extensive reporting of Gabriel Sherman. Showtime declined to comment on the vandalized billboard.
The Faction previously reframed billboards of Bill Maher and John Oliver as repetitive "non-playable characters," and positioned dozens of fake Donald Trump stars on the Hollywood Walk of Fame after the actual honor had been destroyed over and over again by protesters.
'The Loudest Voice' turns the spotlight on Roger Ailes — the man who made President Trump possible >> »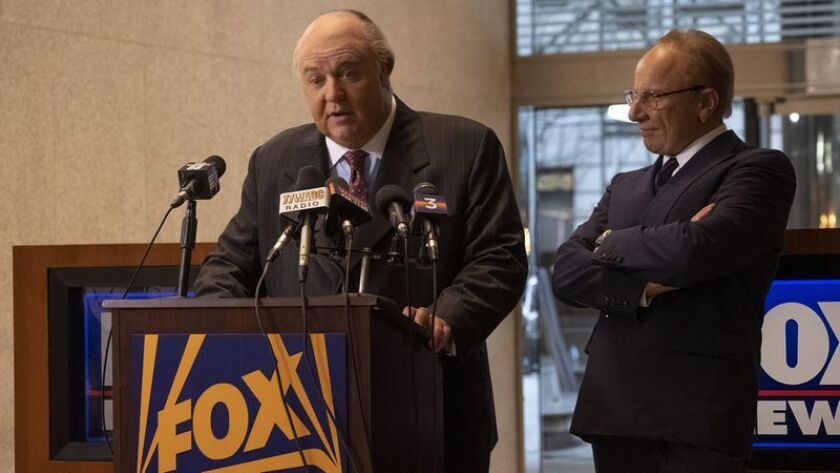 Extra text was added to the "Loudest Voice" billboard, which originally only read "The man who beat CBS every night" in addition to the series' time slot and network. The group added, "Showtime/CBS is Fake News." (Showtime is owned by CBS.)
"CBS couldn't dream of getting the ratings or results that Roger Ailes was able to get when he was running Fox News," said the Faction member. "They had nothing to say when he was alive, but a couple years after he's dead, they're taking digs at him."
The Faction member explained that the group aims to highlight the coverage from CBS and other media companies it considers biased, such as that of Brett Kavanaugh's Supreme Court hearings, the investigation of Russian interference in the 2016 presidential election, and Ailes' sexual harassment allegations from Gretchen Carlson and Megyn Kelly.
"The media gets away with lies too much," he said. "We just call out fake news, and we're gonna speak up against it anytime we can," he said.
Twitter: @cashleelee
---