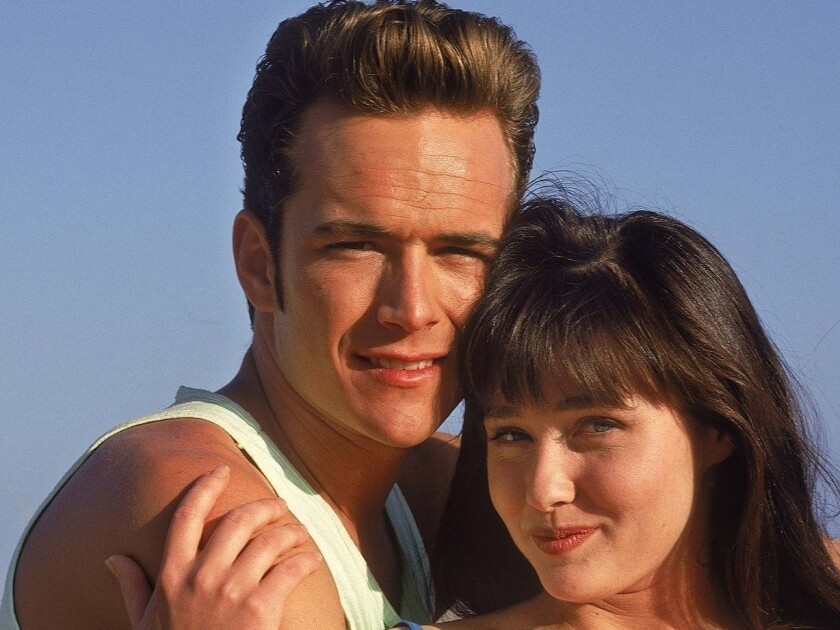 Shannen Doherty has paid tribute to her late "Beverly Hills, 90210" costar Luke Perry, who played the on-screen love interest to her Brenda Walsh on the 1990s prime-time drama.
The actress said she was gutted Monday when she received a phone call telling her that Perry had died, admitting Tuesday on Instagram that processing his death has been a challenge.
"Yesterday morning I got a phone call that devastated me," she wrote, sharing a selfie with Perry and a series of images from their on-screen relationship. "I'm struggling with this loss and am having a hard time with my thoughts. But, my heart goes out to his family and friends who were blessed by his light in their (and mine) lives. Processing this is impossible right now."
Why my Luke Perry was '90210's' Dylan McKay »
Perry, 52, best known as the sideburned, brooding bad-boy Dylan McKay on "90210," died Monday after a stroke.
Doherty, who infamously left the show after four seasons but later reprised her role in the CW reboot, was among the many to send warm wishes after Perry was hospitalized last week.
But after his death, the cancer survivor remained mum while many of their costars, contemporaries and fans publicly mourned Perry immediately. Jennie Garth, who played the third person in Perry's Brenda-Dylan-Kelly love triangle and has signed on to Fox's revival, was among them.
"My heart is broken. He meant so much to so many. Such a very special person. I share my deep sadness with his family and all who loved him. Such a terrible loss," Garth told People.
Meanwhile, production on the CW series "Riverdale," in which Perry starred for three seasons, has remained shut down through Tuesday following the actor's death.
Follow me: @NardineSaad
---