White House Correspondents' Dinner takes comedy off the menu, but comedians have never been more serious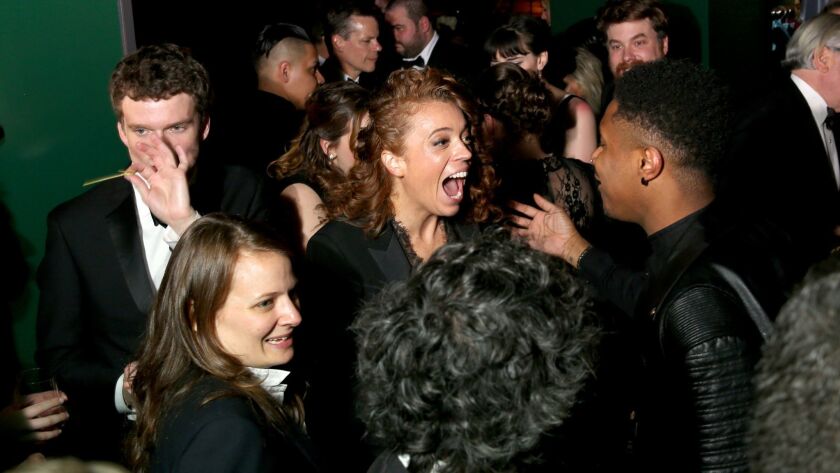 Television Critic
When the White House Correspondents' Assn. announced this week that a historian, not a comedian, would host its annual dinner, it seemed as if the country barely shrugged at the news.
It was, after all, one among countless Washington traditions rendered road kill under the wheels of a protocol-crushing president. In other words, it was Monday.
And the media was focused on bigger issues: the fire in Paradise, CNN's court victory in getting banned correspondent Jim Acosta's White House press credentials restored, and the release of CIA findings that Washington Post journalist Jamal Khashoggi was assassinated on orders from Saudi Crown Prince Mohammed bin Salman. Trump expressed his unflagging support of the monarch despite the intelligence report, proving to many that his disregard for journalists runs deeper than imagined, and that his fear of Muslims and Middle Easterners is in fact conditional. The kind who run oil-rich kingdoms are different than the ones embedded in caravans.
If Trump hadn't started a Twitter war with the comedian who hosted this year's White House Correspondents' Dinner, the changes to the program might have remained buried under layers of "breaking news!" banners and smartphone alerts."So-called comedian Michelle Wolf bombed so badly," Trump tweeted, that "for the first time in decades, they will have an author instead of a comedian. Good first step in comeback of a dying evening and tradition! Maybe I will go?"
"I bet you'd be on my side if I had killed a journalist. #BeBest," Wolf responded, using the hashtag for the first lady's anti-bullying campaign.
And boom, the story was back, making it was clear there was more to the press group's announcement than just letting its members know they should brush up on the work of its forthcoming headliner, presidential biographer Ron Chernow.
It was one more case of the media becoming part of the stories they report, and Trump's bruised feelings informing where the news cycle would go next.
Like everything else that touches today's White House, the dinner became another tradition turned into a source of division after Trump broke with every president since Reagan (who was recovering from an assassination attempt during 1981's dinner) and declined to attend — two years in a row.
Trump's absence, of course, gave headliners Hasan Minhaj and Wolf (respectively) richer material to work with than Jimmy Durante or Milton Berle ever had in that venue. We'll see how Chernow does next year: "45 isn't here tonight, so let's focus on 18. In my book "Grant".…"
Back when Rich Little was doing Nixon impersonations in front of Walter Cronkite and Peter Jennings the WHCA couldn't have known that politics would heat up to a near meltdown, political satire would become the widest lane of mainstream comedy, and comedians themselves would grow more serious about the politicians they lampooned.
Wolf rattled an already nervous institution when she eviscerated Trump and his administration on stage in April: "Ivanka … was supposed to be an advocate for women, but it turns out she's about as helpful to women as an empty box of tampons," she said. "She's done nothing to satisfy women. So I guess like father, like daughter." She also took aim at Kellyanne Conway and Sarah Sanders with lines that critics complained were downright cruel.
RELATED: Michelle Wolf hits her targets at the White House correspondents' dinner »
The WHCA later publicly apologized for her set: "Last night's program was meant to offer a unifying message about our common commitment to a vigorous and free press while honoring civility, great reporting and scholarship winners, not to divide people.… Unfortunately, the entertainer's monologue was not in the spirit of that mission."
It wasn't the first time the group backtracked after a controversial performance. After some said Stephen Colbert's 2006 set went too far in his jokes about George W. Bush, impressionist Little was booked for 2007's dinner.
Wolf responded to the WHCA apology by calling the organization "cowards," as did many more people across social media. The comedian tweeted a similar sentiment this week when the group announced there would be no comedian in 2019. Now Trump isn't the only one wearing the scarlet C on his chest for dodging potential embarrassment at the dinner.
It's a whole lot of controversy for an event that was widely considered celebrity-studded Kabuki theater rather than a serious Beltway function. In fact some media outlets used to advise their reporters not to accept the invitation because it might compromise their objectivity and give the impression that they were too chummy with the president. Oh how innocent we all were.
The tradition of comedians as headliners was cemented in the 1980s. Al Franken, Ray Romano, Jon Stewart, Wanda Sykes and Larry Wilmore are among those who have roasted the president and the press. The performers and high-profile crowd equal a big night for television's wallflower network CSPAN, an outlet that's usually happy broadcasting live talks by policy wonks.
But now that we have a president who doesn't need an excuse to drop decorum in front of the press, and press conferences that are spectacles unto themselves — not to mention comedians who let loose on the Oval Office nightly — what's the point of opening up the event to the rest of the country? There's no way it can be as candid or entertaining as what we've already seen in the White House briefing room.
And ironically, the banquet is rumored to be where it — the madness — all began. Flashback to 2011, when after taking a ribbing from headliner Seth Meyers, President Obama stood at the podium and riffed about many things, including the birther conspiracy. Trump was in the audience.
"No one is prouder to put this birth certificate matter to rest than the Donald," joked Obama, who'd recently produced his long-form birth certificate to settle things for good. "That's because he can finally get back to the issues that matter, like: Did we fake the moon landing? What really happened in Roswell? And where are Biggie and Tupac? … We all know about your credentials and breadth of experience," he said, referencing "Celebrity Apprentice." In making executive decisions on the show, "you didn't blame Lil Jon or Meatloaf — you fired Gary Busey. And these are the kinds of decisions that would keep me up at night."
The room erupted in laughter. Trump fumed in silence. He wasn't going to laugh. He was going to seek revenge by winning the White House. Then guess what happened.…
ALSO
Why the 'P' word — propaganda — might be best for what we're seeing on our TV screens
'Stop interrupting': How Trump turned his news conference into a post-election spectacle
Hate crimes and Frontline's "The Facebook Dilemma" highlight the dangerous tribalism of social media
The rise and fall of Megyn Kelly and what it says about the state of the media
She said/he bellowed: The optics of the Ford/Kavanaugh hearings were as divided as America
Pop culture is the new politics as Taylor Swift calls out to new voters and Kanye West greets the president
Review: Without Roseanne, 'The Conners' move on with a new family dynamic that's sharp, funny and cuts deep
---
The complete guide to home viewing
Get Screen Gab for everything about the TV shows and streaming movies everyone's talking about.
You may occasionally receive promotional content from the Los Angeles Times.