James Gandolfini dies; brought swagger, genius to 'The Sopranos'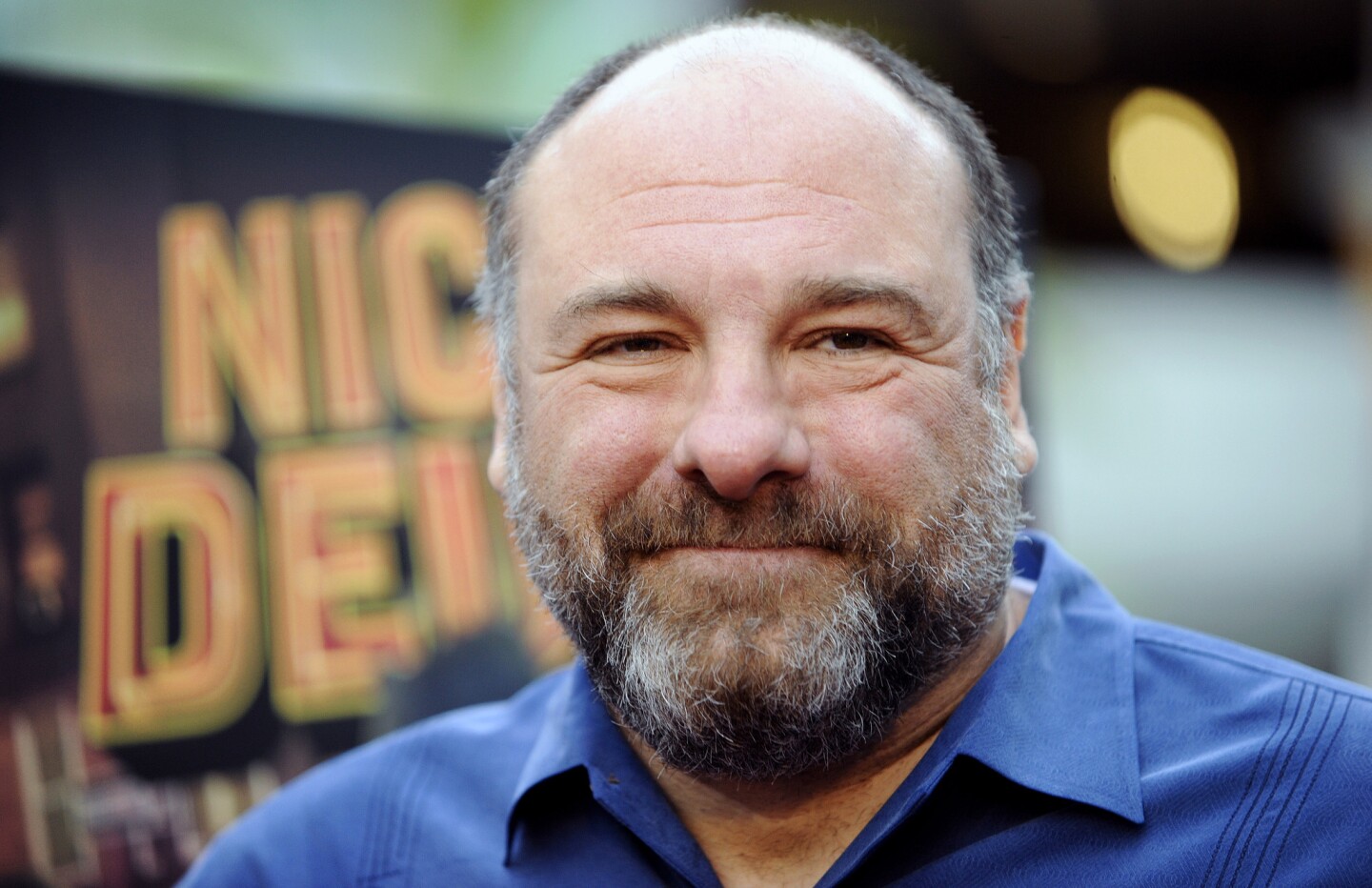 James Gandolfini at the L.A. premiere of Nickelodeon's "Nicky Deuce."
(Richard Shotwell / Invision/AP)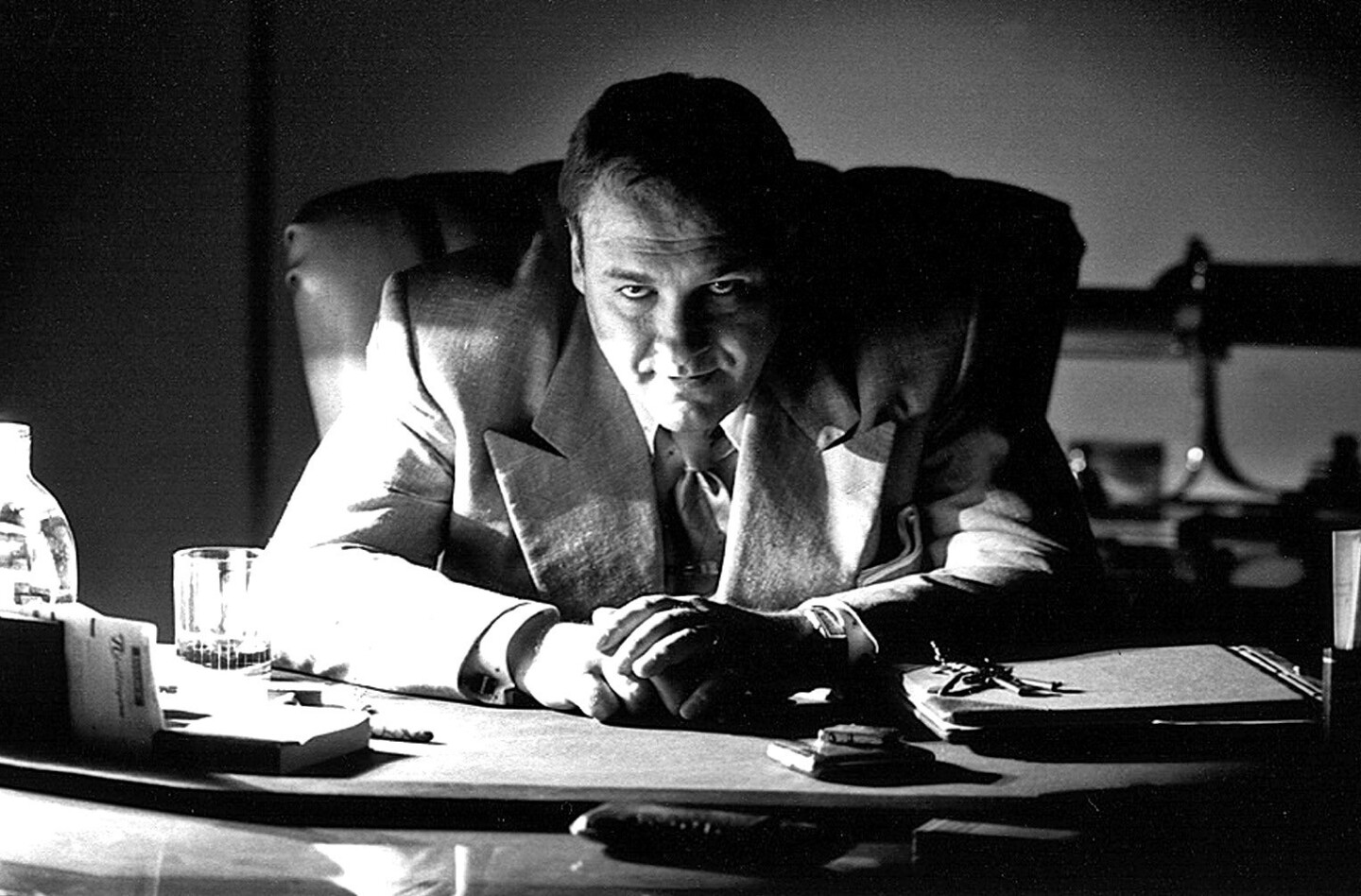 James Gandolfini stars in the Joel and Ethan Coen film "The Man Who Wasn't There."
(Melinda Sue Gordon / USA Films)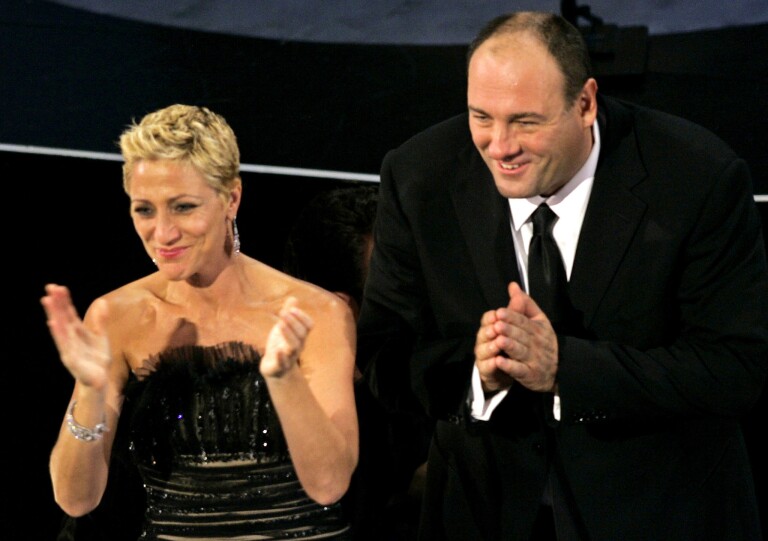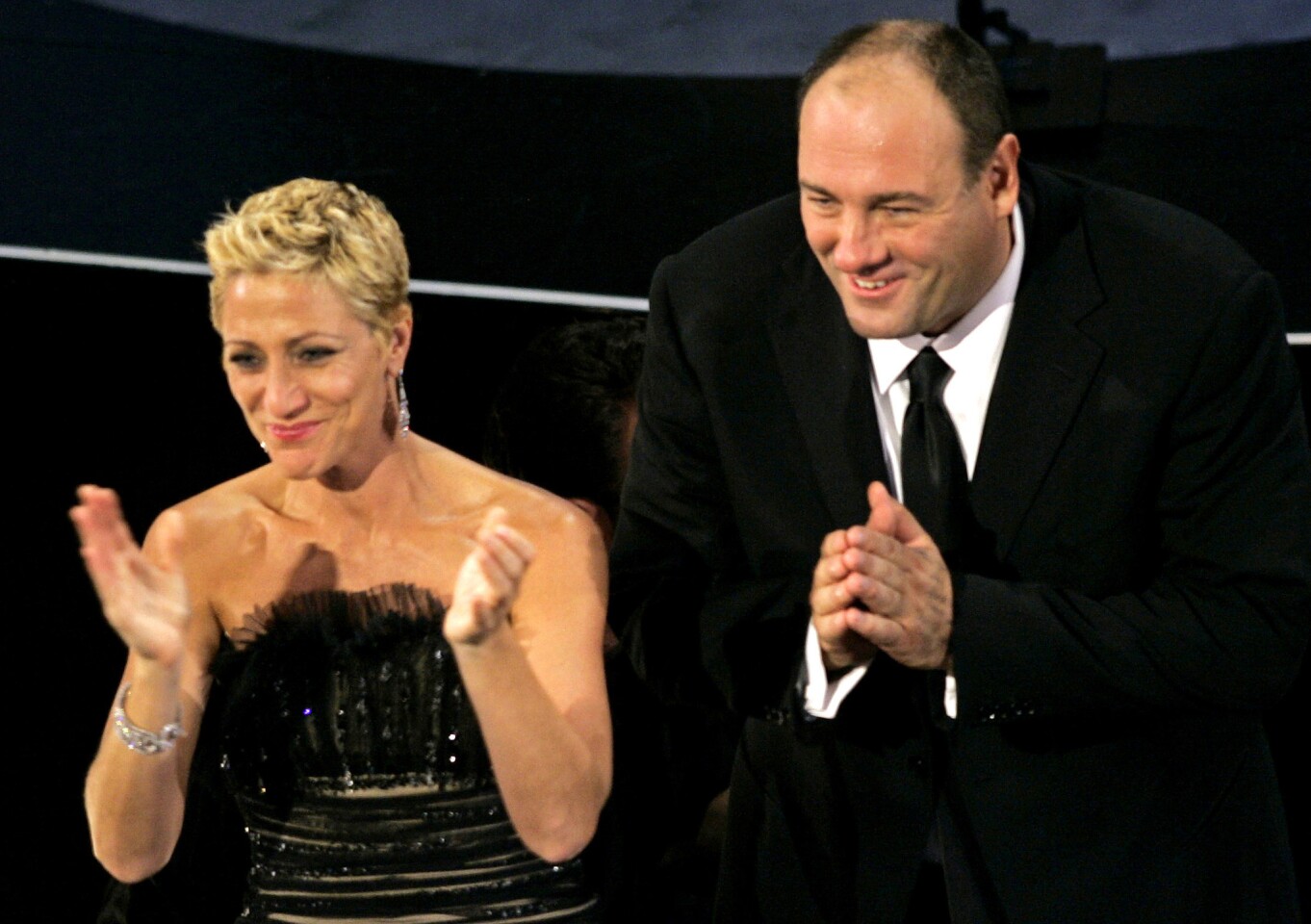 Edie Falco and James Gandolfini celebrate after "The Sopranos" won the 2004 Emmy for drama series.
(Brian van der Brug / Los Angeles Times)
Catherine O'Hara and James Gandolfini in the film "Surviving Christmas."
(Susanne Tenner / DreamWorks Pictures)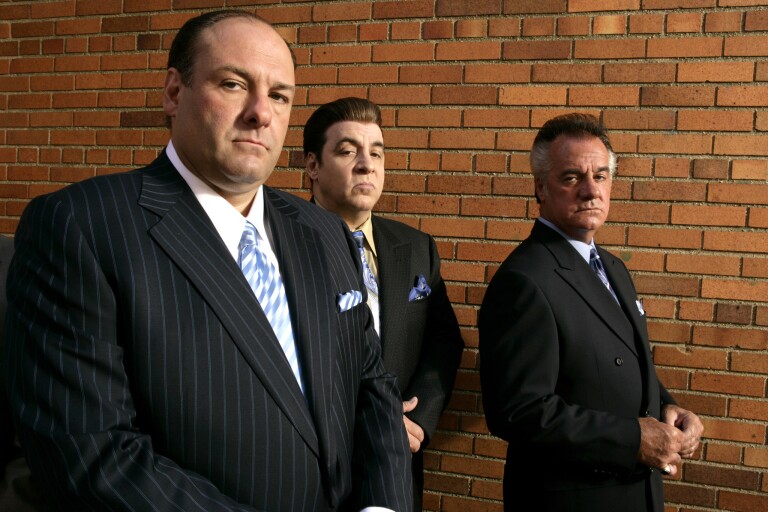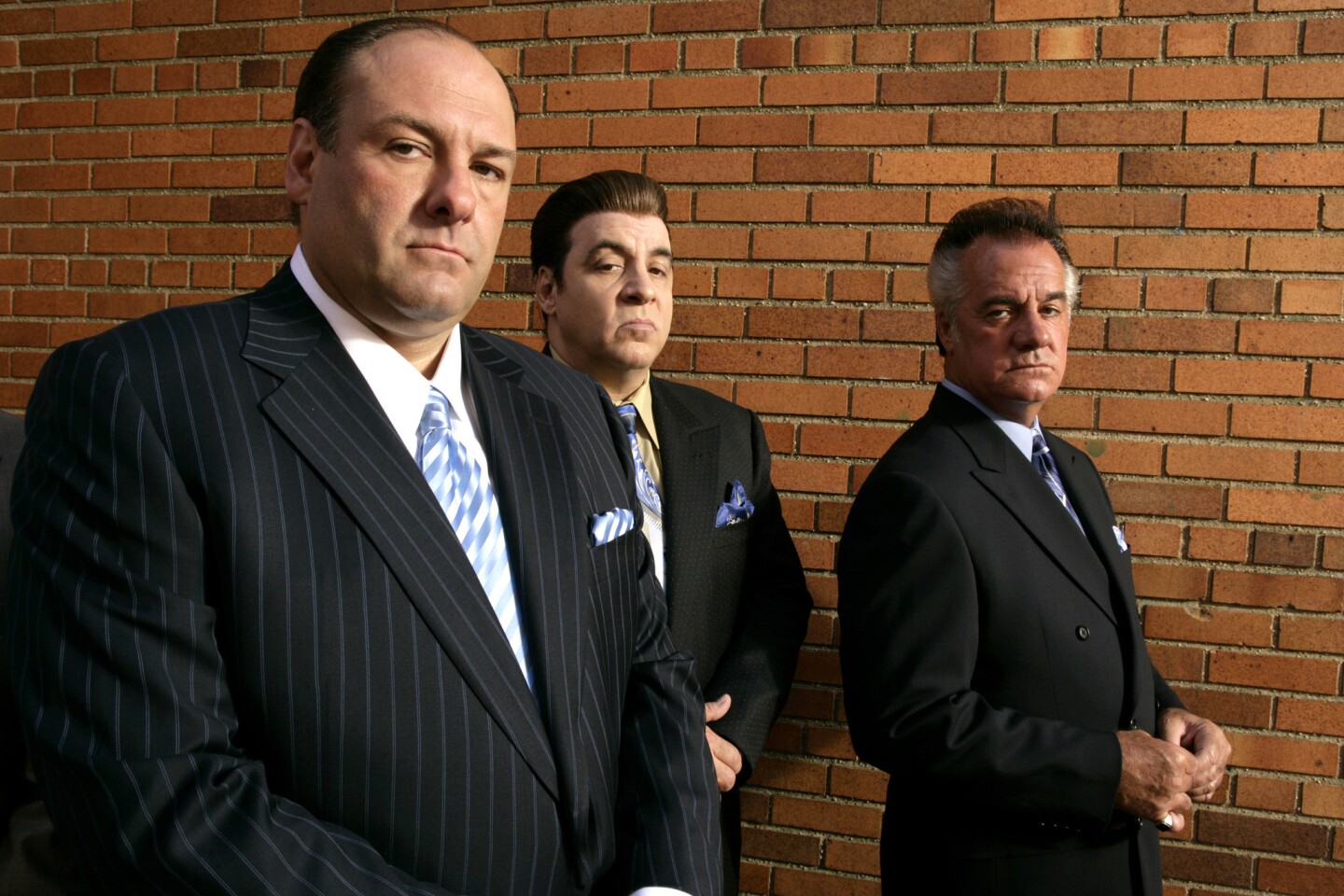 James Gandolfini, left, Steven Van Zandt and Tony Sirico in HBO's "The Sopranos."
(Craig Blankenhorn / HBO)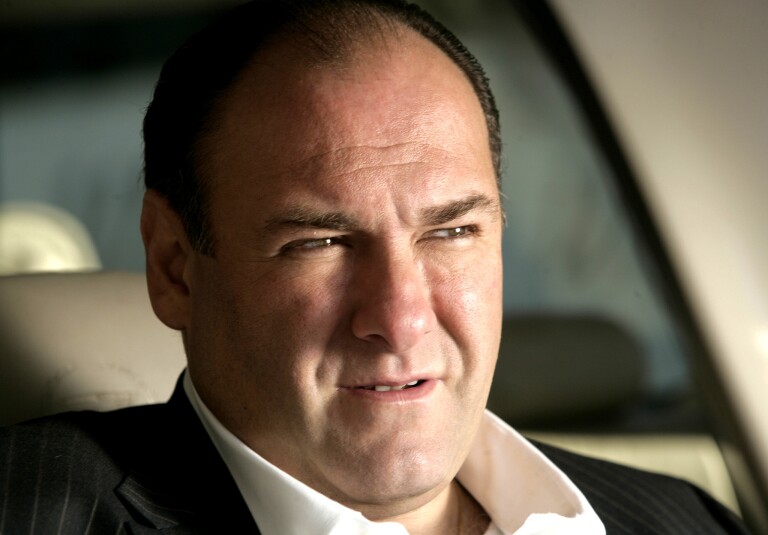 James Gandolfini won three Emmys for his portrayal of the troubled New Jersey crime boss on "The Sopranos."
(Craig Blankenhorn / HBO)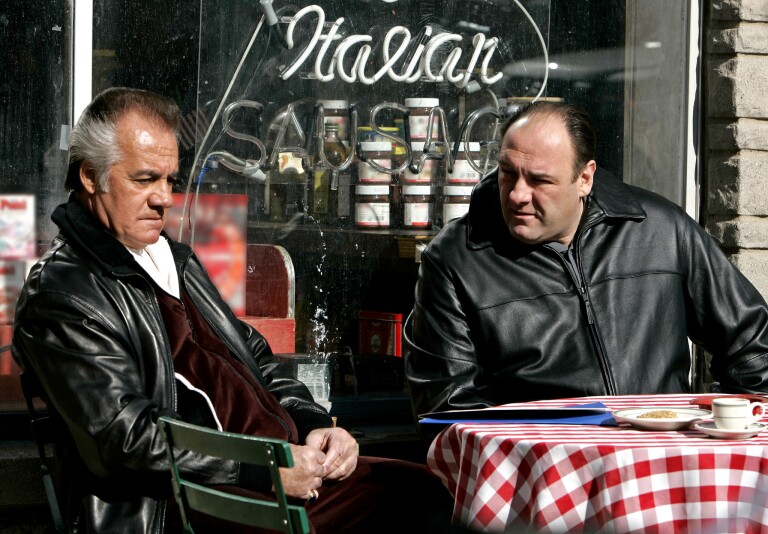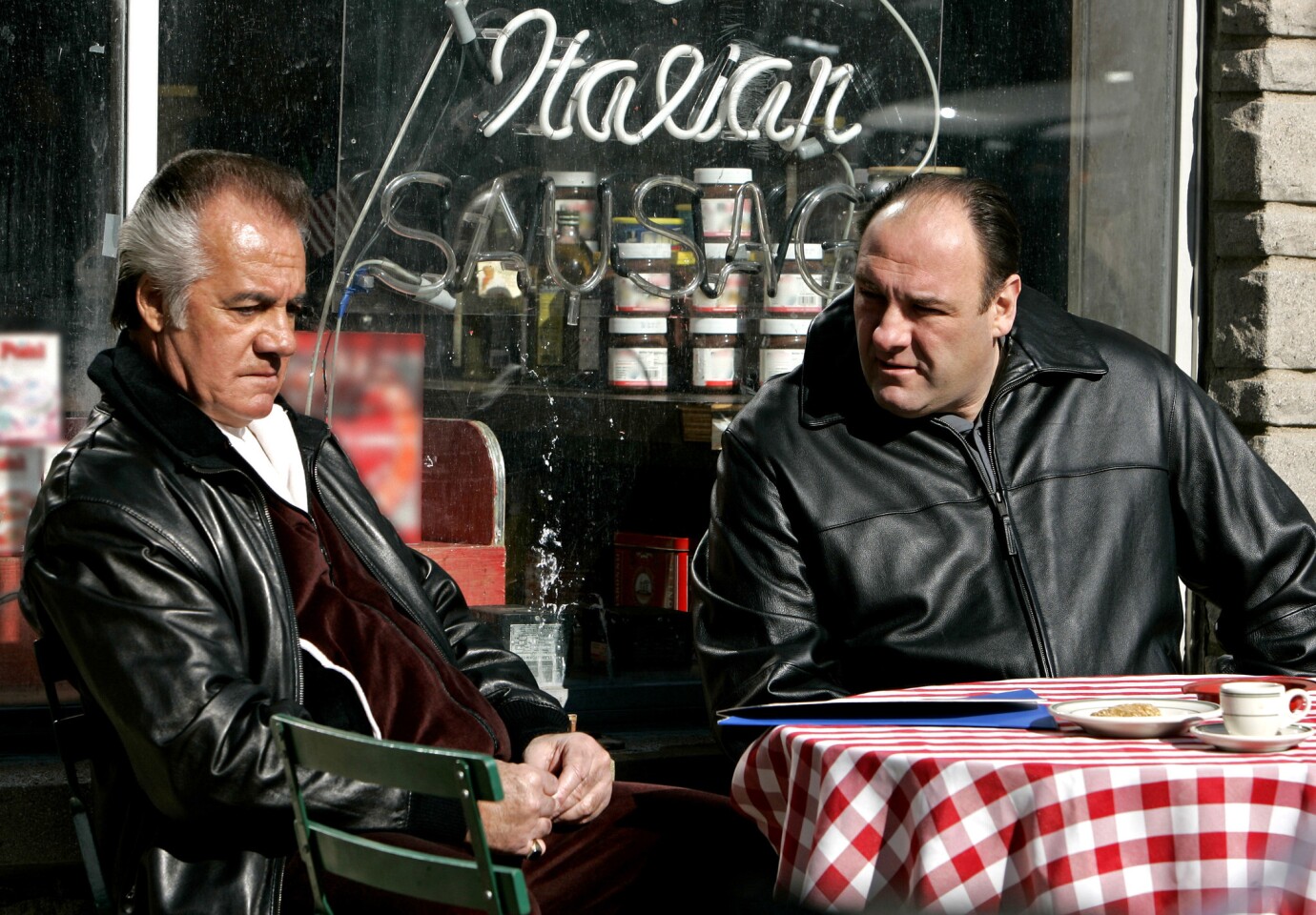 Tony Sirico as Paulie "Walnuts" Gualtieri and James Gandolfini as Tony Soprano in "The Sopranos."
(Craig Blankenhorn / HBO)
Edie Falco as Carmela Soprano and James Gandolfini as Tony Soprano in a scene from one of the last episodes of the hit HBO dramatic series "The Sopranos."
(Craig Blankenhorn / HBO)
Actor James Gandolfini at the premiere of FX Networks "Damages."
(Peter Kramer / Associated Press)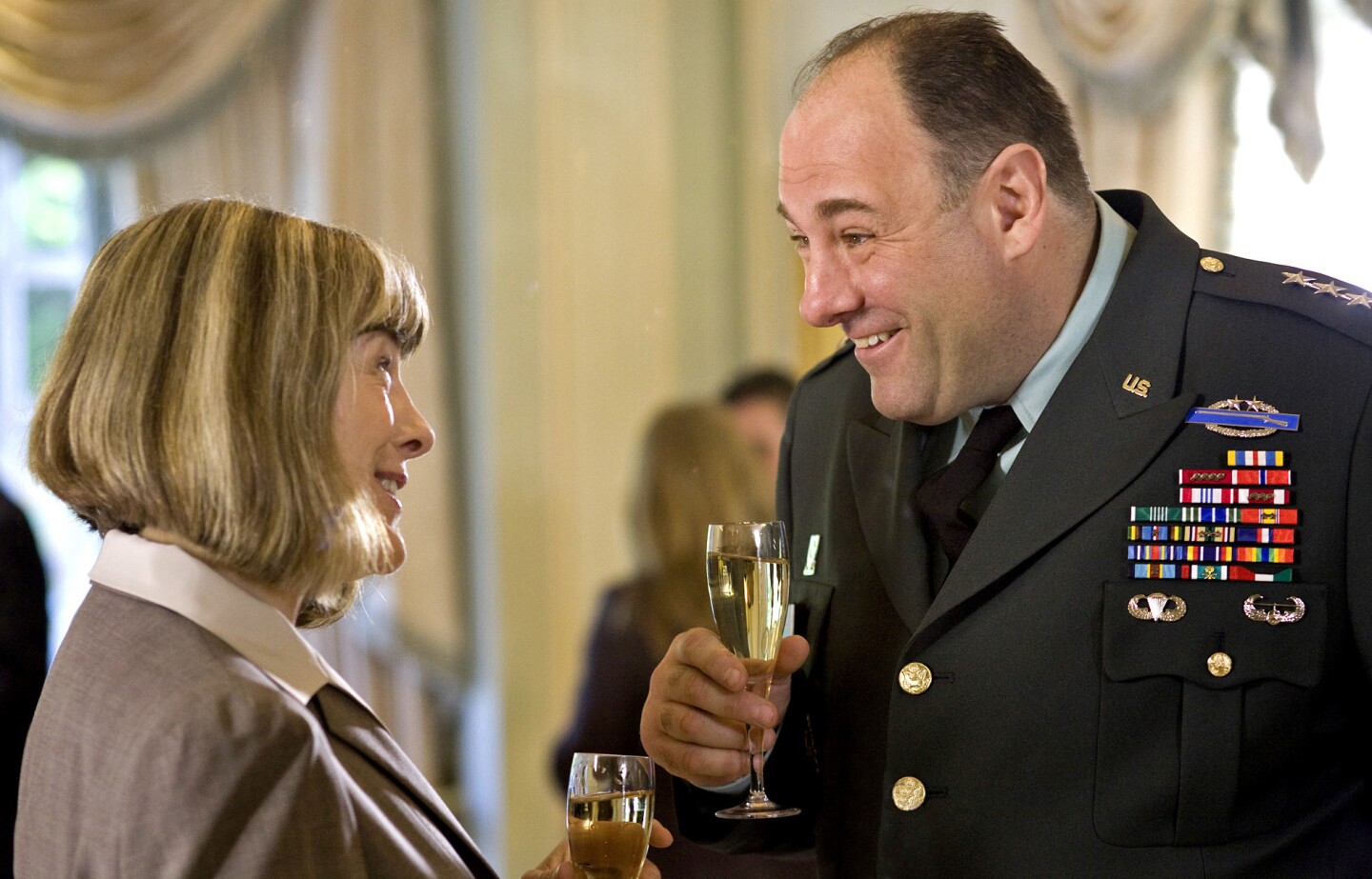 After "The Sopranos" aired its finale, James Gandolfini did a comic turn as Lt. Gen. George Miller in the satirical film "In the Loop." Mimi Kennedy costarred.
(Nicola Dove / IFC Films)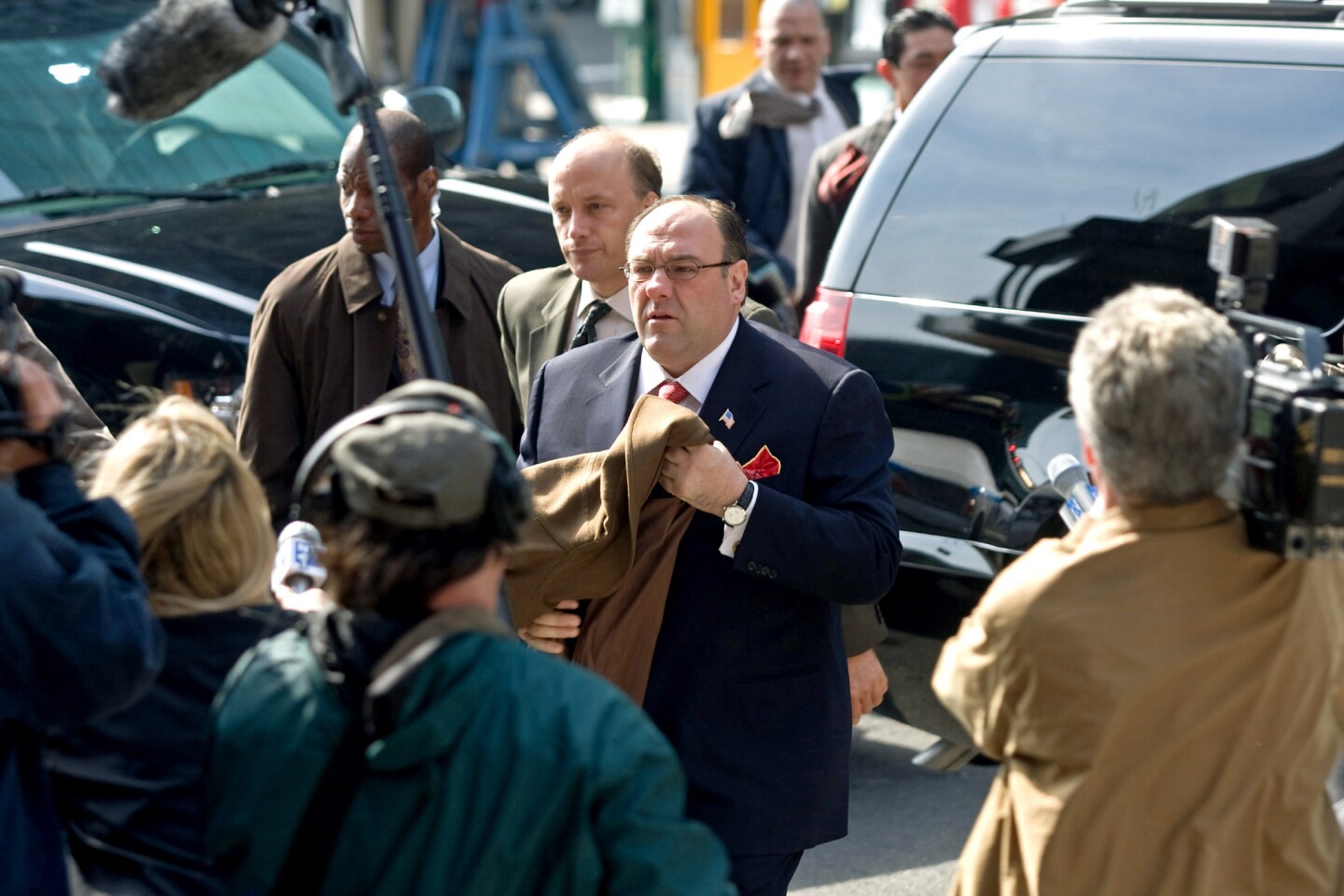 James Gandolfini played the mayor of New York City in "The Taking of Pelham 123," starring Denzel Washington and John Travolta.
(Rico Torres / Columbia Pictures)
James Gandolfini joins cast members and producers of "God of Carnage" as they celebrate their best play Tony Award in 2009.
(Seth Wenig / Associated Press)
James Gandolfini supplied the voice of Carol in the movie version of "Where the Wild Things Are."
(Warner Bros. Pictures)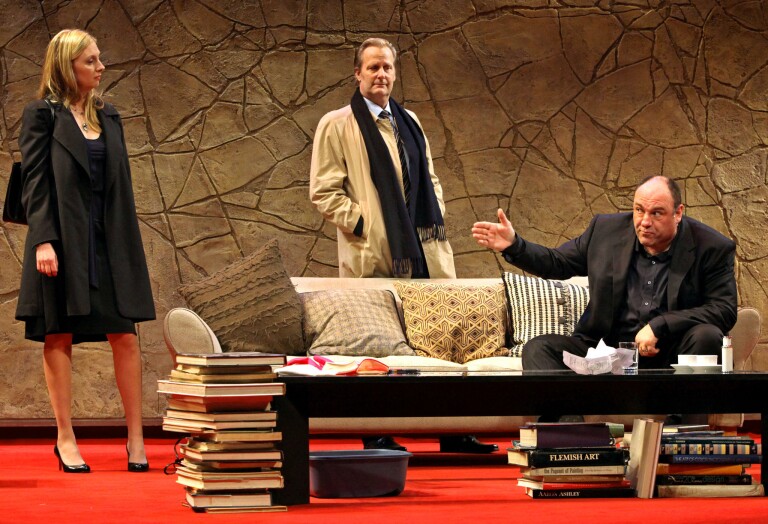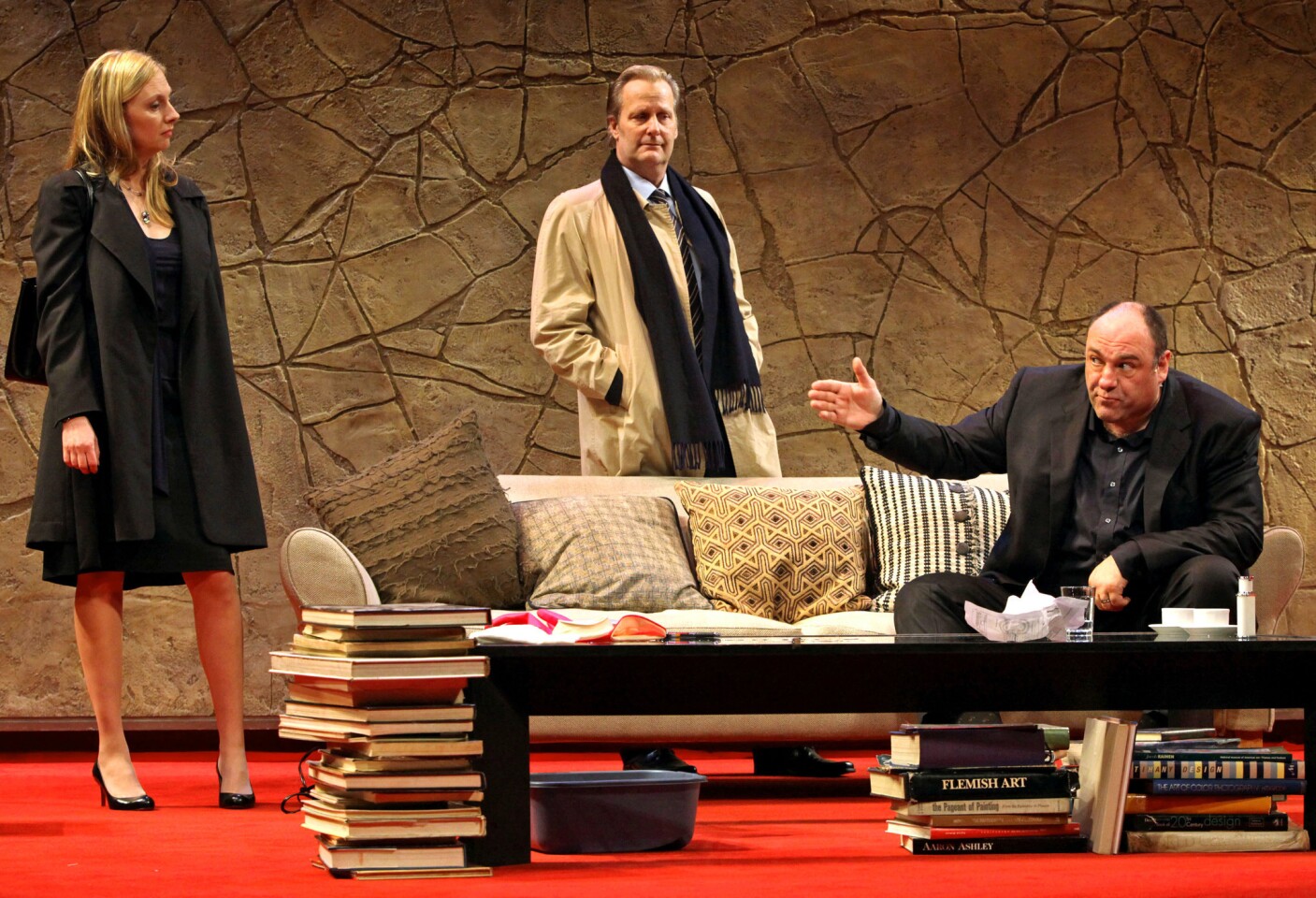 Hope Davis, Jeff Daniels and James Gandolfini in a scene from the play "God of Carnage" at the Ahmanson Theatre in Los Angeles.
(Barbara Davidson / Los Angeles Times)
James Gandolfini as Mickey in the movie "Killing Them Softly."
(Melinda Sue Gordon / The Weinstein Company)
The film "Not Fade Away" reunited James Gandolfini (here with Molly Price and Meg Guzulescu) with his "Sopranos" creator, director David Chase.
(Barry Wetcher / Paramount Pictures)
James Gandolfini as Pat in "Not Fade Away."
(The Weinstein Company)
James Gandolfini joins Steve Carell in the comedy "The Incredible Burt Wonderstone."
(Ben Glass / Warner Bros.)
Actor James Gandolfini at the Roxy. He plays a supporting role in the film "Not Fade Away," written and directed by David Chase.
(Robert Gauthier / Los Angeles Times)
James Gandolfini portrays the director of the CIA in Kathryn Bigelow's "Zero Dark Thirty."
(Jonathan Olley / Columbia Pictures)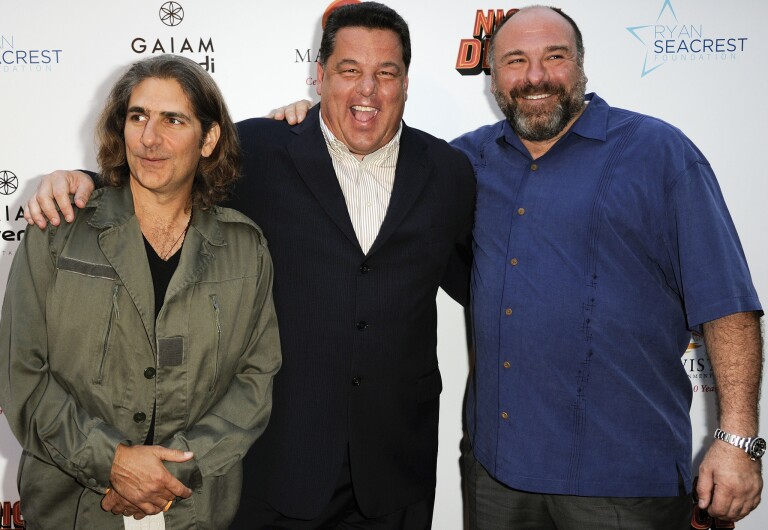 Michael Imperioli, left, Steve Schirripa and James Gandolfini at the L.A. premiere of "Nicky Deuce."
(Richard Shotwell / Invision/AP)
James Gandolfini, 51, who swaggered his way to fame as the murderous, clinically depressed mob boss on HBO's groundbreaking drama "The Sopranos," died Wednesday on vacation in Rome, Italy.
The cause of death was not immediately known but was initially attributed to either a heart attack or stroke.
On "The Sopranos," which was created by writer David Chase and ran on HBO from 1999 to 2007, Gandolfini played the barrel-chested New Jersey organized crime capo-turned-boss Tony Soprano, who alternated acts of mayhem, infidelity and family loyalty between anguished visits to his psychiatrist, Dr. Melfi (Lorraine Bracco). His regular haunt was the Bada Bing, a strip club where he often ran his underworld enterprise.
PHOTOS: James Gandolfini | 1961-2013
In Gandolfini's hands, a potentially unsympathetic and unrelatable character became a kind of post-modern Everyman, even down to his troubled relationship with wife Carmella (Edie Falco). He won three Emmy Awards for the role, now considered one of the hallmark characters of television drama.
"He was a genius," Chase said in a statement. "Anyone who saw him even in the smallest of his performances knows that. He is one of the greatest actors of this or any time."
"A great deal of that genius resided in those sad eyes. I remember telling him many times, 'You don't get it. You're like Mozart.' There would be silence at the other end of the phone. For [his wife Deborah Lin] and [children] Michael and Liliana this is crushing. And it's bad for the rest of the world. He wasn't easy sometimes. But he was my partner, he was my brother in ways I can't explain and never will be able to explain."
Gandolfini was born in Westwood, N.J., on Sept. 18, 1961. His mother, Joann, was a school cafeteria worker, and his father, Michael, was a janitor, bricklayer and cement mason.
His Italian immigrant parents spoke Italian at home but Gandolfini, one of three children, never learned the language although, he later told interviewers, he always understood when they were angry with him.
PHOTOS: Gandolfini's career highlights
After attending public schools in Westwood, he entered Rutgers University, where he earned a bachelor's degree in communications in 1983. He worked a variety of jobs over the next several years, including stints as a bouncer, bartender and truck driver. He especially enjoyed bartending until, he told Newsweek in 2001, "the waitresses got together and compared notes."
Acting didn't cross his mind until he was 25 and a friend took him to a class at the illustrious Actors Studio in New York. It terrified him but he was intrigued. "I'd never been around actors before," he told an interviewer. "I said to myself, 'These people are nuts; this is kind of interesting.'"
By the early 1990s he was landing parts, one of the earliest the role of Steve Hubbell in a Broadway revival of "A Streetcar Named Desire" and later joined its European tour.
He landed his first movie role in 1992 in director Sidney Lumet's "A Stranger Among Us." His bulky physique and heavy-lidded eyes tended to earn him parts playing thugs, as in "True Romance" (1993), a crime thriller that starred Christian Slater and Patricia Arquette.
In that movie, directed by Tony Scott and written by Quentin Tarantino, Gandolfini throws a bloodied Arquette through a glass shower door. That performance brought him to the attention of David Chase, who was searching for an unknown or barely known Italian actor to play Tony Soprano.
When Gandolfini read the script, he told Vanity Fair in 2007, "I laughed my ass off. I was like, This is really different and good, and odd. I thought, I've never been the lead before. They're gonna hire somebody else. But I knew I could do it. I have small amounts of Mr. Soprano in me. I was 35, a lunatic, a madman."
PHOTOS: Celebrities react on Twitter
"We're all in shock and feeling immeasurable sadness at the loss of a beloved member of our family," said a statement from HBO Wednesday. "He was special man, a great talent, but more importantly a gentle and loving person who treated everyone no matter their title or position with equal respect. He touched so many of us over the years with his humor, his warmth and his humility. Our hearts go out to his wife and children during this terrible time. He will be deeply missed by all of us. "
Though best-known for his Tony Soprano character, Gandolfini also had a raft of character parts in films, including a blustery general in the political satire "In the Loop" in 2009 and as Leon Panetta in "Zero Dark Thirty," both last year.
He also, eerily, had a supporting role opposite Saiorse Ronan in the recent quirky indie "Violet & Daisy," playing a depressive on the verge of suicide.
Gandolfini shot at least two movies in the past year, "Enough Said," a romantic comedy in which he played the love interest of Julia Louis-Drefyus' character, and "Animal Rescue," in which he played a hard-bitten bar proprietor.
The first movie in particular represented a new direction for the actor; he starred as Albert, a television archivist who is lovable and sweet. Both films were produced by Fox Searchlight. And while neither film has been dated, both are expected to come out in 2014.
PHOTOS: James Gandolfini | 1961-2013
The studio released a statement Wednesday saying "everyone at Fox Searchlight is honored to have had the opportunity to work with Jim. We are stunned and devastated by the loss of this very talented actor and warm, wonderful man."
In a 2012 interview with The Times, Gandolfini spoke about his role in the coming-of-age film "Not Fade Away" on which he collaborated once again with "Sopranos" creator David Chase. In the film about rebellious rock 'n' roll-minded teenager growing up in New Jersey in the 1960s, Gandolfini plays Pat, a father, husband and WWII vet who provides a secure home life to an ungrateful wife, son and daughter.
"This was an hommage to my old man," said the actor. "My father wasn't as antagonistic [as his character] but he was old school — Brooklyn, cement mason, bricklayer. He didn't understand me or my generation. He took care of his family, took care of his children."
"What we as children didn't realize is our father was a man who had dreams, aspirations and maybe there were things he wanted to do and places he wanted to go and he couldn't because he had a family," he continued. "When I realized that as a kid, I wished I was a better son."
Gandolfini understood the role as soon as Chase presented it to him, during a lunch a few years ago. But the actor was still reticent about collaborating with the writer-director for fear that the film would suffer from unfair comparisons to the HBO series that has defined both men's careers.
"I said maybe you should get somebody else to make your life easier," recalled Gandolfini.
PHOTOS: Gandolfini's career highlights
But Chase was adamant that Gandolfini play the part. In fact, Chase was close to abandoning his first draft of the screenplay when he pictured his previous leading man in the role of the father.
"You would think it would have occurred to me sooner but it didn't," said Chase, who based the music-infused drama on his childhood in suburban New Jersey. "Once I did, it all made sense and I could see the film very clearly."
For Gandolfini, the part was one in a long list of many smaller, character-driven roles he's played in the last few years that have helped define his post-"Sopranos" film career.
Following the end of "The Sopranos," Gandolfini returned to his roots as a stage and character actor, taking supporting roles in such films as Armando Iannucci's "In the Loop," Tony Scott's "The Taking of Pelham 1 2 3," even the voice of a Wild Thing in Spike Jonze's whimsical adaptation of "Where the Wild Things Are."
But it was probably his role in the stage play "God of Carnage" that gave him the most pleasure.
"I was an actor before ['Sopranos'] in movies but somehow I felt like an actor again [with 'Carnage']," he said. "Being on stage fulfills you in a different way. I loved watching some 80-year-old woman in the front laughing so hard she can't catch her breath."
MORE ON HIS LIFE AND DEATH:
VIDEO: Tony Soprano's best scenes
PHOTOS: Celebrities react on Twitter
OBITUARY: James Gandolfini swaggered his way to fame
REACTION: Stars heartbroken by news of Gandolfini's death
---
The complete guide to home viewing
Get Screen Gab for weekly recommendations, analysis, interviews and irreverent discussion of the TV and streaming movies everyone's talking about.
You may occasionally receive promotional content from the Los Angeles Times.