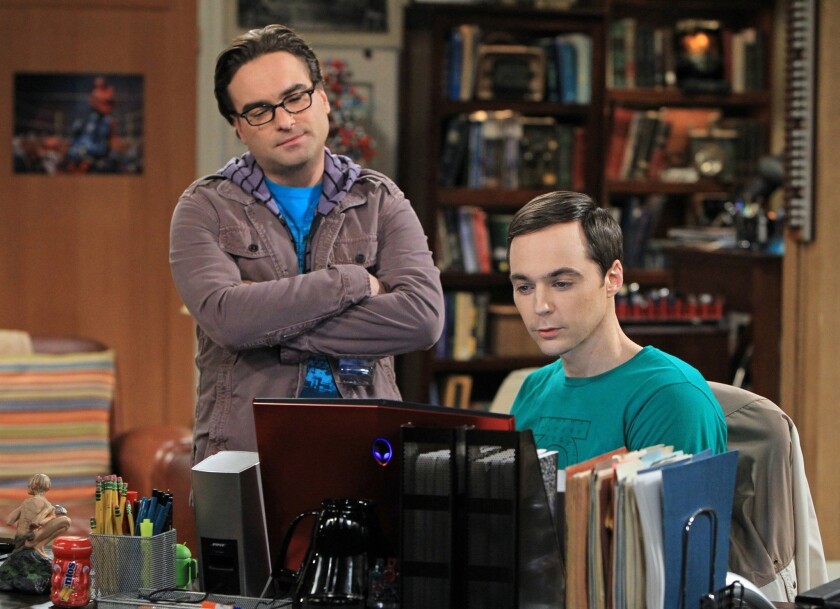 It was a big night for all things geek at the Critics Choice TV Awards on Monday night, with "The Big Bang Theory" taking home the award for best comedy series and HBO's lavish fantasy series "Game of Thrones" tying with AMC's "Breaking Bad" for best drama series.
"Big Bang Theory" stars Kaley Cuoco and Simon Helberg also won awards for supporting acting. Cuoco's award was shared with Eden Sher of ABC's "The Middle."
"Breaking Bad" star Bryan Cranston also picked up an award for best actor in a drama series, his second in a row.
PHOTOS: Celebrities by The Times
One of the biggest upsets of the evening came when Tatiana Maslany won best actress in a drama series for her role as several identical-looking women who are clones in the BBC America series, "Orphan Black." The series recently completed its first season and will be returning for a second season in 2014. Maslany beat out last year's winner (and the odds-on favorite) Claire Danes, who was nominated again for Showtime's "Homeland."
Best actor in a comedy series went to Louis C.K. for his FX series "Louie," while Julia Louis-Dreyfus won best actress in a comedy series for "Veep."
The category of best reality series also saw a tie, with A&E's "Duck Dynasty" and Sundance Channel's "Push Girls" sharing the award.
"Mad Men's" Elisabeth Moss picked up an award for best actress, but not for her role as advertising copywriter Peggy Olson on the AMC series. Instead, she won for the Sundance Channel miniseries "Top of the Lake," in which she plays a police detective. Michael Douglas won best actor in a TV movie or miniseries for playing Liberace in HBO's "Behind the Candelabra."
Sitcom and stand-up legend Bob Newhart won the Icon Award, which was presented to him by Henry Winkler.
The Critics Choice TV awards were presented in a ceremony in Beverly Hills, hosted by Retta of "Parks and Recreation" and sponsored by handbag designer Debbie Brooks. They were voted on by members of the Broadcast Television Journalists Assn.
The complete list of winners:
Best comedy series
"The Big Bang Theory" (CBS)
Best actor in a comedy series
Louis C.K., "Louie" (FX)
Best actress in a comedy series
Julia Louis-Dreyfus, "Veep" (HBO)
Best supporting actor in a comedy series
Simon Helberg, "The Big Bang Theory" (CBS)
Best supporting actress in a comedy series (tie)
Kaley Cuoco, "The Big Bang Theory" (CBS)
Eden Sher, "The Middle" (ABC)
Best guest performer in a comedy series
Patton Oswalt, "Parks and Recreation" (NBC)
Best drama series (tie)
"Breaking Bad" (AMC)
"Game of Thrones" (HBO)
Best actor in a drama series
Bryan Cranston, "Breaking Bad" (AMC)
Best actress in a drama series
Tatiana Maslany, "Orphan Black" (BBC America)
Best supporting actor in a drama series
Michael Cudlitz, "Southland" (TNT)
Best supporting actress in a drama series
Monica Potter, "Parenthood" (NBC)
Best guest performer in a drama series
Jane Fonda, "The Newsroom" (HBO)
Best movie or miniseries
"Behind the Candelabra" (HBO)
Best actor in a movie or miniseries
Michael Douglas, "Behind the Candelabra" (HBO)
Best actress in a movie or miniseries
Elisabeth Moss, "Top of the Lake" (Sundance)
Best supporting actor in a movie or miniseries
Zachary Quinto, "American Horror Story: Asylum" (FX)
Best supporting actress in a movie or miniseries
Sarah Paulson, "American Horror Story: Asylum" (FX)
Best reality TV series (tie)
"Push Girls" (Sundance)
"Duck Dynasty" (A&E)
Best reality series -- competition
"The Voice" (NBC)
Best reality host
Tom Bergeron, "Dancing With the Stars" (ABC)
Best talk show
"The Daily Show with Jon Stewart" (Comedy Central)
Best animated series
"Archer" (FX)
Most exciting news series
Honorees:
"The Bridge" (FX)
"Marvel's Agents of S.H.I.E.L.D." (ABC)
"Masters of Sex" (Showtime)
"The Michael J. Fox Show" (NBC)
"Ray Donovan" (Showtime)
"Under the Dome" (CBS)
Critics' choice television icon award
Bob Newhart
Thalo's Critics' choice inspiration award
"Bunheads" (ABC Family)
ALSO:
In 'Daily Show' hosting debut, John Oliver goes after NSA
It's officially official: Dan Harmon back as 'Community' show runner
'Game of Thrones' finale: Nikolaj Coster-Waldau on Jaime's homecoming
---