N.Y. Fashion Week trends: Polka dots, pink, lace and colorblocking will be big for spring/summer 2019
Reporting from New York —
For the roaming tribe of fashion scribes that cover the circuit, the end of New York Fashion Week is not usually a feel-good occasion. That's because it's not really the end of the trend-spotting runway marathon. It's just the beginning of a long, multi-city, international jaunt that moves on to, in quick succession, London, Milan and finally Paris, the city whose fashion week won't end until early October. But, on a rainy Thursday night here, as the last footfalls faded from Marc Jacobs' week-closing runway show at the Park Avenue Armory (after a nearly hour and a half delayed start), it was all but impossible not to feel cheery, upbeat, optimistic, enthusiastic and, dare we say it, downright happy.
That's because the collections that came down the runways here Sept. 5-12 were filled with an abundance of feel-good fashion. Think bright, vivid colors, playful patterns and pure laid-back luxe that didn't take itself too seriously. It's all an antidote to the dour state of affairs beyond the runway. So, here are several of the big trends that helped kindle that infectious, feel-good feeling and — will be heading to stores six months from now.
Peppy polka dots
You'd be hard-pressed to find a pattern as playful as the old-school polka dot, which appeared to be having a moment in the spring and summer 2019 runway collections. Among the spot-on labels was German brand Escada, which made its New York Fashion Week debut with a 40th anniversary horse-racing-themed collection that riffed on jockey silks, the standouts of which included a pink and black polka-dotted silk cocktail dress and a pair of trousers with red polka dots the size of saucers. At Carolina Herrera, Wes Gordon made his runway debut for the brand by showing an upbeat pattern-filled collection that included florals, stripes and polka dots.
Another NYFW debut, that of Los Angeles-based designer and current CFDA/Vogue Fashion Fund finalist Rebecca de Ravenel, also popped with polka dots. Her garden-party-themed presentation on the terrace of the Gramercy Park Hotel served up summery polka-dotted dresses as well as a few pieces with a polka-dot-like allover apple print.
Lacy overthings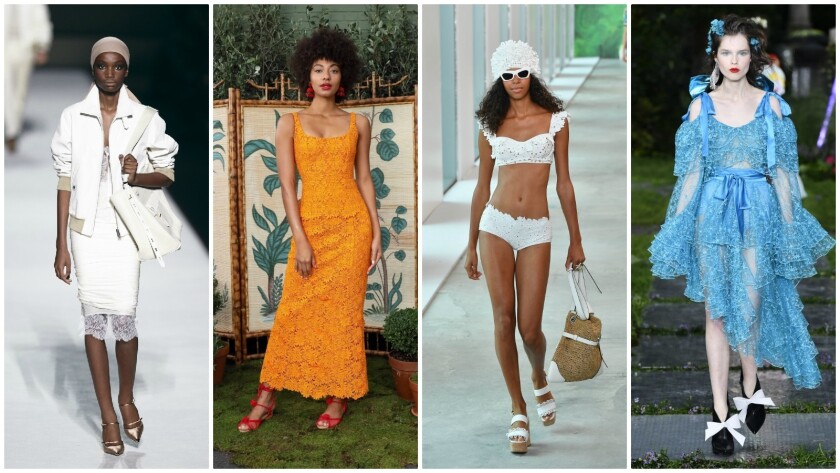 De Ravenel's garden of terrace delights was also abloom with one of the season's most noticeable fabrication trends. And that would be lace in the form of delicate French lace and its sturdy cousin, broderie anglais (of which eyelet lace is the most commonly seen). Tom Ford's dialed-down spring and summer collection, which kicked off the official New York Fashion Week calendar, made notable use of the former with the layering of heavy leather jackets over wispy, lingerie-like tops and georgette skirts, and the use of lace to trim dresses, which gave the collection a soft, feminine feel.
De Ravenel's collection focused on the latter type of lace, using a repeating daisy-like shape to create easy-breezy dresses that resembled fields of scattered flowers, the most striking being a marigold-colored, floor-length tank dress as well as a white dress with a hexagonal lace pattern and three wide bows down the front. The latter was a look that would be perfect for a Southern California bride's garden wedding.
Other labels memorably laced up for next spring and summer included the beachy keen Michael Kors Collection, which served up a range of pieces in white cotton eyelet lace including ruffled dresses and a bikini; and Rodarte, the Southern California label which returned to the NYFW lineup (having previously decamped to show in Paris) with what may have been the single most memorable collection of fashion week. Set in a Lower East Side cemetery (in the rain, no less), the ultra-feminine collection of dresses was filled with frills, bows, ruffles, tulle and lots and lots of lace, some in pale pastel shades and others in vibrant hues of blue or pink. One of the most striking looks was a tiered, colorblocked ruffle dress that included at least a half-dozen different colors of lace.
Peak pink
The big color story coming out of these runway shows was an emphasis on bright, bold eye-catching colors (think sunny yellows and grassy greens) with the trickle of pink that started at the February shows here turning into a full-on hurricane of hues ranging from dusty rose to neon pink with stops at shades such as watermelon, bubblegum and flamingo in between.
Memorable members of the week's think-pink posse included Brandon Maxwell, whose Texas tailgate runway show featured popped-collar shift dresses, wide-legged trousers and pleated mini-dresses in bubblegum pink; a clingy, one-shouldered gown in dusty rose; and a shirtdress with western-inspired silver hardware in a shade approximating salmon. Then there was Marc Jacobs, whose panoply of pink pieces included voluminous pink silk trousers, enormous ruffled tops and dresses, wide-shouldered suits and a cocoon-like, ostrich-feather-festooned dress in flamingo pink.
Prabal Gurung, a designer whose embrace of the color last season made for a memorable collection, had plenty of pink on the runway this week as well. His presentation included vibrant pink rib-knit tank tops and pastel pink suits for men (spring and summer 2019 marks the label's debut menswear collection) and cargo pants and bikini tops for women.
New kids on the (color) block
What really made Gurung's latest runway collection stand out — and stay on-trend — was his liberal use of colorblocking such as a lemon yellow rib-knit bodysuit with fuchsia-tipped sleeves paired with a peridot green silk-chiffon skirt trimmed in fuchsia silk; and a blue, white and yellow ombre cashmere hoodie paired with indigo denim jodhpur pants embellished with ostrich feathers.
Other labels sending bold colorblocked pieces down the runway included Carolina Herrera, who, like Rodarte, served up a particularly eye-catching piece in colorblocked lace, and Escada, where global design director Niall Sloan paired pink (on the right side) and black (on the left) in a silk, pajama-like top; and blue and green in a colorblocked silk shirtdress.
Using large geometric areas of contrasting color in a single garment is nothing new (see Yves Saint Laurent's 1965 collection of Mondrian-inspired cocktail dresses), but Stacey Bendet, creative director of the Alice + Olivia label who had several colorblocked pieces in her brightly colored spring and summer presentation, had a practical explanation for this season's colorblocking boom — as well as the embrace of bold color overall.
"I think Instagram has created a year-round color sensation," Bendet said. "Neons, brights, colorblocking — things that look no-brainer beautiful in a picture. It's really influenced the way I think about designing. … I think [the demand for] neon was really developed from Instagram. Everyone thought neon looked so cool in photos, and people just kept wanting more of it. The same with that colorblocking. Every time I do a sort of rainbow colorblocked dress, it's all over the Internet."
For more musings on all things fashion and style, follow me at @ARTschorn
---