Going into Thursday night's NFL draft, Nick Bosa was already considered top-flight talent (this year's "best player," according to SB Nation), so it was no big surprise that he was the San Francisco 49ers' pick, second overall in the draft.
The surprise, however, came when Bosa opened the jacket of his stylish gray suit, revealing its lining: a print of Brutus Buckeye, the mascot for Ohio State, the university the defensive lineman attended.
The velvet one-button peak lapel suit was custom-made and came with a football-shaped Easter egg built in; it was from Collection by Michael Strahan, the clothing line from the former New York Giants defensive end who has transitioned into a TV host. (Strahan's line was an unexpected winner of the night as it was also worn by Kentucky's Josh Allen taken at No. 7 pick by the Jacksonville Jaguars, and Oklahoma's Marquise "Hollywood" Brown, taken at No. 25 by the Baltimore Ravens.
Perhaps that was a little sartorial passing of the baton, Bosa wearing an outfit made courtesy of an NFL elder statesman. In any case, the look was affordable and accessible as opposed to flashy. Strahan's line is carried exclusively at JCPenney, which gave Bosa's look a humble touch, and wearing the suit could be read as savvy political maneuvering in the face of Bosa's recent Twitter controversy. Based on his appearance, it looked as if Bosa was already mastering the art of PR management and image control — and using fashion to do so.
In terms of fashion, it goes without saying that today's athletes are expected to be as stylish as A-list celebrities or musicians. The NFL draft is a time when fans and followers can see what a rookie's personal style is like before he cashes his first big check — and before being a front-row regular or wooed by luxury brands offering six-figure deals.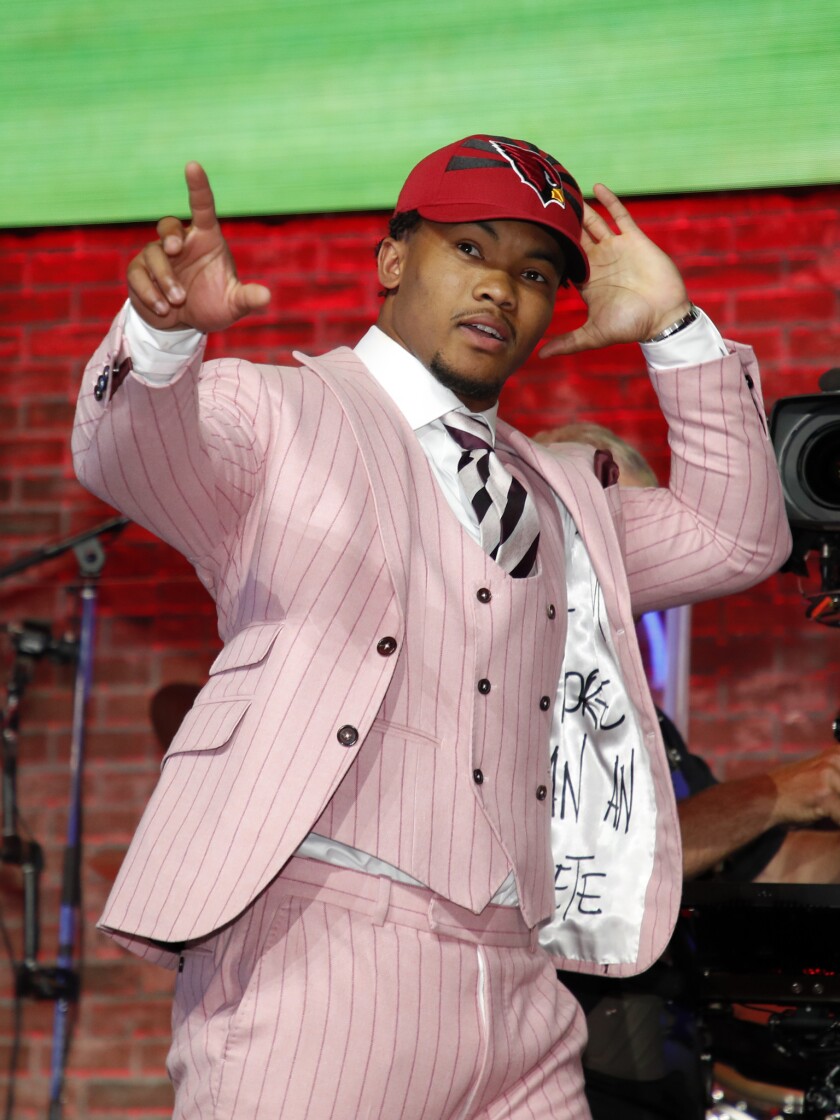 Compared to bolder fashion moves Thursday night — No.1 overall pick Kyler Murray in a pink pinstriped suit that the Oklahoma quarterback said was inspired by an outfit worn by Leonardo DiCaprio in "The Great Gatsby," DeAndre Baker in a suit jacket plastered with Dolce & Gabbana labels and Devin Bush in a self-designed black suit complete with a white one-shoulder harness that caused social media pundits' tongues to wag — Bosa opted for a low-key approach with bits of his personality showing. It was at whisper level as opposed to a full-on shout. That worked out well for him and hints that he might be more of a Tom Brady classicist than a Joe Namath peacock.
No matter what, there's now buzz about how Bosa's style will evolve on the field and off.
For fashion news, follow us at @latimesimage on Twitter.
---