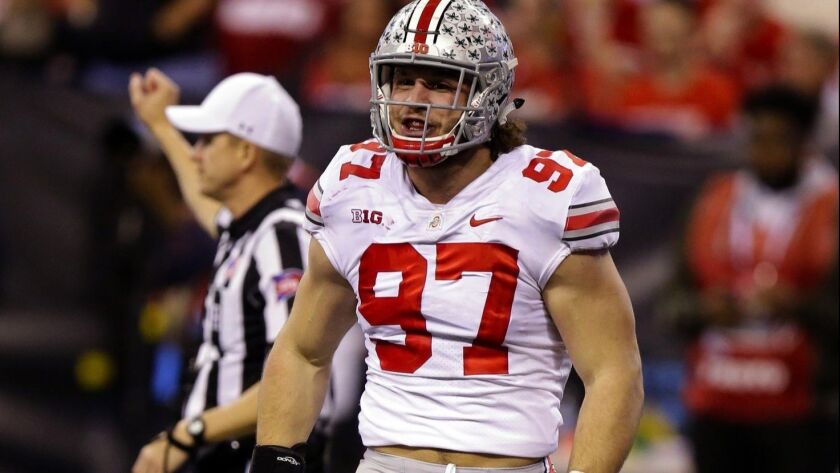 Ohio State defensive end Nick Bosa is expected to go early, probably second overall, in the NFL draft on April 25. The San Francisco 49ers have the No. 2 pick in the draft, which caused Bosa to change one part of his game…. his Twitter game.
Bosa is a big fan of President Trump and had not been shy about sharing his fondness for him until tweets about him came to a near stop a few weeks ago. Why?
"I had to," Bosa told ESPN. "There is a chance I might end up in San Francisco."
Bosa has tweeted a photo of Trump with a "GOAT" label, liked tweets by Trump criticizing players for kneeling during the national anthem and called Colin Kaepernick a clown. All those tweets and many more have been deleted. San Francisco is a very liberal city, so obviously he doesn't want to start off on the wrong foot.
Big Weeknd plans
Singer the Weeknd (real name Abel Tesfaye) is branching out into the competitive world of esports. The singer recently bought a part of OverActive Media, which has teams competing in games such as "Overwatch" and "Call of Duty." Their "Overwatch" team, the Toronto Defiant, is consistently ranked among the top five teams in the world and the Weeknd is from Canada, so it's a natural fit.
"As a big esports fan, I am really excited to be involved in this project," the Weeknd told the Associated Press. "I am looking forward to collaborating with OverActive Media in unique and innovative ways."
Not the Hollywood type
Milwaukee Bucks star Giannis Antetokounmpo was recently offered a role in "Space Jam 2," the upcoming movie that will be headlined by LeBron James and Bugs Bunny. Antetokounmpo said no.
"I don't like being Hollywood," Antetokounmpo told the Associated Press. "I don't like all this extra drama. I am just going to try to be me."
The long goodbye
Antonio Brown appears to be burning some bridges on his way out of Pittsburgh.
The Pro Bowl receiver got what he wanted this offseason — a trade from the Steelers and a big contract from the Oakland Raiders — but he can't seem to leave his former team or teammates alone. His latest target is receiver JuJu Smith-Schuster, who broke Brown's five-year streak as the Steelers' leading receiver last season.
When someone on Twitter tagged Brown in a tweet that referenced the selection of Smith-Schuster as the Steelers' 2018 MVP, Brown responded by bringing up Smith-Schuster's fumble at the end of a key December game against the New Orleans Saints.
"Boy fumbled [away] the whole post season in the biggest game of the year," Brown tweeted this week. "Everyone went blind [too] busy making guys famous not enough reality these days."
Smith-Schuster reacted the same day by tweeting, "Crazy how big that ego got to be to take shots at people who show you love! Smh."
---