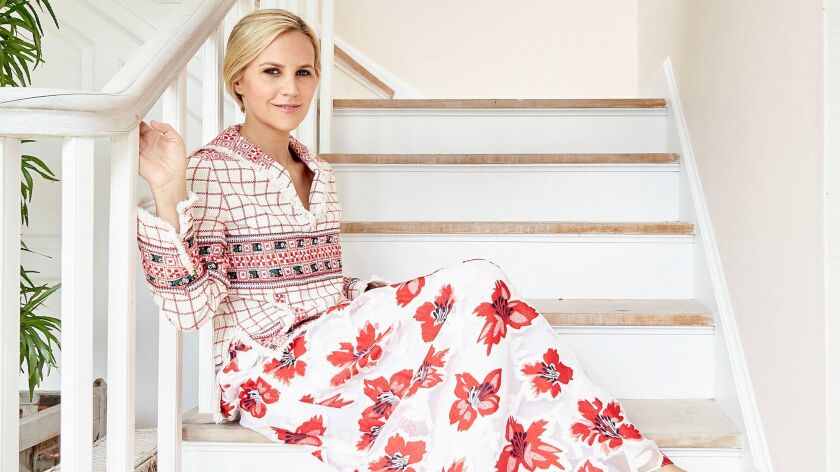 For most, fragrance holds a sense of nostalgia, a scent often tied to a memory, a space in time or a person of note. Mega-designer and businesswoman Tory Burch has infused that concept into the creation process for her fragrances, one facet of her multibillion-dollar business.
"Fragrance is tied to my memories," says Burch. "My parents each had favorite scents, which remind me of them and different moments in time. My mother keeps a tray on her vanity with some of her favorite fragrances and vintage perfume bottles. When I was little, I used to try them all on — at the same time, of course — and then get thrown directly in the bath."
When Burch launched her seventh fragrance in January, Love Relentlessly, she looked to her parents for inspiration.
"When my dad was courting my mom, he would take ads out in the help-wanted section of the local newspaper and write things like, 'If I told you I loved you, would you hold it against me?'" says the designer. "He would sign them 'Love, Relentless.' It was insanely romantic."
Her parents' love affair serving as the muse, Love Relentlessly leads with pink pepper, rose and orris before revealing notes of patchouli and amber.
"With [this scent], I wanted to evoke the idea of new love," says Burch. "There's a freshness to it from notes of grapefruit and Sicilian lemons, but it also has a deep structure and a hint of pepper that makes it a bit spicy. People tell me it's sexy."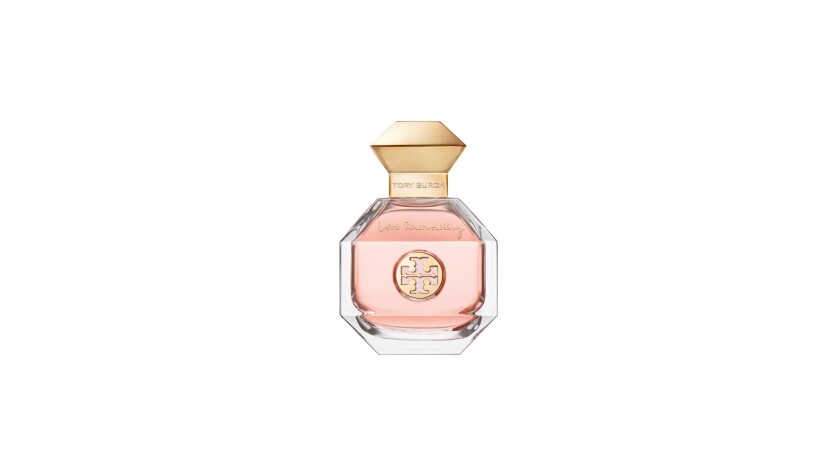 For her follow-up to Love Relentlessly, Burch turned to one of her foremost passions to inspire its theme: the ocean. "Every fragrance we create is in some way personally meaningful," she says of her eighth scent, Bel Azur, which will be released in July.
"I have loved the sea ever since I was little, searching for shells and sea glass on the shores of New England with my mom, swimming and diving with my three brothers. There's something about the sun shimmering on the water, the sound of waves crashing and of seagulls calling."
Bergamot and florals (peony and neroli) are the initial scents in Bel Azur, followed by creamy cedarwood and the earthy notes of vetiver. As for where Burch likes to spend her time by the water, she has a few places that are particularly close to her heart. "I have been spending a lot of time in the West Indies lately," she says. "The beaches on Half Moon Bay are heaven on Earth — private, serene and utterly beautiful. And there's no place like Southampton in the summer."
Burch doesn't only take great care with the scents of her perfumes; unsurprisingly their presentation and bottles are also of the utmost importance to the woman who has built a brand on a refined preppy-meets-beach chic aesthetic.
Love Relentlessy is housed in an ultra-feminine, pink, jewel-like bottle, while Bel Azur's bottle is blue ombre.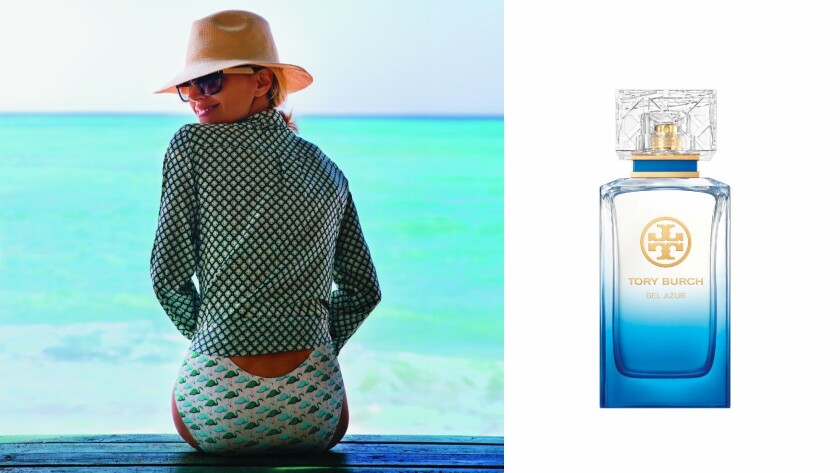 Every fragrance we create is in some way personally meaningful.
Tory Burch
"With all our fragrances, we want something that will look beautiful on a vanity and is a nod to the inspiration," says Burch. "Love Relentlessly is timeless, like new love. For Bel Azur, the blue ombre glass bottle gets lighter in hue from the base to the top, like a wave."
With two fragrance releases within months of each other, a successful ready-to-wear brand, a growing sport line and a foundation dedicated to empowering women entrepreneurs, it's hard to imagine how Burch is able to manage all that is on her ever-expanding plate.
"It comes down to setting clear priorities," she says. "I am by nature someone who is fully present in the moment and able to focus on the task at hand."
One of those tasks will be in L.A. this weekend when Burch participates in the Goop Wellness Summit, where attendees can hear the business and fashion powerhouse speak. While she's visiting the area, Burch will also spend time at her South Coast Plaza store in Costa Mesa, which will be hosting a Tory Sport pop-up shop.
But despite all of her work, Burch is never far from what's most important to her.
"I'm looking forward to being in Southampton with my family," she says of her summer plans. "It's all about spending time outdoors with my boys, playing tennis, swimming and four-wheeling on the beach in the evenings."
For fashion news, follow us at @latimesimage on Twitter.
ALSO:
17 style-wise gifts to give your father figure on Father's Day
Hand-painted dials give that old Rolex a bold new spin. Colorful leather straps lend an L.A. look to the heirlooms
Hollywood heavy hitters help the homeless take wing with the 16th annual Chrysalis Butterfly Ball
---