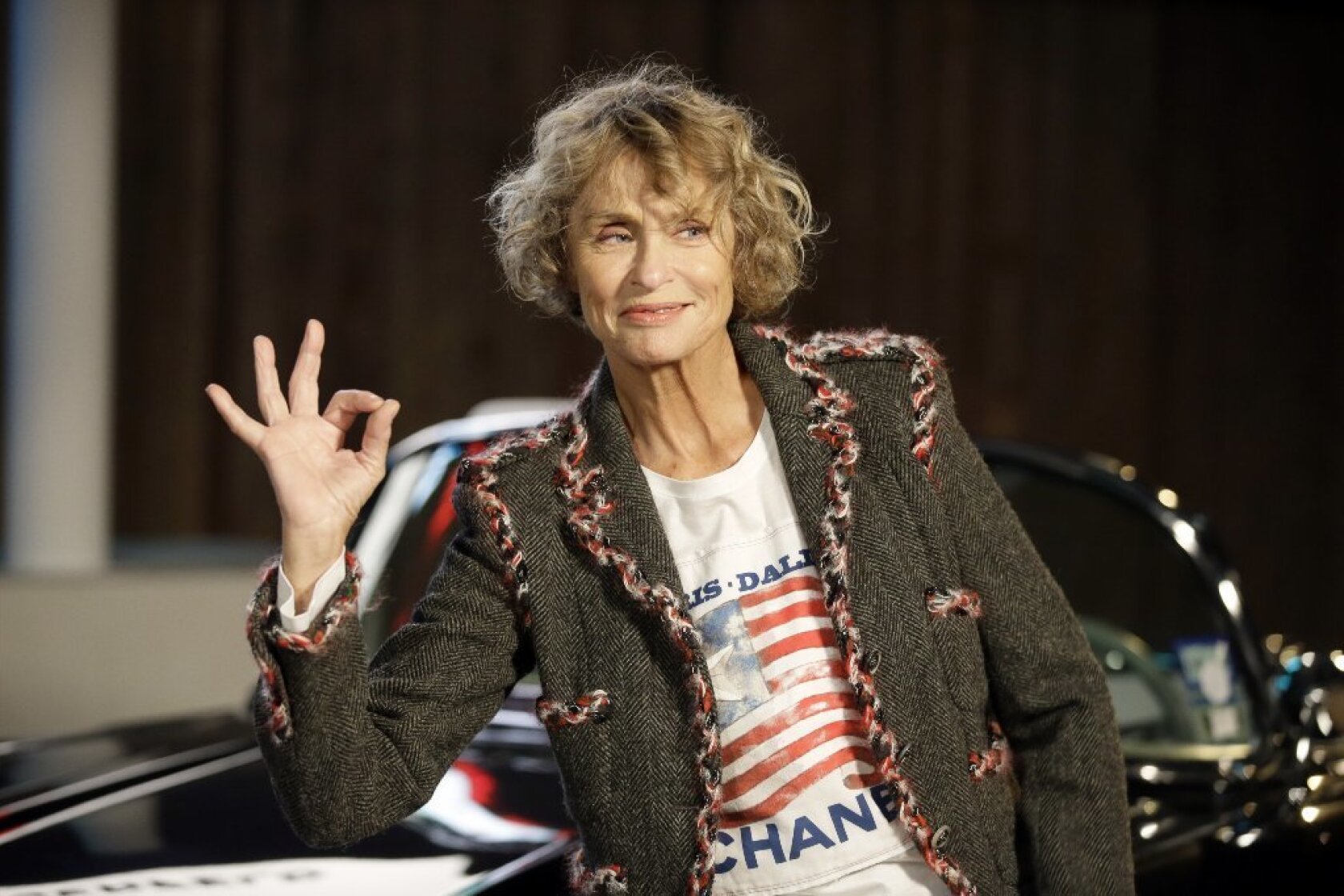 Model and actress Lauren Hutton poses for photos after arriving for Chanel's Metiers d'Art fashion show in Dallas.
(AP)
Italian designer Miuccia Prada.
(Brian van der Brug / Los Angeles Times)
Then-First Lady Michelle Obama and President Barack Obama wait to greet Italian Prime Minister Matteo Renzi and his wife Agnese Landini on the North Portico for a State Dinner at the White House in Washington, D.C., in October 2016.
(AP)
France's President Emmanuel Macron and his wife, Brigitte, walk toward the Elysee Palace courtyard, prior to the launching of a program to enhance the diagnosis and treatment of autism, in Paris.
(AP)
Jaime King, left, Jaden Smith, Kris Jenner, Olivier Rousteing, Jada Pinkett Smith and Corey Gamble attend Olivier Rousteing & Beats Celebrate In Los Angeles at Private Residence on Oct. 23, 2015.
( Stefanie Keenan / Getty Images)
Actor Dev Patel sits for a portrait at the London West Hollywood Hotel on Nov. 7, 2016.
(Brian van der Brug / Los Angeles Times)
Ruth Negga in Beverly Hills on June 20, 2017.
(Marcus Yam / Los Angeles Times)
Janelle Monae is photographed backstage with her ensemble performance award for her work in "Hidden Figures" at the Palm Springs International Film Festival Film Awards Gala on Jan. 2, 2017.
(Jay L. Clendenin / Los Angeles Times)
Zoe Kravitz poses for a portrait at the Four Seasons in Beverly Hills.
(Casey Curry / Invision / AP)
Cate Blanchett, from the film "Thor: Ragnarok," is photographed in the L.A. Times photo studio at Comic-Con International 2017 in San Diego.
(Jay L. Clendenin / Los Angeles Times)
Canadian Prime Minister Justin Trudeau is saluted by a mountie before the arrival of Abdullah II, King of Jordan outside the Parliament hill in Ottawa on Aug. 29, 2017.
(AFP / Getty Images)
Harry Styles as seen at "The Late Late Show with James Corden " on May 15, 2017.
(Terence Patrick / CBS via Getty Images)
Cleveland Cavaliers star LeBron James accepts the award for best NBA player at the ESPY Awards at the Microsoft Theater on July 13, 2016, in Los Angeles.
(Chris Pizzello / Invision / AP)
Donald Glover arrives at the Golden Globe Awards at the Beverly Hilton Hotel on Jan. 8, 2017.
(Jay L. Clendenin / Los Angeles Times)
Tennis star Roger Federer of Switzerland stretches to hit a forehand during a match against Tommy Haas of Germany.
(Clive Brunskill / Getty Images)
Principal ballet dancer Roberto Bolle is seen at the Metropolitan Opera House in New York.
(Jennifer S. Altman / For The Times)
Dasha Zhukova attends amfAR's Cinema Against AIDS Gala.
(Francois Durand / Getty Images)
Rihanna arrives at the L.A. premiere of "Valerian and the City of a Thousand Planets" at the TCL Chinese Theatre on July 17, 2017.
(Jordan Strauss / Invision / AP)
Solange Knowles on the streets of Paris.
(Timur Emek/Getty Images)
Actress Charlotte Gainsbourg is seen in the Bowery Hotel in New York.
(Jennifer S. Altman / For The Times)
The arrival of September means it's time to welcome a new fashion season — and naturally, the fashion icons who stand out from the crowd.
On Wednesday, one day prior to the start of New York Fashion Week — and the announcement that Graydon Carter would step down as editor of Vanity Fair after 25 years — the storied magazine released its 2017 International Best-Dressed List. From sports legends to heads of state, the people who made it onto this list are undeniably some of the most stylish people on the planet.
Some of the notable honorees include Rihanna, Harry Styles, Canadian Prime Minister Justin Trudeau, former President Barack Obama and former First Lady Michelle Obama, Jaden Smith and LeBron James.
Did your favorite celebrity make the cut? Check out the full list below to see all the honorees.
Women:
Anh Duong
Charlotte Gainsbourg
Kirsten Green
Solange Knowles
Eugenie Niarchos
Rebecca de Ravenel
Rihanna
Queen Letizia of Spain
Lady Amelia Windsor
Dasha Zhukova
Men:
Roberto Bolle
Roger Federer
Donald Glover
LeBron James
Henry Koehler
Daniel Romualdez
Jack Schlossberg
Charlie Siem
Harry Styles
Justin Trudeau
Hollywood:
Cate Blanchett
Zoë Kravitz
Janelle Monáe
Ruth Negga
Dev Patel
Originals:
Catherine Baba
Jaden Smith
Mademoiselle Yulia
Couples:
Emmanuel and Brigitte Macron
King Willem-Alexander and Queen Máxima of the Netherlands
Barack and Michelle Obama
Professionals:
Adwoa Aboah
Alexandre Arnault
Petra Collins
Inés and Mercedes Domecq
Nico Landrigan
Hervé Pierre
Miuccia Prada
Carlos Souza
Vanessa Traina
Hall of Fame:
Lauren Hutton
Jeremy Irons
Lauren Santo Domingo
Special Citation:
Prince Philip, Duke of Edinburgh
ALSO
Celebrity stylist Karla Welch on getting stars ready for the Emmys: 'May the best dress win'
Want to be a style winner? Add some razzle-dazzle to your life with these blingy pieces
Vanity Fair editor Graydon Carter stepping down after 25 years
---