Zoe Saldana on family, her busy career, politics — and the future. 'I want my country to lose its fear,' she says
Last month, actress Zoe Saldana attempted to forgo any form of a birthday party. "I was so sick," says the 39-year-old actress, co-star of the "Avatar," "Guardians of the Galaxy" and "Star Trek" movie franchises. "And I was on a Z-Pak and even though I told my husband [Marco Perego Saldana] and my family, 'I don't want to do anything — I'm so tired,' they still did a little get-together."
Everyone wore yellow in honor of Saldana's late father's favorite color. "There were yellow balloons and a yellow cake that was nut-free, dairy-free, gluten-free," she says during a recent interview. "I let my kids eat all the cake that they wanted. It was fantastic. We got together for three hours in the afternoon, and I was surrounded by my favorite people that know me best."

For the record:
5:17 a.m. Dec. 5, 2023A previous version of the story said Zoe Saldana has four forthcoming "Avatar" sequels in the works with the first being released next year. The first of the four films will be released in December 2020.
The actress, who lives in the Los Angeles area, deserved a day off. After heavy promotion, Saldana is enjoying box-office success with "Guardians of the Galaxy Vol. 2," which has made more than $858 million worldwide. She recently went back to work on the highly anticipated follow-up films to 2009's "Avatar," and she runs Cinestar Pictures with her sisters Mariel and Cisely. "I'm busy on the work front, and life is actually busier than work right now," she says. "Between having three boys all under the age of 3 and moving into a new house that's not ready yet and running around to meetings and summer camp and groceries, I live in my car."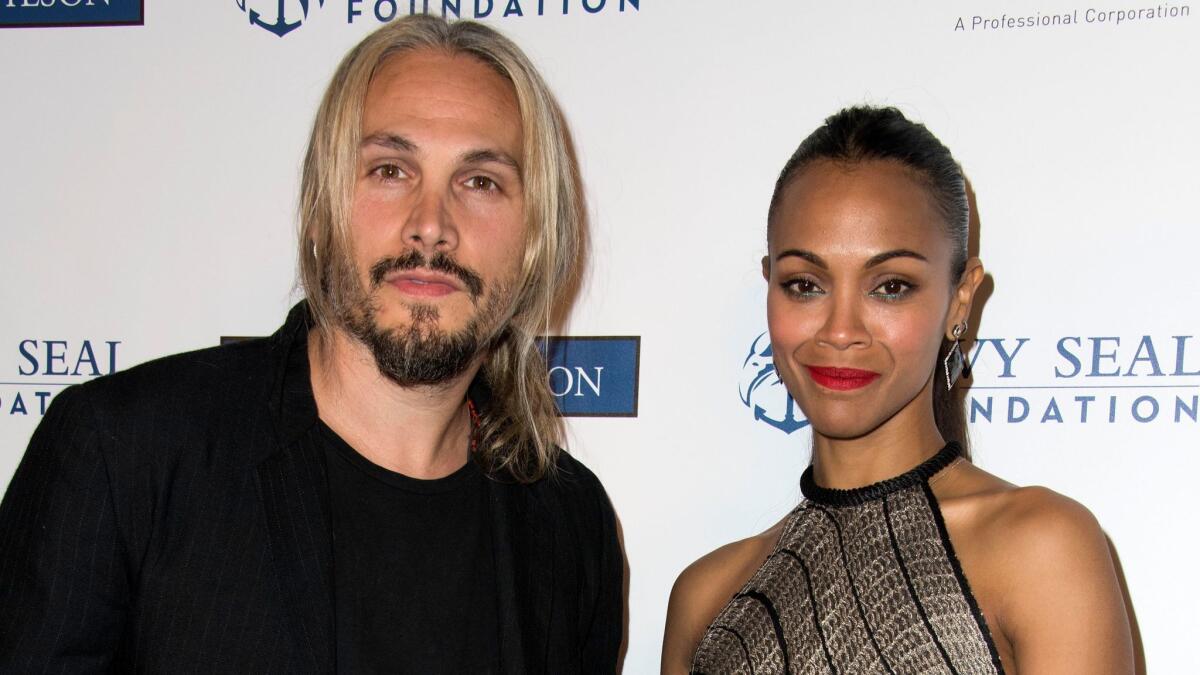 Last month, Saldana was honored during the National Assn. of Latino Independent Producers' media summit at the organization's Latino Media Awards and Gala for her artistic contributions within her community. The event took place at the Ray Dolby Ballroom at Hollywood & Highland.
"It means a lot to me that I'm inspiring a community that I feel proud to belong to," says Saldana, who is of Dominican and Puerto Rican descent. "When I was growing up, I was singled out because I was from that community and I was singled out in a way that made me feel very unsure as to who I was or where I belonged."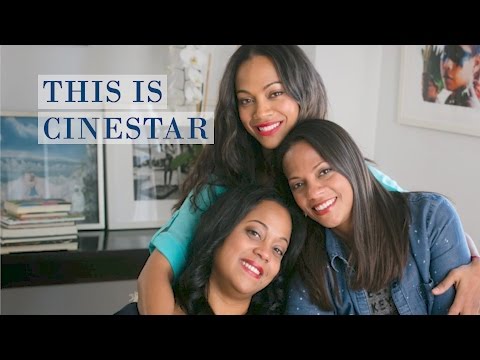 Icons such as Raul Julia, Maria Montez and Cheech Marin and Tommy Chong inspired her to look beyond her humble beginnings in New York, Saldana says, adding, "They gave me this awareness that no matter how small you may feel, you're part of a bigger story and that life is all about big stories."
Saldana says she hopes to do the same for others and wants "to be a part of that movement that is helping America understand and embrace that impact the Latino population is going to have in America in the next 40 years. I want to make sure that I'm contributing in whatever way I can to spread knowledge about a beautiful community that I belong to that will soon become 30% of the population here in this country.
"It will be our lawyers, our doctors, our scientists, our researchers, our future president," she says. "I want my country to lose its fear and to grow from its ignorance and understand that we can never stop evolution. It is inevitable."
Although appreciative of her career, Saldana says, "I don't need fame. I don't need celebrity."
She maintains that it is life beyond the entertainment business that interests her. "I want to impact my country and move it in the right direction when it comes to the empathetic and respectful approach that we need to have with respecting our Constitution when it comes to immigration."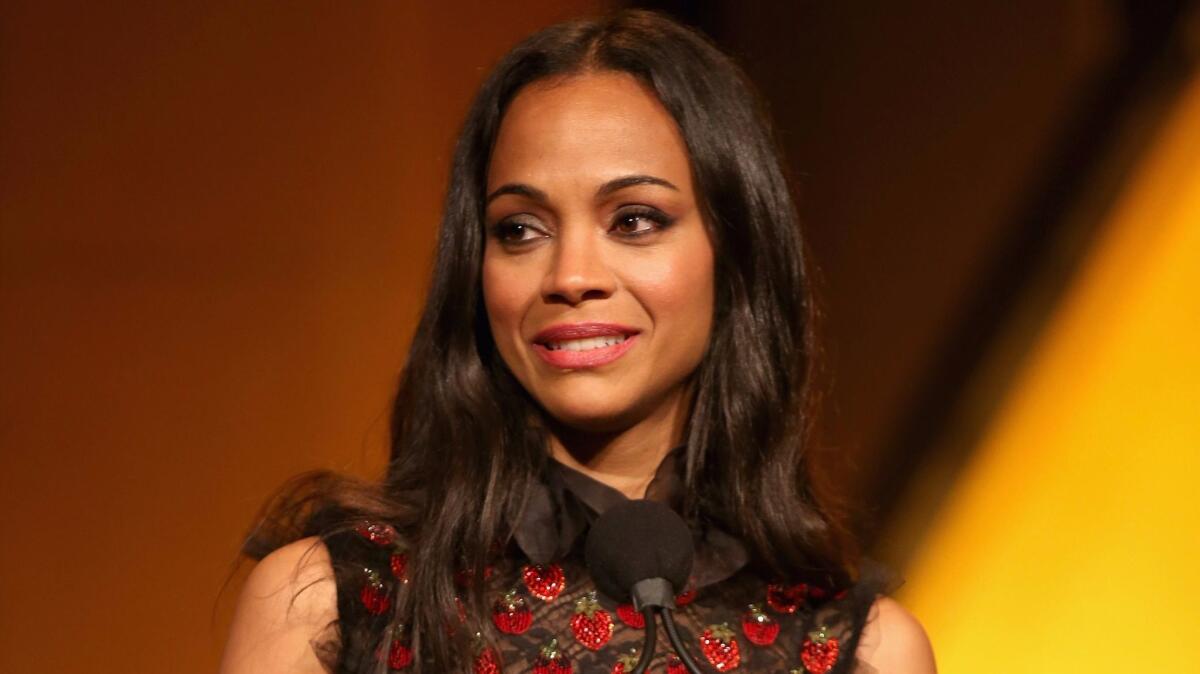 I look at fashion like I look at literature, like I look at film, like I look at anything artistic.
— Zoe Saldana
As part of changing the narrative, she launched Cinestar, whose projects include 2014's NBC miniseries "Rosemary's Baby." It also has several films in development and a YouTube channel. "We want to make content that we would like to see as viewers, as women, as American Latino women, as women with curves, as women in our mid-to-late 30s, as mothers, as daughters." Saldana credits her sisters with overseeing the company. "I've been preoccupied with franchises that are set in space and, most importantly, with motherhood," she says. "I always have a say, 'Yay or nay,' in everything that we're going to do before we jump into it, but I do trust them blindly."
Saldana also has four forthcoming "Avatar" sequels with the first being released in December 2020. "We just had our first set read-through of the script. It was very, very emotional," she says of the reunion. "It's 10 years later. A lot of us have become parents, and some have also become grandparents. A lot of growth has happened, not just among the actors but to all the crew because 80% of [director James Cameron's] team came back for these 'Avatar' movies. We're all older, wiser and still super-loyal to Pandora."
A longtime red-carpet risk-taker, Saldana says fashion is still very much a part of her life and is another facet of who she is as an artist.
"I look at fashion like I look at literature, like I look at film, like I look at anything artistic," says Saldana, who wore a standout feathered Dolce & Gabbana gown with a dramatic train to the Met Gala in 2016. "I made an active choice to live my life in art as much as possible. I'm also married to a painter, so he very much lives his life that way. That means that what I eat, what I see around me, what I wear, what I listen to, what I read has to move me. It has to inspire me. It has to challenge me."
For fashion news, follow us at @latimesimage on Twitter.
ALSO
Kendall Jenner and Kylie Jenner sued by man who took Tupac photos they used on 'vintage' shirts
Allbirds opens a pop-up shop featuring footwear and specialty food and home goods at Grand Central Market
Zaha Hadid, the late world-famous architect, offers a surprise — a style collaboration with Perrin Paris
Get our L.A. Goes Out newsletter, with the week's best events, to help you explore and experience our city.
You may occasionally receive promotional content from the Los Angeles Times.