7-Eleven using mustaches, Mason jars to make Slurpees hipster friendly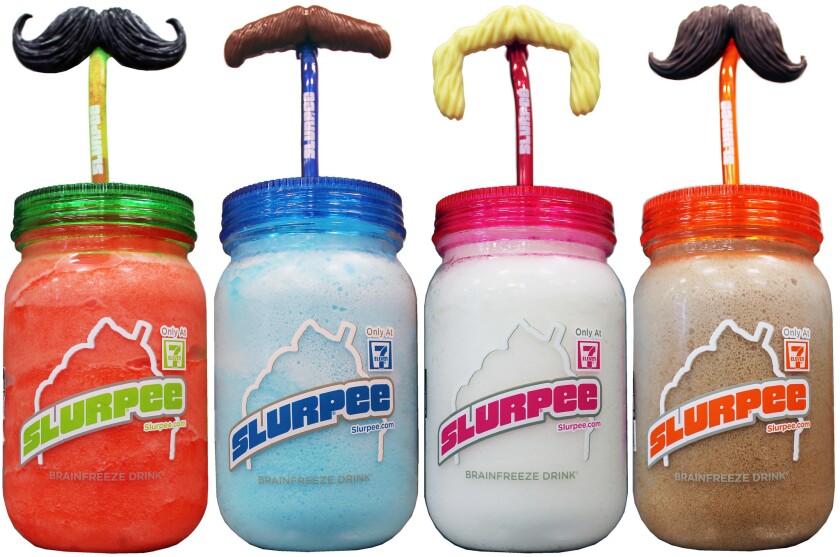 Slurpees, the sugar-charged slushy drinks from 7-Eleven, aren't exactly the most hip of beverages. In fact, the mass-produced, uber popular drink probably goes against everything Portland even stands for.
But the 7-Eleven chain is making its Slurpees a little more hipster friendly by targeting two essentials: the mustache and the Mason jar.
The chain has launched a line of mustache Slurpee drink straws and a 26-ounce refillable plastic Mason jar Slurpee mug. The straws come in four styles: the British, the Handlebar, the Hogan (after wrestler Hulk Hogan) and the Swanson (after Ron Swanson, a character on NBC's "Parks and Recreation").
"It was only a matter of time," said 7-Eleven said in a statement. "They're seemingly everywhere — on party supplies, clothing, jewelry, candy, decals, at 'stache bashes, in party photo booths, even on cars and baby pacifiers."
The mustache straws retail for 99 cents and the Mason jar mug is $2.99. They are both available at participating 7-Eleven locations while supplies last.
If they haven't already flooded your Twitter feed, we're anticipating an influx of Slurpee mustache selfies.
---
Get our weekly Tasting Notes newsletter for reviews, news and more.
You may occasionally receive promotional content from the Los Angeles Times.