Ben & Jerry's core ice cream: Peanut Butter Fudge rocked, but we want more core!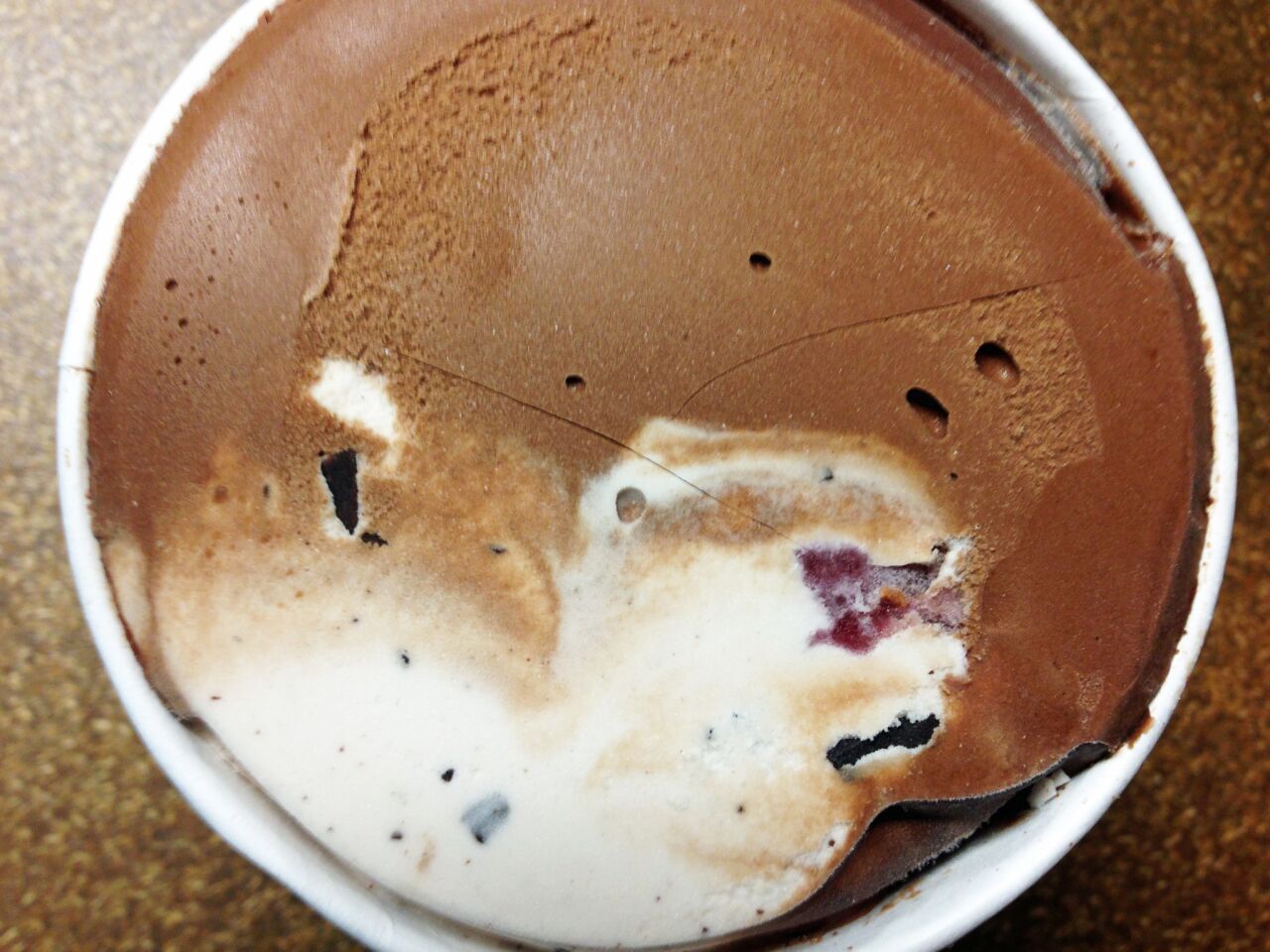 Ben & Jerry's That's My Jam ice cream has raspberry and chocolate ice creams, fudge chips and a raspberry core.
(Jenn Harris / Los Angeles Times)
Ben & Jerry's new That's My Jam ice cream, sliced into cross-sections for Test Kitchen sampling.
(Jenn Harris / Los Angeles Times)
The new Ben & Jerry's core ice cream flavors, the ones with the cores of peanut butter, raspberry jam, salted caramel and hazelnut fudge arrived at our office Wednesday like a parting of the clouds in the rainstorm.
And of course, we immediately took all four of them into the Test Kitchen to dig in. But it wasn't as easy as we had hoped. To get a little bit of everything in each bite, we needed to get creative, so Times writer Adam Tschorn came up with the idea of carving the ice cream.
We softened the pints in the microwave for just long enough to loosen the ice cream from the carton and slid it onto a cutting board. Then he turned each ice cream on its side and with a sharp knife started cutting slices, each providing the perfect mix of ice cream and core.
But we found that the cores were way too small. Each one had maybe a 1- to 1½-inch circumference of core.
"I want more core!" said Times Deputy Food editor Betty Hallock.
We started with the Peanut Butter Fudge with peanut butter and chocolate ice cream with miniature peanut butter cups and peanut butter fudge. Tschorn described the ice creams as living in side-by-side harmony with the perfect balance of flavor and texture. We all gave it two spoons up.
Then on to the Salted Caramel flavor with sweet cream ice cream, blonde brownies and a salty caramel core. We found the salted caramel core more sweet than salty, and the "sweet cream" ice cream a little on the salty side.
We were sad to find the Hazed and Confused fudge wasn't exactly Nutella, but it was chocolaty enough to curb a craving. It reminded Tschorn of his now-discontinued favorite flavor Wavy Gravy, which had hazelnut fudge swirls.
"That taste was there, but the specialness of it kind of got lost -- maybe that's the 'confused' part -- mingling in the parking lot of my palate with the hazelnut ice cream," said Tschorn.
Last we tried the That's My Jam flavor, with raspberry and chocolate ice creams, fudge chips and a raspberry core. Tschorn said it reminded him of those variations on Black Forest cake you'd be served by the same dessert-making demographic that uses plastic sofa covers. But the jam core worked as an inside-out fruit topping.
"Bonus points for a soft core that makes it easier than its hard-core cousins to transfer from pint, to bowl, to belly," he said.
Want another scoop? Follow me on Twitter: @Jenn_Harris_
ALSO:
Ancient mummies found buried with world's oldest cheese
New nutrition labels: Because we're eating the entire bag of chips
Roy Choi's Pot: Expect double-dipping, 10 types of hot pot and a late March opening

---
Get our L.A. Goes Out newsletter, with the week's best events, to help you explore and experience our city.
You may occasionally receive promotional content from the Los Angeles Times.