A few years ago the Bruery, the wildly popular Orange County brewery known for inventive creations and experimental fermentations, ran into a tricky problem. Founder Patrick Rue was fond of creating tart beers that required wild yeasts and bacteria to develop the complex flavor profiles he was after, but these microorganisms kept cross-contaminating the beers that weren't supposed to be sour. In 2014, Rue commissioned a new barrel-aging and packaging facility a few miles down the road from the main brewery. He wanted to isolate the production of his beloved sour beers from the Bruery's core lineup and popular spirit barrel-aged beers.
Focused on the rustic, the wild and the downright funky brews, the new brand was dubbed the Bruery Terreux. And after a year's worth of delays, the Terreux tasting room is open in Anaheim.
The beers under the Terreux label — often called sour beer, but more accurately classified as wild ales — feature the bright acidity, earthy spice and often tangy funk that beer lovers clamor for. The brewery calls them "wildly traditional bières," and they're a philosophical throwback to Old World brewing traditions and flavor profiles.
Some fan favorites from the Bruery have relaunched under the Terreux label — the complex Saison Rue and the lauded Oude Tart — and the slate is filled out with plenty of new specialty brews, many featuring fruit additions. Nearly all of the Terreux beers spend some time aging in wood, be it used wine barrels or oak foeders — the towering vats that hold thousands of gallons. Common in wine production and with some some traditional Belgian brewers, foeders are growing in popularity with American craft brewers looking to meet demand for sour ales.
The Terreux tasting room offers two dozen taps available in several different pour sizes from 1-ounce tasters to full 16-ounce pints with prices ranging from $1 for a taster to $7 for a small glass of the most potent brews. There's a heavy emphasis on the beers under the Terreux label, but a few of the Bruery's mainstay brands are also available. You can also grab bottles to go, or fill a growler.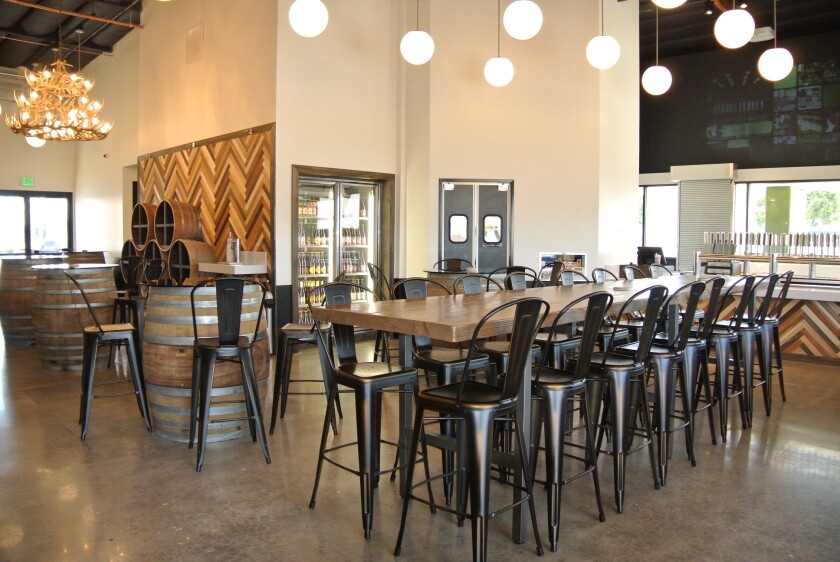 The room features a herringbone arrangement of multi-toned, reclaimed wood along one wall and rows of stacked barrels filled with maturing brews — a reminder that that beer is being made on-site. Café tables and more barrels (upright, glass-topped) provide room to sip while the flood of natural light from the facade will help you get that perfect Instagram shot.
The Terreux tasting room is open from noon until 10 p.m. every day.
Bruery Terreux, 1174 N. Grove St., Anaheim, (714) 996-6258, www.brueryterreux.com
ALSO:
This new chicken ramen may cure L.A.'s tonkotsu obsession
The best ways to use beer and ice cream to keep cool this summer
Going full curry cray at E.P. & L.P. with Aussie chef Louis Tikaram
---