Cafe Demitasse to open two new coffeeshops, with food and new roastery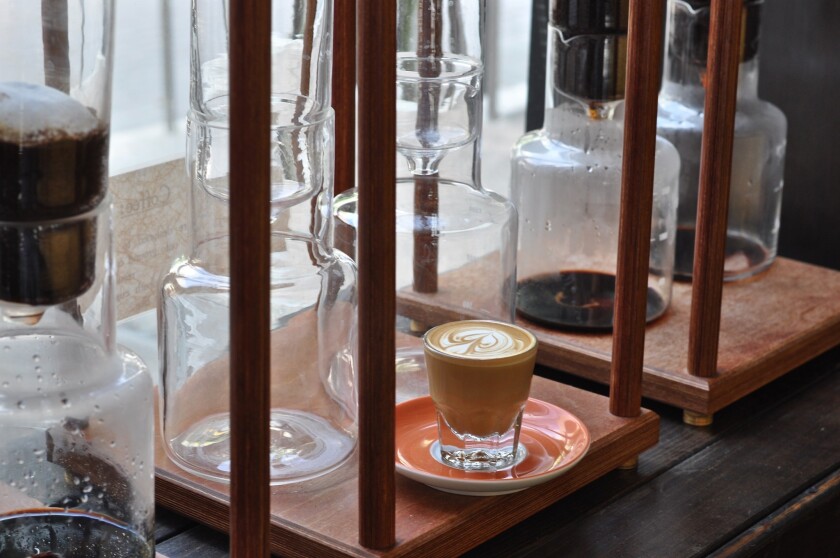 Cafe Demitasse, the little coffee shop with locations in Little Tokyo and Santa Monica that has great coffee, one of the best cups of hot chocolate in the city, and some pretty cool coffee gadgets, is expanding. Soon there will be not one but two more locations — one in mid-Wilshire and another in Hollywood.
The Wilshire Demitasse, at 6363 Wilshire Blvd., will open in about two weeks. The Hollywood location is a much larger project — it includes an expanded food menu — and is set to open in November.
Owner Bobby Roshan says that the new place in mid-Wilshire is tiny, less than 500 square feet, and is going into a space that he thinks used to be a computer repair shop — he's not totally sure, as it's been vacant for a while. They'll be batch-brewing there, with a siphon set up and some food, sandwiches and salads from Fundamental LA.
"Every day people walk in and say, 'We want real food,'" Roshan says about the new place, as his other shops don't have food other than pastries and cookies. "OK, the masses have spoken." Of the third location, Roshan says that there are a lot of offices and residences (LACMA is pretty close too), but "it's such an underserved community. There's not even a Starbucks there."
Cafe Demitasse, which opened its first shop in Little Tokyo almost five years ago, has been roasting its own coffee for about two years. The fourth location, which is somewhere in Hollywood — Roshan doesn't want to say more yet — will be a much larger space, with a larger roaster than what they currently have, and will become the central roastery for the company.
"It's a very large project for us, a one-off," says Roshan. There will also be a much larger food program, helmed by chef Jeff Lustre, the chef who's been cooking for Cafe Demitasse's occasional pop-ups.
If you want a preview, Roshan says that the next pop-up will be in September, or maybe October — they're still working it out. Meanwhile, there are the two coffeeshops now open, and the next one in a few weeks.
Demitasse: 135 S. San Pedro St., Little Tokyo, (213) 613-9300 | 1149 3rd St., Santa Monica, (310) 260-6308, cafedemitasse.com.
Because taking pictures of food is almost as much fun as eating it, on Instagram @latimesfood.
SEE ALSO:
8 great iced coffee drinks for summer
This is way better than s'mores
Salt & Straw ice cream is coming to Venice and the Arts District
---
Get our new Cooking newsletter.
You may occasionally receive promotional content from the Los Angeles Times.