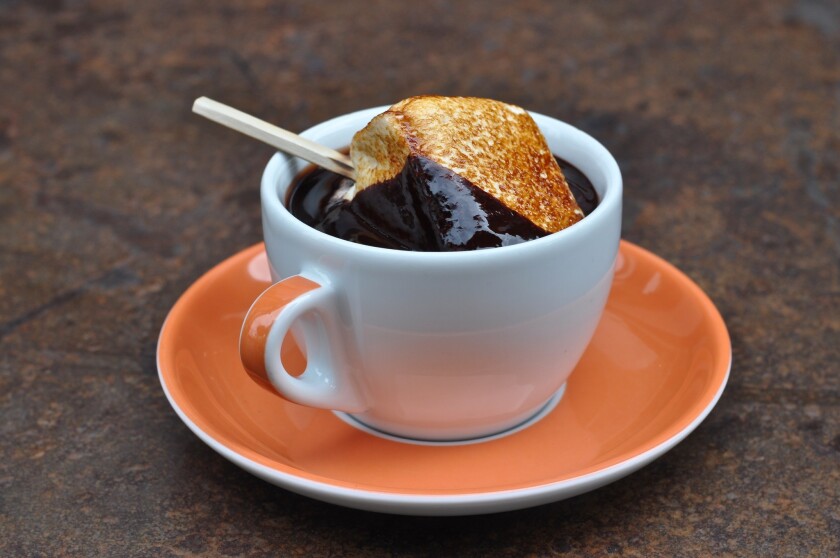 Most of us have fond memories of making s'mores when we were kids, or with our own kids. Huddled around a campfire, lighting stuff on fire and eating chocolate bar after chocolate bar while we transformed crappy store-bought marshmallows into torches. Which was all more fun than the s'mores themselves -- waxy chocolate, stale Graham crackers, bits of gooey carbon.
So today, which is National S'mores Day, why not switch out all that happy backyard pyromania for something that actually tastes good? Go down to Demitasse in Little Tokyo for a glorious cup of hot chocolate, topped with a toasted marshmallow -- or make a version yourself.
The folks at Demitasse, who have been making this addictive drink for a few years now, make their hot chocolate with Guittard cocoa powder, vanilla beans, sugar and milk. You could duplicate this yourself quite easily, as long as you use very good chocolate. Melt some Valrhona or whatever chocolate you like the best, even add some flavoring if you want -- Demitasse sometimes flavors their hot chocolate with lavender. Or use coconut milk and very dark chocolate if you're not a dairy person, because marshmallows are dairy-free already.
Then get out your blowtorch, skewer a good marshmallow -- you can get the good ones at Little Flower, Joans', and many other culinary shops, or even make them yourself -- and crisp it until golden brown with the flame. Because while campfires are very fun, they mostly incinerate marshmallows.
Cup of chocolate, torched marshmallow in it like an olive in a martini. And a few squares of Graham crackers on the saucer, if you like.
Demitasse: 135 S. San Pedro St., Los Angeles, (213) 613-9300; 1149 Third Street
Santa Monica, (310) 260-6308.
Because taking pictures of food is almost as much fun as eating it, we're on Instagram @latimesfood.
---