What we're into: Cooking with the garlic sauce from Zankou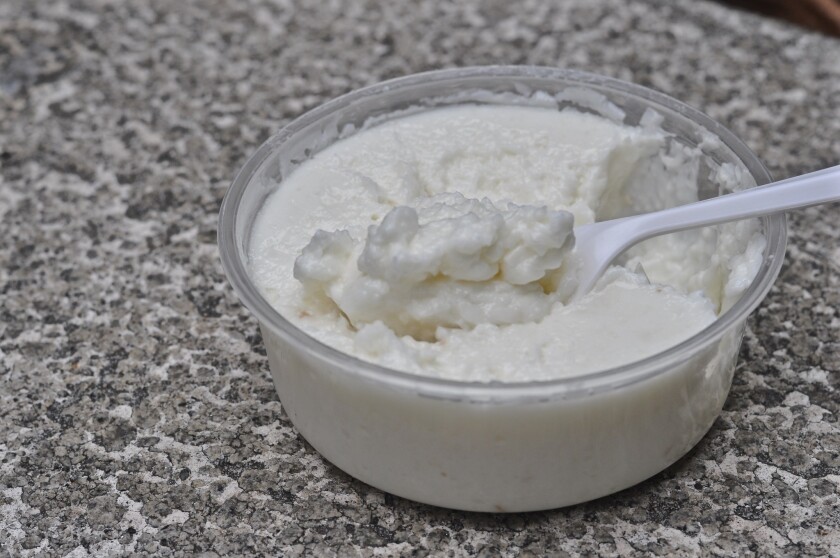 The garlic sauce at Zankou, also known as toum (Lebanese garlic sauce), is the stuff of legend. The fluffy white paste has been adored since the chicken chain came to the U.S. in 1984. Schmeared on shawarma sandwiches, rotisserie chicken and pita bread, its garlic punch clears your head and makes your mouth tingle.
Beyond the confines of Zankou, it's also really good on pretty much everything else, including leftover Chinese food (seriously, try it with a scallion pancake) and pizza.
The next time you find yourself with an extra cup of the stuff (you can also find it at most Lebanese restaurants and some Armenian markets), cook with it. Add a dollop to a hot pan and use it in place of oil to cook carrots, broccoli or potatoes. Use it as the base for a marinara sauce. Toss roasted broccolini in a spoonful of the sauce before serving. You can even add it to burger patties.
Your dinner guests will be wowed by your ingenuity, and your house will smell like your local Zankou for a couple of hours. Depending on who you are, this could be a very good thing.
If we both eat a lot of garlic, that should solve the problem. Follow me on Twitter and Instagram @Jenn_Harris_
ALSO:
How to make the perfect strawberry mojito
Where to get great vegan fro-yo and ice cream
Want your dumplings and bao in different colors? Head to Rowland Heights
---
Get our weekly Tasting Notes newsletter for reviews, news and more.
You may occasionally receive promotional content from the Los Angeles Times.