Following food bloggers to favorite restaurants on 'Log On and Eat with Eden Grinshpan'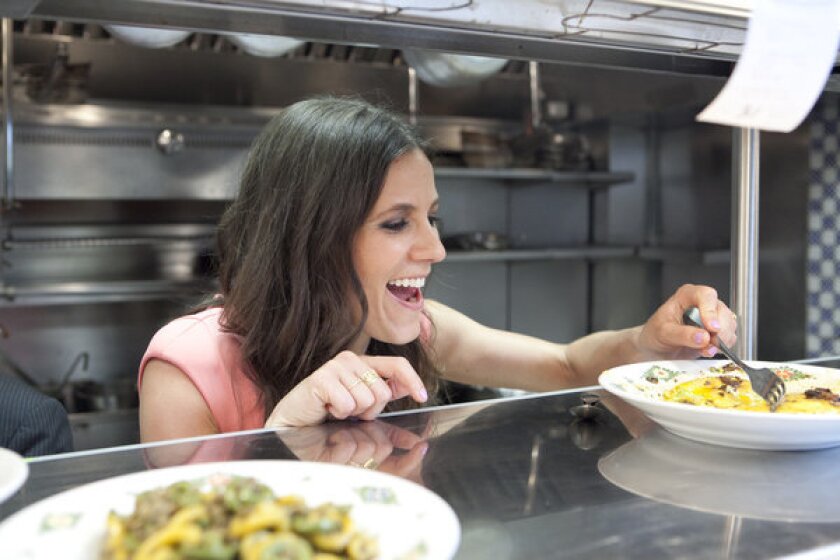 If you're wondering which food bloggers are worth following, Eden Grinshpan can help. In her new show on the Cooking Channel, "Log On and Eat With Eden," which premiered Tuesday, Grinshpan uses food bloggers to discover a city's good eats.
Grinshpan, who happens to be a Le Cordon Bleu graduate, searches Twitter, Facebook, YouTube and local blogs for online reviews to point her in the right direction.
"It started by me being completely in love with going online to Yelp, reading reviews of restaurants, then branching out to going on blogs to finding new restaurants," said Grinshpan. "With social media the possibilities are endless and we're finding great characters that go along with these fantastic tweets and reviews."
During the season, Grinshpan connects with popular online SoCal-based personalities, including Nguyen Tran of Chinatown's Starry Kitchen. He is often seen dressed up in outfits that include a banana costume and an '80s jogger.
Grinshpan also hits up a couple other L.A. spots with a trip to Plan Check Kitchen and Bar with actress and now cookbook author Haylie Duff. Grinshpan read Duff's review of Plan Check on her blog the Real Girl's Kitchen and asked the actress to take her for a meal.
"Total characters really have their niche market and I immerse myself in their life and their world," Grinshpan said. "In every episode, you meet with three to four different personalities that take us into their world and we eat their favorite food."
Grinshpan also visits the the Egg Slut truck this season with the Foodie Girls, two actors trying to break into the entertainment industry. They sing, cook at home, visit restaurants and go online and blog about it. She also ends up at Seoul Sausage with the guys from the YouTube videos Kamakaze Kitchen. They randomly surprise chefs in L.A. with secret ingredients and challenge them to see what they can come up with.
"I think that personally, for me traveling to a new city, I usually find and learn all about the local spots based on online reviews," Grinshpan said. "I find that locals that go on the Web and are passionate enough to write about it usually know the hottest new spots that I should go try and they are really specific about what they love."
If you missed the first episode, you can catch it here on CookingChannel.com. "Log on and Eat With Eden" airs Tuesdays at 9:30 p.m. on the Cooking Channel.
Want more food TV news? Follow me on Twitter: @Jenn_Harris_
ALSO:
Robot barista makes your coffee, remembers your order
Oreos as addictive as cocaine: How to kick your addiction
Sorry, Chipotle fans, your favorite burrito chain is raising prices

---
Get our weekly Tasting Notes newsletter for reviews, news and more.
You may occasionally receive promotional content from the Los Angeles Times.