6 great doughnut recipes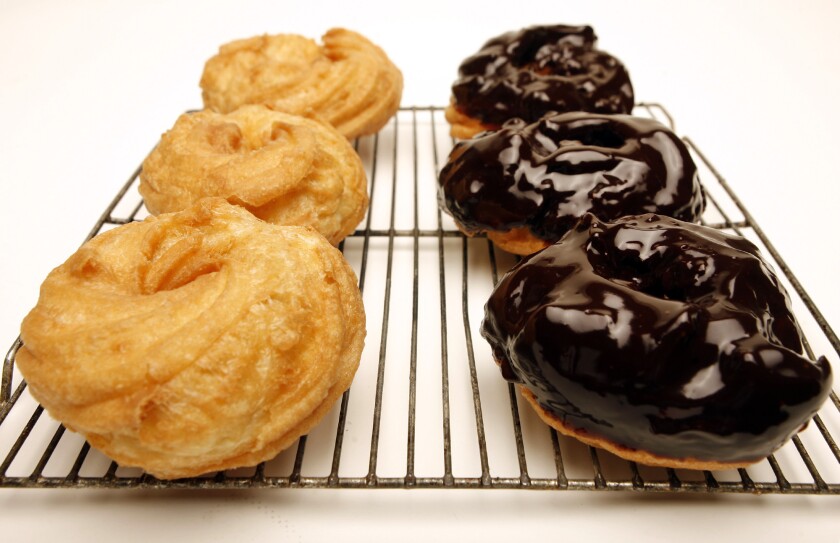 There's something magical about the doughnut. You don't have to be Homer Simpson to swoon when you're greeted with all those bright colors and sparkly decorations in a doughnut shop display case. But no matter how wonderful they appear, it's hard to find a store-bought doughnut that compares with homemade.
And, believe it or not, they're really not hard to make. You can whip up a batch of cake doughnuts in about an hour. Put together a batch of yeast-raised the night before, and all you have to do is fry them the next morning. Making breakfast for someone special? Try a batch of French crullers — their thin, golden crusts yielding to the most delicate, lightly flavored interiors.
A few years ago, I did a piece on making your own doughnuts. and included a bunch of homemade doughnut recipes: basic cake, devil's food, yeast-risen and French crullers. If you've never tried them (or maybe have been a little intimidated), give them a go. They're really fun, and make a perfect weekend project. You'll find the recipes for buttermilk doughnuts and chocolate glaze below; other recipes can be found in our doughnut recipe gallery.
BUTTERMILK DOUGHNUTS
Total time: 1 hour
Servings: Makes about 1 1/2 dozen donuts
4 1/4 cups (18 ounces) flour
1 tablespoon baking powder
1/2 teaspoon baking soda
3/4 teaspoon salt
Pinch grated nutmeg
1/4 teaspoon cinnamon
2 eggs
1 egg yolk
3/4 cup sugar
1 teaspoon vanilla
1 cup buttermilk
3 tablespoons butter, melted
1. In a large bowl, sift together the flour, baking powder, baking soda, salt, grated nutmeg and cinnamon.
2. In the bowl of a stand mixer, or in a large bowl using a hand mixer, beat the eggs and egg yolk with the sugar and vanilla until light and fluffy, 2 to 3 minutes.
3. In a large measuring cup, stir together the buttermilk and butter.
4. Alternately beat the dry ingredients and buttermilk mixture into the egg mixture, one-third at a time, until all the ingredients are combined and a dough is formed. It will be soft and sticky.
5. With floured hands, remove the dough to a floured board and gently roll out until the dough is one-half inch thick. Using a doughnut cutter, or two biscuit cutters (a larger one measuring 3 to 3 1/2 inches in diameter, and a smaller one measuring about 1 inch in diameter), cut the dough into doughnuts, spacing the doughnuts as close as possible. Collect the scraps and roll out to form another batch of doughnuts (note that this batch may be a little tougher than the first as the dough has been worked).
6. Meanwhile, fill a deep fryer, or a large pot to a depth of at least 3 inches, with oil, and heat to 350 degrees.
7. Gently place the doughnuts in the oil, being careful not to crowd. Fry the doughnuts on each side until puffed and golden, about 1 1/2 to 2 minutes on each side.
8. Drain the doughnuts on a rack and cool slightly, then frost and decorate as desired.
Each doughnut: 291 calories; 4 grams protein; 31 grams carbohydrates; 1 gram fiber; 17 grams fat; 3 grams saturated fat; 41 mg. cholesterol; 9 grams sugar; 237 mg. sodium.
CHOCOLATE GLAZE
Total time: 15 minutes
Servings: Makes about 2 1/2 cups glaze, enough to frost a batch of doughnuts
1 pound bittersweet or semi-sweet chocolate (chips or finely diced)
1/4 cup (1/2 stick) butter
1/2 cup heavy cream
1/2 cup water
3/4 teaspoon vanilla
2 tablespoons corn syrup
Pinch salt
1. Place the chocolate in a large bowl.
2. In a medium saucepan, combine the butter, cream, water, vanilla, corn syrup and salt. Bring to a good simmer over high heat. Remove from heat.
3. Pour the cream mixture over the chocolate and gently stir to combine, melting the chocolate and forming a glaze.
4. The glaze will thicken as it cools. This makes 2 1/2 cups glaze, which will keep for up to one week, covered and refrigerated. Rewarm slightly to thin.
Each tablespoon: 81 calories; 1 gram protein; 7 grams carbohydrates; 1 gram fiber; 7 grams fat; 4 grams saturated fat; 7 mg. cholesterol; 4 grams sugar; 5 mg. sodium
In the Kitchen: Sign up for Russ Parsons' weekly newsletter
Love cooking as much as I do? Follow me @noellecarter
---
Get our weekly Tasting Notes newsletter for reviews, news and more.
You may occasionally receive promotional content from the Los Angeles Times.