What to eat while President Obama is in Cuba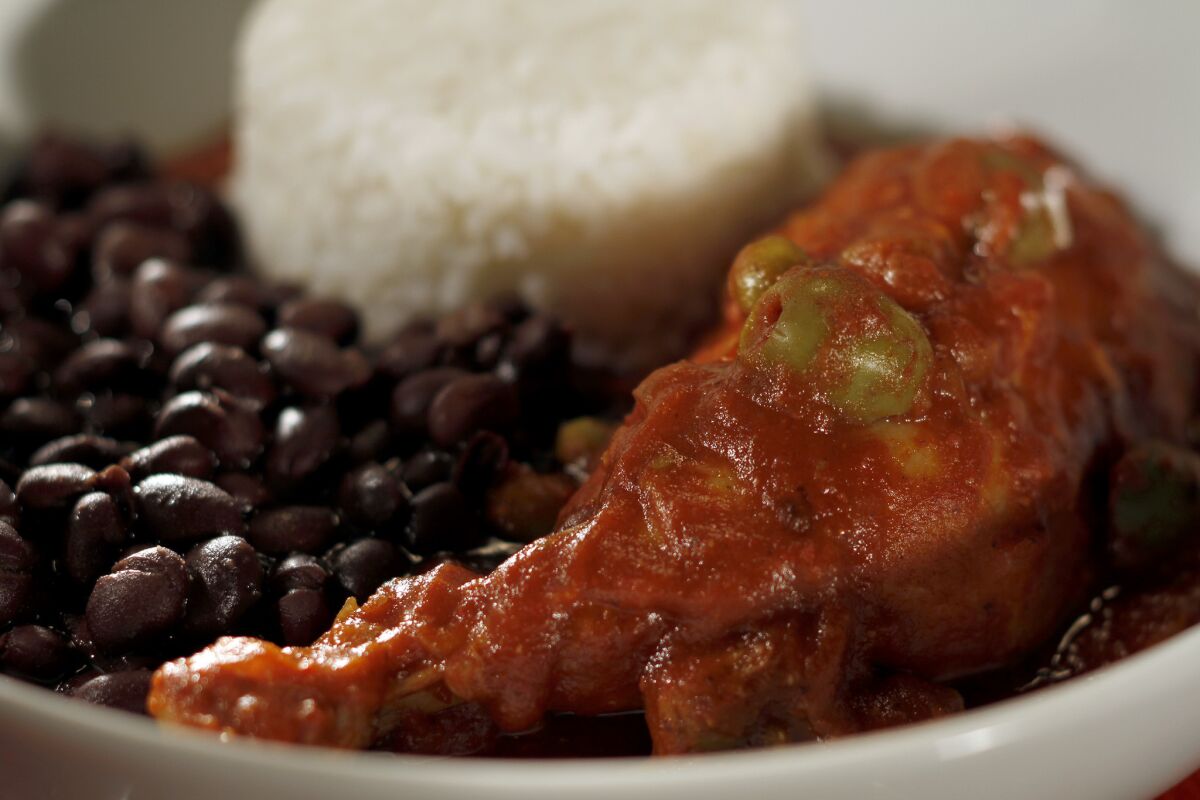 President Obama is in the middle of a historic visit to Cuba. If all this talk about the island is making you crave Cuban food, beverages or both, you're probably not alone. There are a number of great Cuban institutions around town, from the famous chain of Versailles restaurants, to Porto's Bakery, to the venerable institution El Colmao in Koreatown.
"My spot for a Cuban fix," wrote Jonathan Gold in a recent live chat, "has always been the thoroughly old-fashioned El Colmao in the Pico-Union area. The moros y cristianos, beans fried with rice and plenty of pork fat, are stunningly garlicky, stunningly good. Great arroz con pollo and fried pork leg too."
A few years ago, we ran the recipe for the restaurant's famous Pollo El Colmao, a dish the restaurant credits to "old grandpa Eduardo Sousa." Slow-cooked chicken is stewed in a Creole-style tomato sauce dotted with green olives and peas and spiced with chile powder. Serve it alongside rice, black beans and a refreshing daiquiri.
POLLO AL COLMAO
Total time: 1 1/2 hours | Serves 6 to 8
Note: Adapted from El Colmao. The restaurant serves the chicken with rice and black beans.
2 tablespoons plus 2 teaspoons vegetable oil, divided
1/2 large onion, sliced thinly into half-rings, plus 1 large onion, chopped, divided
3 cloves garlic, thinly sliced
3 pounds chicken pieces
1 3/4 teaspoons salt, divided
1/2 teaspoon white pepper, divided
3/4 cup dry white wine, divided
1 tomato, seeded and chopped
1 (15-ounce) can tomato sauce
1 (6-ounce) can tomato paste
1/4 cup sweet peas
1 teaspoon paprika
1/4 cup chile powder (type can vary, use heat to taste)
1 cup pitted whole green olives, or to taste
1. Heat the oven to 350 degrees.
2. In a large Dutch oven, heat 2 teaspoons oil over high heat. Add the sliced onions to the oil and saute, stirring frequently, until softened and translucent, 3 to 5 minutes. Stir in the garlic and continue to cook until the garlic is aromatic and the onions are just beginning to color, about 1 minute more. Remove from heat.
3. Sprinkle the chicken evenly on both sides with three-fourths teaspoon salt and one-fourth teaspoon pepper and place, skin side up and in one layer, over the onions in the Dutch oven. Add one-fourth cup white wine, cover and bake until the chicken is cooked halfway through, about 45 minutes. Remove from heat.
4. Remove the par-baked chicken (with the onion-garlic mixture and any liquid) to a separate baking dish or bowl.
5. To the Dutch oven, add the remaining 2 tablespoons oil and chopped onion and sweat the onions over medium-low heat until softened, 3 to 5 minutes.
6. Stir in the chopped tomato, tomato sauce, tomato paste and sweet peas, along with the remaining one-half cup white wine, paprika, 1 teaspoon salt, one-fourth teaspoon pepper, chile powder and olives and bring to a boil over high heat.
7. Reduce the heat to a gentle simmer and add back the chicken, onion-garlic mixture and cooking liquid to the sauce. Cover and continue to simmer until the chicken is cooked through and tender, 15 to 20 minutes.
Each of 8 servings: 340 calories; 29 grams protein; 14 grams carbohydrates; 4 grams fiber; 17 grams fat; 4 grams saturated fat; 82 mg cholesterol; 7 grams sugar; 1,144 mg sodium.
Love cooking as much as I do? Follow me @noellecarter
ALSO:
Easter: Homemade Peeps, Cadbury eggs and more recipes

Farmers market report: Green garlic is in season. Here are 9 recipes
How to make that crispy flattened chicken from the legendary Campanile
---
Get our L.A. Goes Out newsletter, with the week's best events, to help you explore and experience our city.
You may occasionally receive promotional content from the Los Angeles Times.