5 best not-Cronuts in L.A. (and a map that includes all the rest)
The original Cronut from Dominique Ansel in lemon-maple flavor.
(Betty Hallock / Los Angeles Times)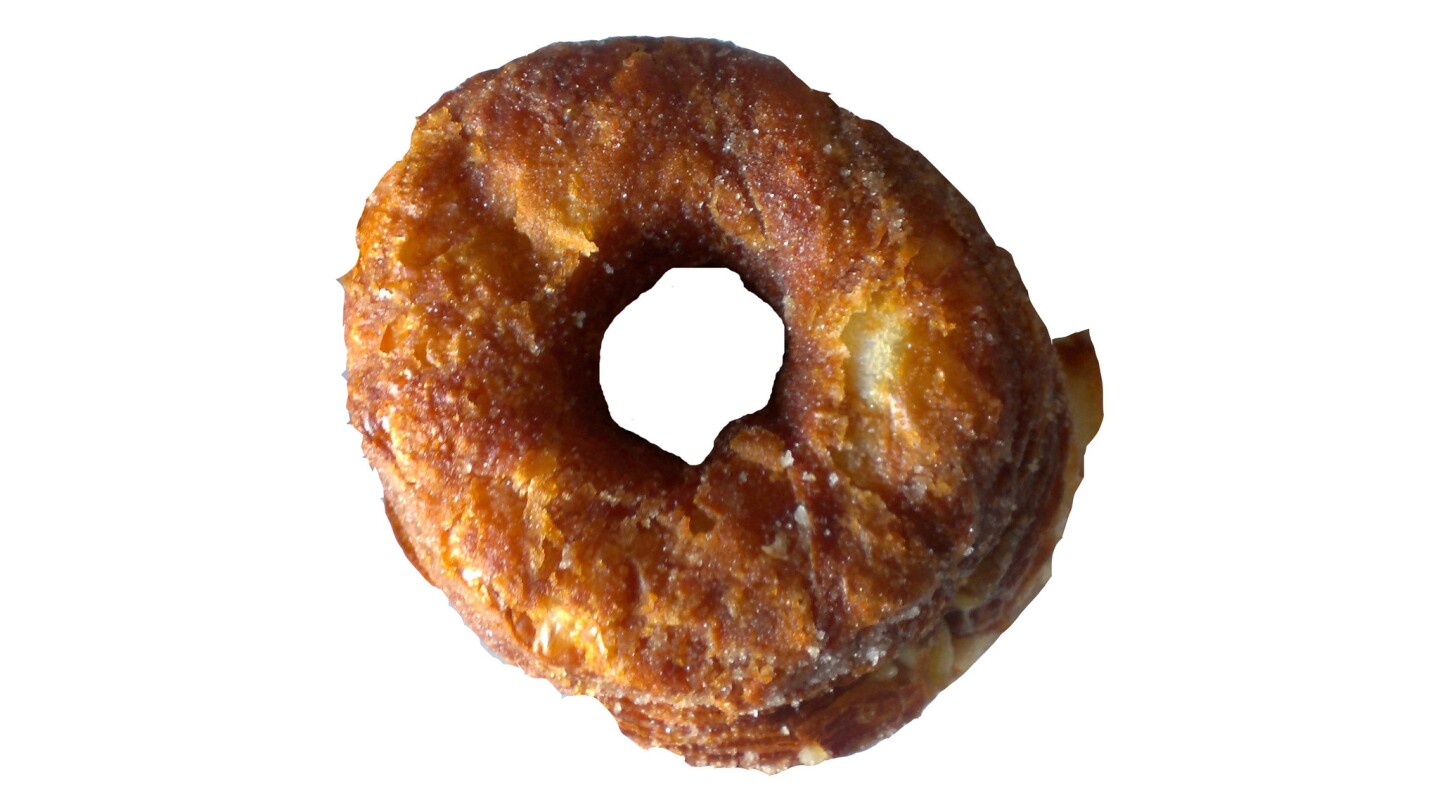 Forage's Crowe-Gnut is a big shaggy beast of a croissant-doughnut, with layers that shatter and luscious pastry cream.
(Betty Hallock / Los Angeles Times)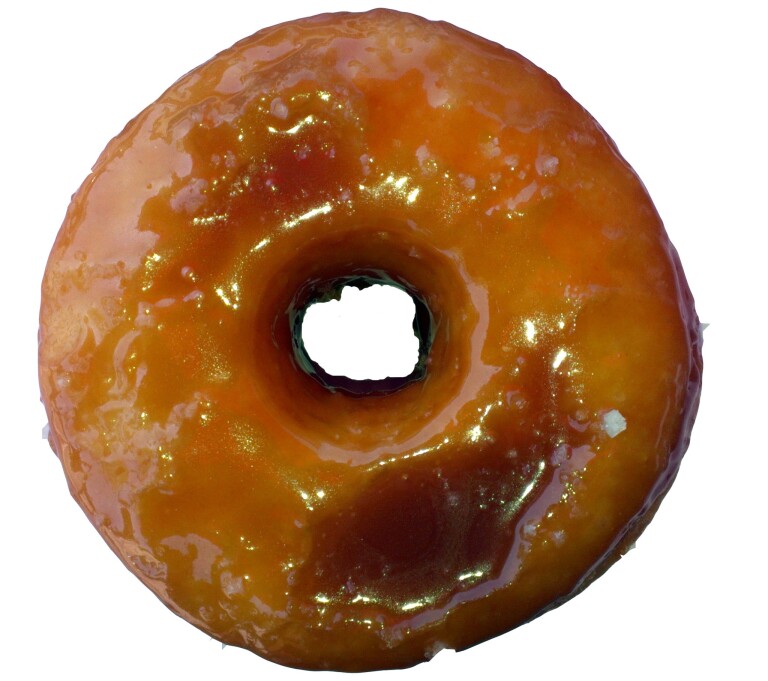 Confexion's brioughnut is a tender brioche-doughnut hybrid, the best of which is topped with salted caramel. It's melt-in-your-mouth good.
(Betty Hallock / Los Angeles Times)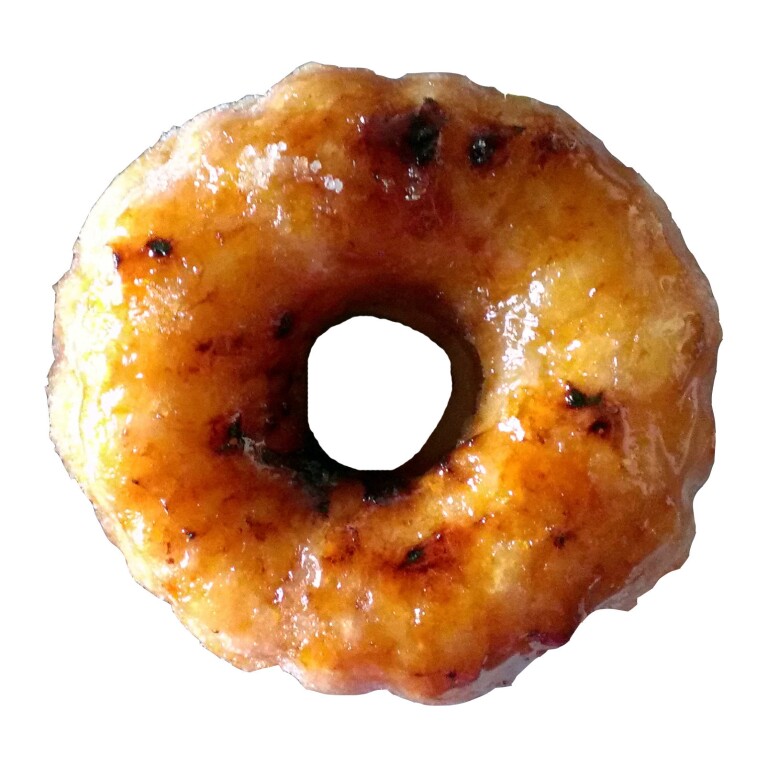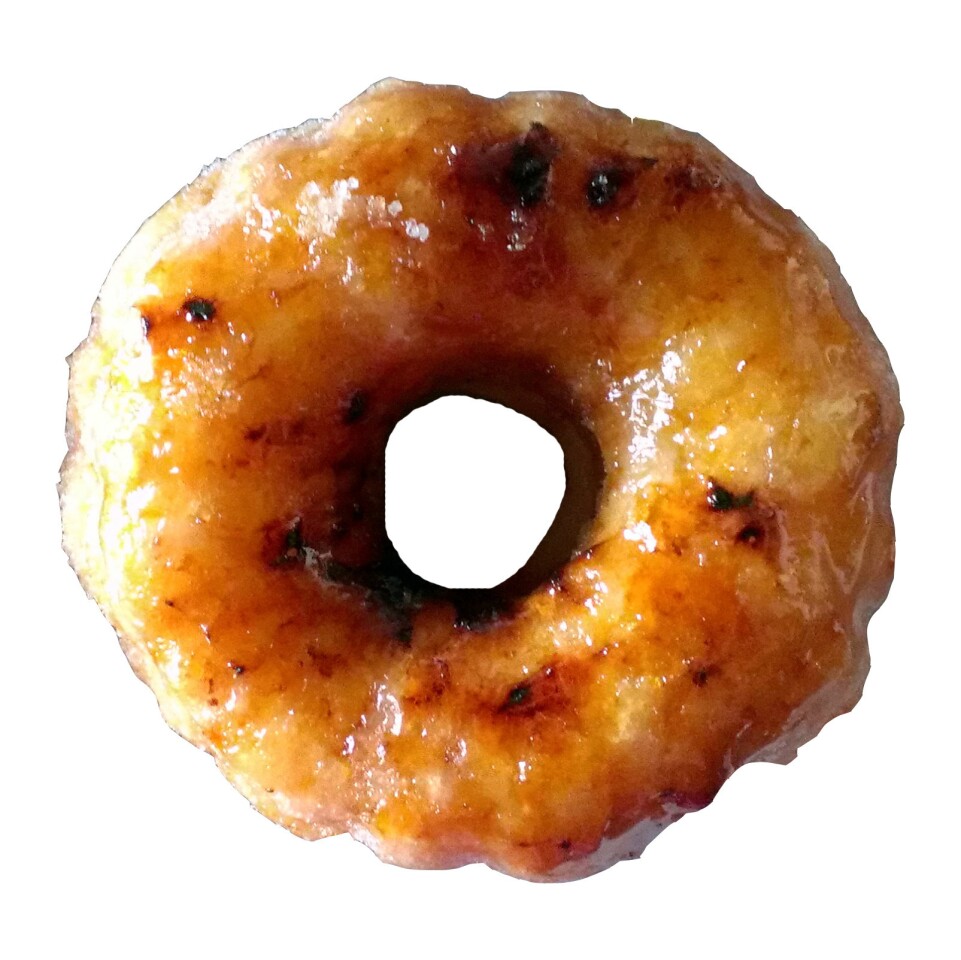 Semi Sweet Bakery's crullant is baked, not fried, but the bruleed crullant achieves all its crispiness from its twice-caramelized topping of sugar.
(Betty Hallock / Los Angeles Times)
German pastry chef Hans Rockenwagner's Cro-Dough is well executed, with high layers and delicious filling. Pictured is the chocolate-hazelnut Cro-Dough.
(Betty Hallock / Los Angeles Times)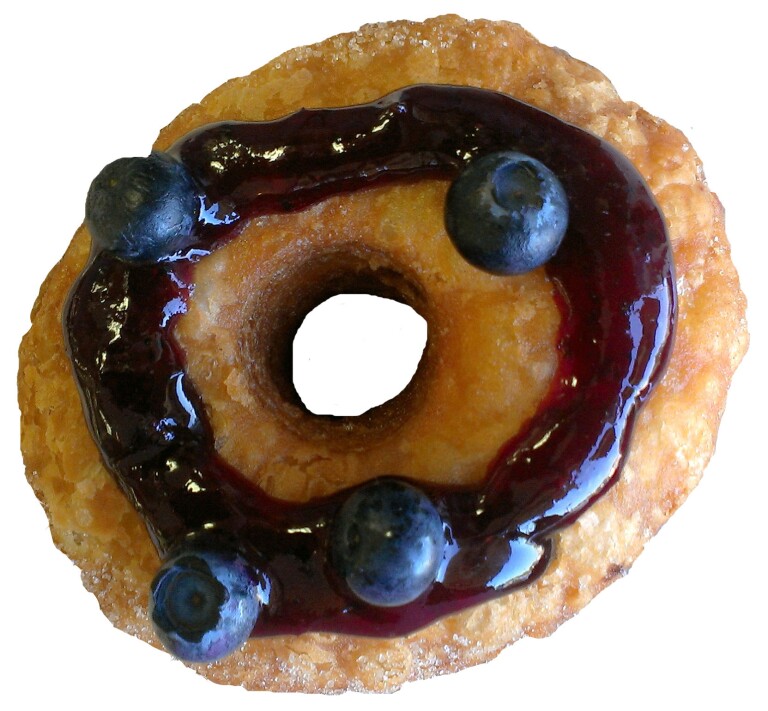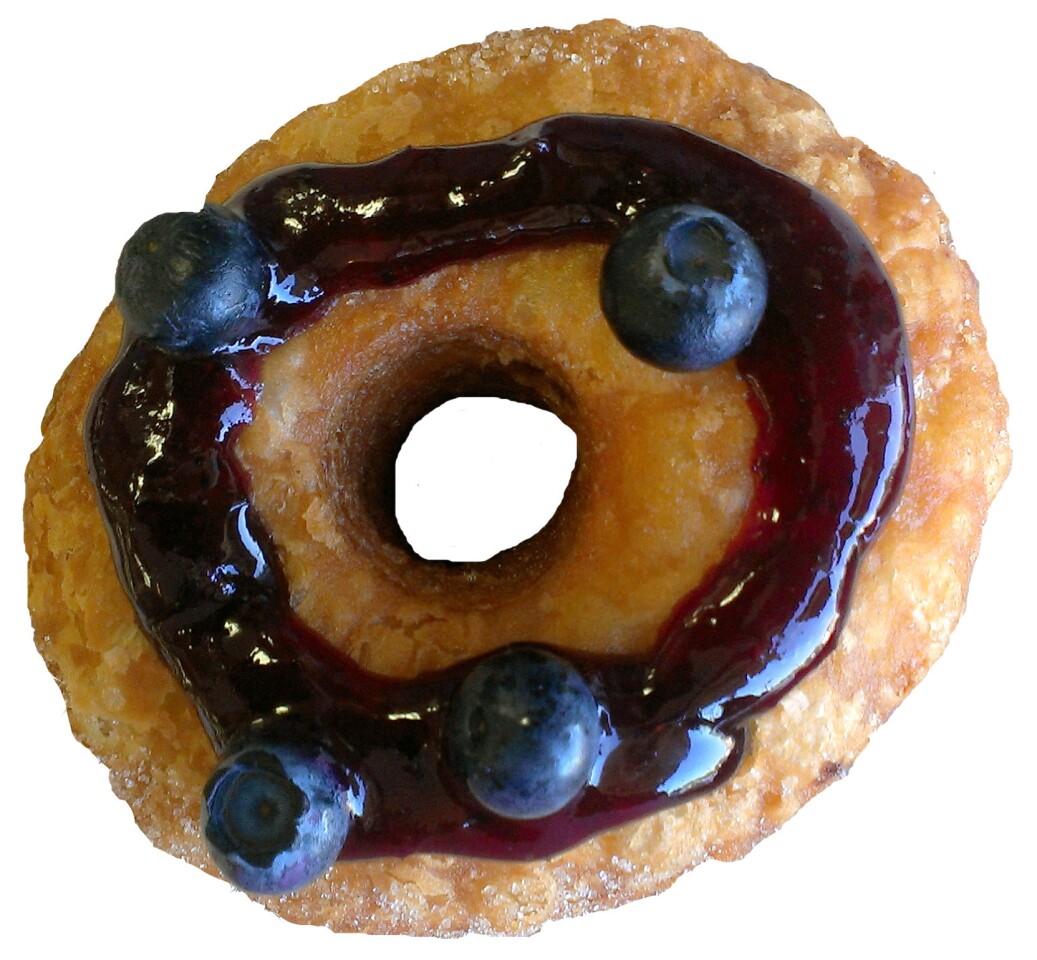 Frances Bakery in Little Tokyo fries to order when possible; its croissant-doughnut hits the right notes but can be a little greasy.
(Betty Hallock / Los Angeles Times)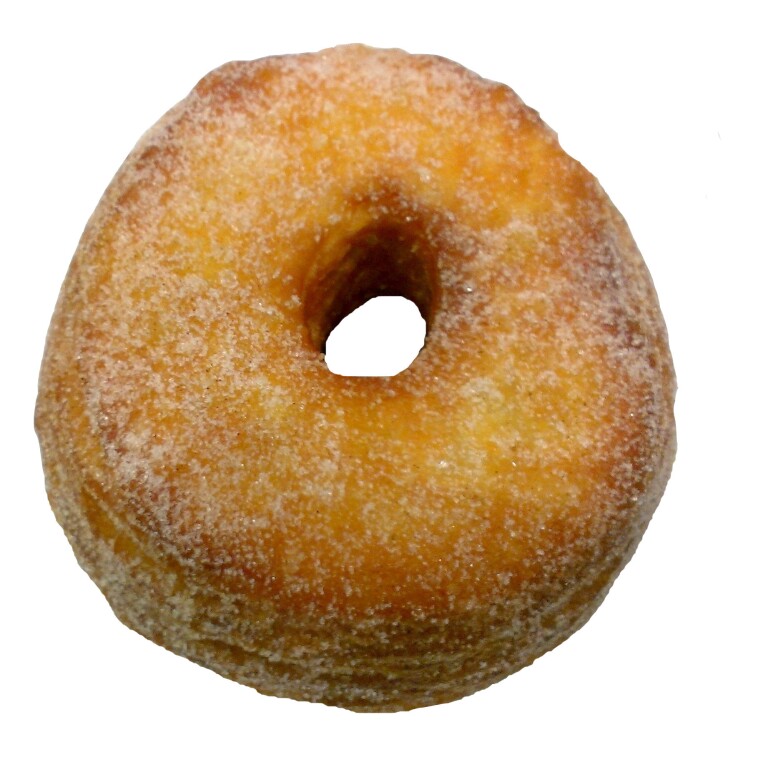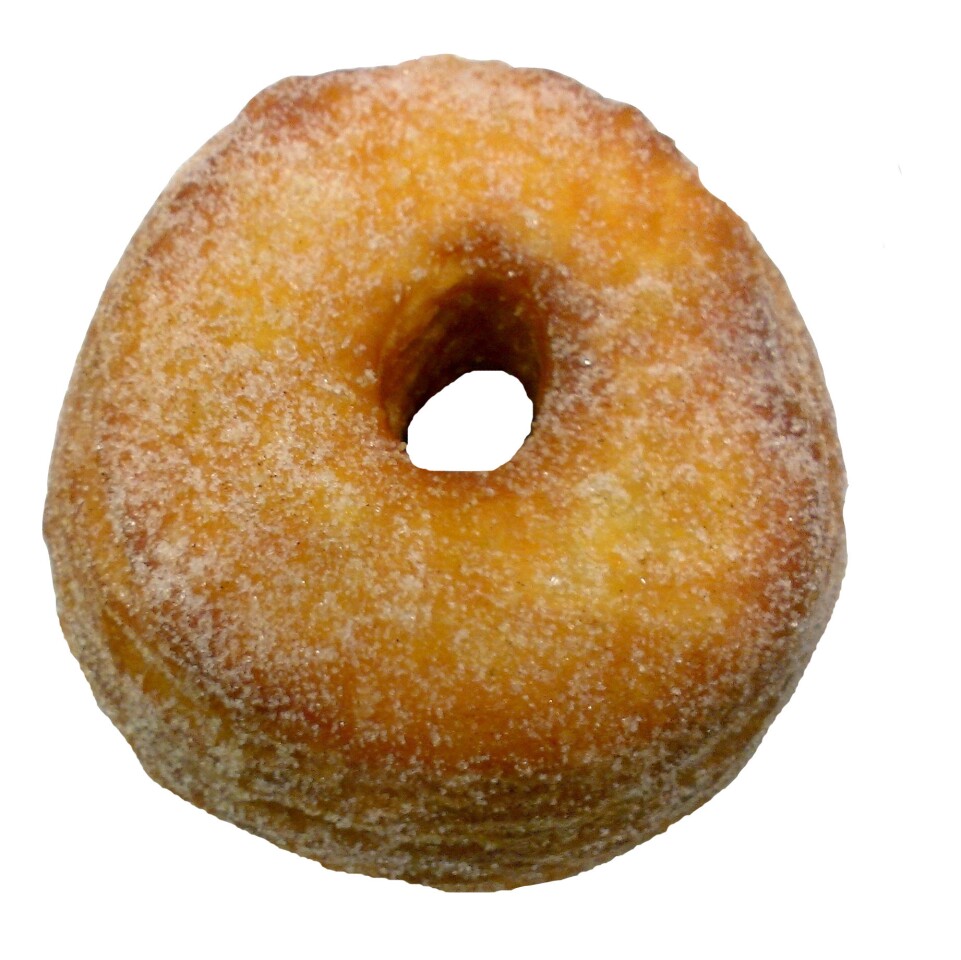 California Donuts' plain sugar-dusted croissant-donut with no filling is layered and fluffy.
(Betty Hallock / Los Angeles Times)
It's easy to succumb to a faux-Cronut addiction. Intrigued by a meta-pastry trend, I've eaten every version of the croissant-doughnut hybrid in Los Angeles that I could find, from Spudnuts in Canoga Park to DK's Donuts in Santa Monica.
I've had the original Cronut, the "half-croissant, half doughnut" introduced in the spring by New York's Dominque Ansel after two months and nearly a dozen recipes, using a proprietary laminated dough that is proofed then fried in grapeseed oil at a specific temperature. It's rolled in sugar, injected with pastry cream and topped with glaze. It is a compact, crispy, sugar-crunchy buttery-layered croissant-doughnut filled with fresh silky pastry cream and topped with flavor-concentrated glaze. Ansel's bakery makes 200 of them a day and sells out within minutes, eliciting a line down the street that begins to form at the crack of dawn.
Imitators soon followed (Ansel was prepared with a trademark for the Cronut name). One faux-Cronut seemed to spawn the next. Besides croissant-doughnuts, hybrids in L.A. include the brioche-doughnut (Confexion Cupcakes' brioughnut) and cruller-doughnut (Semi Sweet Bakery's crullant).
MAP: Where to find non-Cronuts in L.A.
Here, in alphabetical order, are the 16 places whose faux-Cronuts and similar pastry hybrids I taste-tested: 3 Square Cafe + Bakery in Venice, California Donuts in Koreatown, Chimney Brick Toast in Chinatown, ConfeXion Cupcakes + Cake in Pasadena, Crumbs in Larchmont Village, DK's Donuts in Santa Monica, Forage in Silver Lake, Frances Bakery downtown, Kettle Glazed Doughnuts in Hollywood, Paris Baguette in Koreatown, SK's Donuts & Croissants, SemiSweet Bakery downtown, Spudnuts in Canoga Park, Sweets for the Soul, Tony's Donut House in Huntington Park and the Village Bakery & Cafe in Atwater Village.
I tried every available flavor at each place, up to six; if there were more than a half-dozen flavors, I randomly selected six to try (which I felt confident provided a full picture of the bakery's ouevre). Because they're so perishable, of course I ate them immediately.
Some were inedibly greasy, some tasted like a regular doughnut, some were split open and filled not with pastry cream but nondairy whipped topping, some were small, some were big, few were as well executed and flavorful as the original Cronut. But a handful stood out from the rest.
Here are the five best:
5. Frances Bakery's croissant-doughnut
Fresh from the fryer, Frances' Cronut imitator is a quality contender. Crisp and sugary, it is plentifully layered, with a tunnel of piped-in pastry cream. Flavors include sugar glaze with vanilla pastry cream, chocolate glaze with vanilla pastry cream, and a blueberry-jam-filled one. (Best flavor: blueberry jam.) Though a tad greasy, they're standouts. Available starting at 9:30 a.m.; Frances also takes call-in orders. The bakery has been known to fry them to order, but don't count on it. The price is $3.85. 404 E. 2nd St., Los Angeles, (213) 680-4899.
4. Rockenwagner's Crö-Dough
German chef Hans Rockenwagner's Crö-Dough is the croissant-doughnut that comes closest to the original Cronut. It's a compact, high, lots-of-layers pastry with luscious cream. There are three flavors: raspberry-jam-filled with raspberry glaze, chocolate-glazed with chocolate-hazelnut cream, and vanilla pastry cream with vanilla icing. (Best flavor: chocolate-hazelnut.) Available at 3 Square Bakery + Café every morning until they run out; or call to order in advance. $4. 1121 Abbot Kinney Blvd., Venice, (310) 399-6504, www.rockenwagner.com.
3. Semi Sweet Bakery's crullant
At Semi Sweet Bakery, the crullant refers to a cruller-croissant hybrid that's baked, not fried. Pastry chef Sharlena Fong bakes them in special molds to get the ridged characteristic of a cruller, fills them with pastry cream and tops them with either a vanilla glaze or two layers of bruleed sugar. (Best flavor: bruleed crullant.) $3.95 for vanilla-glazed; $4.25 for the bruléed crullant. 105 E. 6th St., Los Angeles, (213) 228-9975, www.semisweetbakery.com.
2. ConfeXion Cupcakes + Cake's brioughnut
Confexion's brioughnut is, as the name indicates, made with laminated brioche dough rather than croissant dough. They're big, soft and fluffy (rather than crisp and flaky) marvels. They're available three flavors at a time (from a large cast of flavors) on the weekends only. On the particular weekend I tried them, the flavors were lime in the coconut, glazed and salted caramel. (Best flavor: salted caramel.) Other flavors include chocolate eclair (chocolate glaze with chocolate custard), peanut butter cup and lemon blueberry thyme. The bakery next is introducing a gluten-free version. Available Saturdays and Sundays only. $5. 11 W. Dayton St., Pasadena, (626) 486-9977, www.confexioncupcakes.com
1. Forage's "croissant doughnut #trending"
Forage calls its version "croissant doughnut #trending," a name made up by one of the servers, according to pastry chef Kristin Ferguson Smith. (On the receipt, it says "Crowe-Gnut.") Ferguson Smith's are nothing like Ansel's Cronut, but they are things of beauty in their own right: big, rustic, with a flakiness that's almost shaggy. Her croissant dough contains sourdough starter, which adds depth of flavor, and lately she has been making them in knot shapes (rather than traditional doughnut rings), their centers filled entirely with pastry cream and the whole thing sprinkled with cinnamon-sugar. $5.50. 3823 W. Sunset Blvd., Los Angeles, (323) 663-688, www.forage-la.com.
Honorable mentions:
The Village Bakery & Cafe's chocolate Dough-Not. More like a cross between a doughnut and a biscuit, which sounds odd, but it's good. And it's not too sweet. It's a large square pastry split open and filled with pastry cream. Besides chocolate-glazed with chocolate pastry cream, there's peanut-butter-glazed with peanut butter pastry cream, topped with coconut. $4. 3119 Los Feliz Blvd., Los Angeles, (323) 662-8600, www.thevillagebakeryandcafe.com.
California Donuts' plain sugar-dusted croissant-doughnut is the doughnut-chain winner. There's no filling, just lots of layers of dough that make for a high doughnut that's sugar-crystalled and crisp. Fried throughout the day. Plus, it's only $2. (The filled croissant-doughnuts are $3 each.) 3540 W. 3rd. St., Los Angeles, (213) 385-3318, www.cadonuts.com.
ALSO:
Stumptown Coffee opens its first California locationIce, ice, baby: Jonathan Gold's favorite frozen treats
Sweet Rose Creamery set to open Santa Monica headquarters
---
Get our weekly Tasting Notes newsletter for reviews, news and more.
You may occasionally receive promotional content from the Los Angeles Times.