Scouting Report: Zafran Pot, a new Indian restaurant in Culver City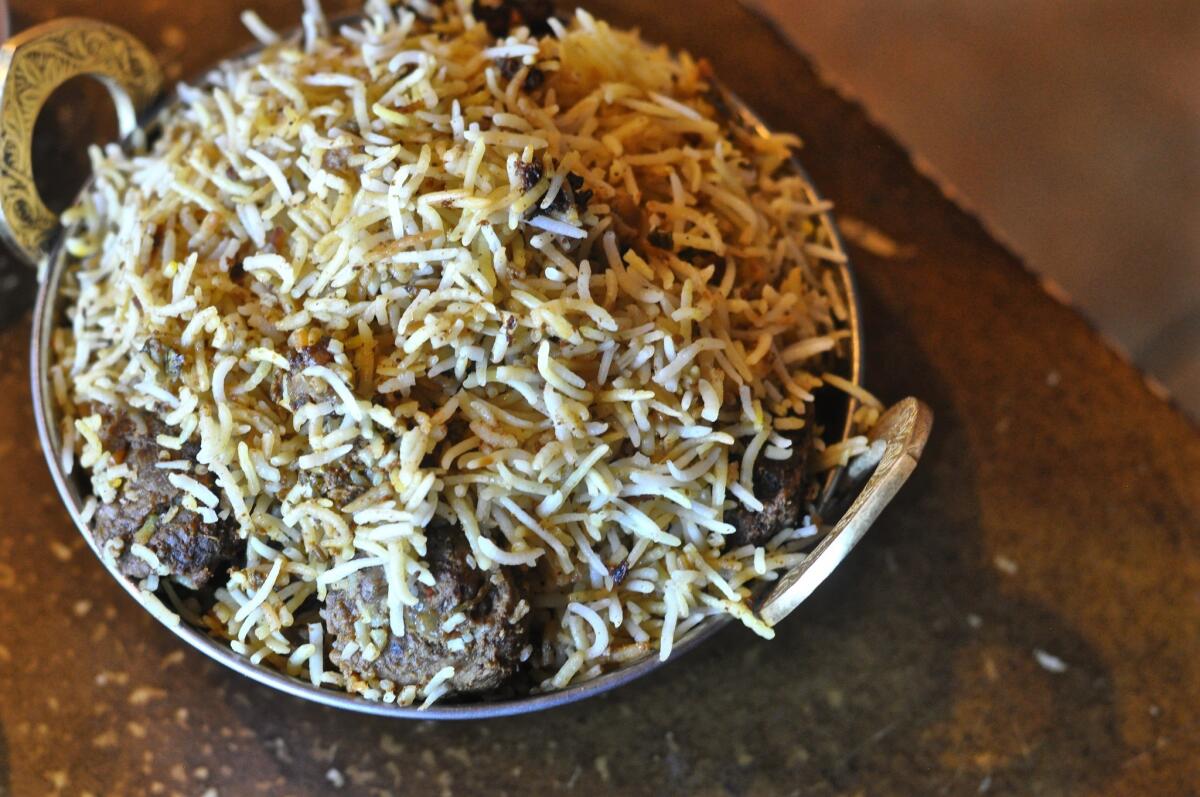 Name of restaurant: Zafran Pot. The name says exactly what the restaurant is about. Zafran is saffron. And pot is, well, a pot — a big one in which the restaurant's specialty, Hyderabadi dum biryani, is cooked. The saffron's job is to color the biryani rice yellow.
Where you're eating: In a corner mall on Venice Boulevard in Culver City. This strip of Venice has become a center of serious Indian regional food — the Kerala restaurant Mayura (a regular on Jonathan Gold's 101 Best Restaurants list) is next door, and just east is the Chennai vegetarian restaurant Annapurna. Zafran Pot opened in May, taking over a Punjabi restaurant.
What you should eat: The biryani because this is the most authentic Hyderabadi dum biryani on the Westside and rivals anything in Artesia's Little India. Dum is the style of cooking; the meat is marinated overnight, then placed raw in the pot and covered with half-cooked basmati rice. Saffron, heated with milk, is sprinkled over the top. The sealed pot cooks on high heat, then medium, then low, with a griddle underneath to keep the meat from burning. The three types of biryani are chicken, made with organic halal chicken; a vegetable biryani; and lamb, which is available only on weekends. Each is seasoned differently. The lamb is spicier and more tangy, and its marinade includes coconut milk.
What you won't get anywhere else: Chicken chops — chicken in a green sauce with spinach, cilantro, onions and spices. The chicken is cooked dry or moist, like a curry.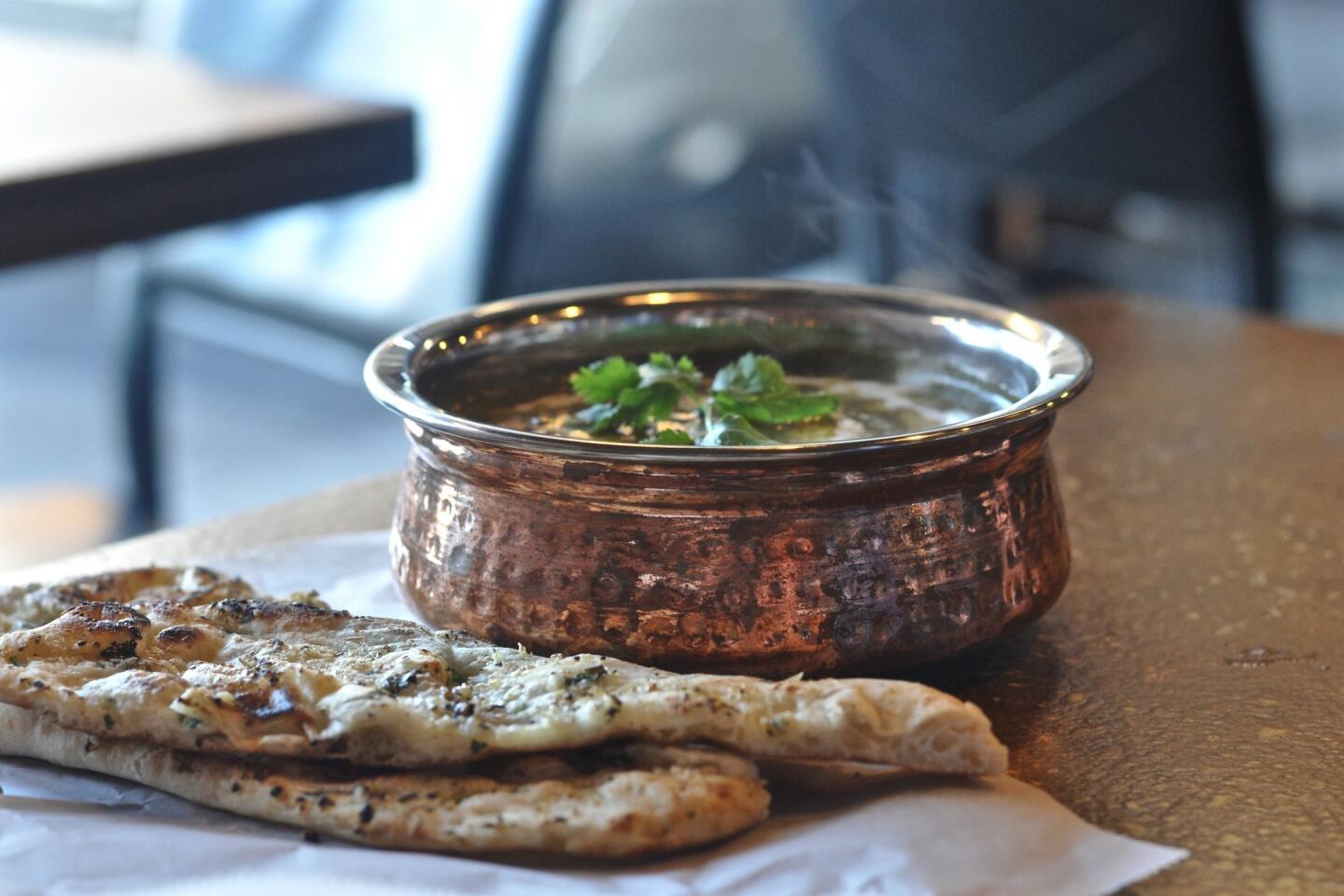 Zafran Pot
(Amy Scattergood / Los Angeles Times)
Zafran Pot's vegetable dum biryani.
(Amy Scattergood / Los Angeles Times)
A bowl of dal and garlic naan at Zafran Pot in Culver City.
(Amy Scattergood / Los Angeles Times)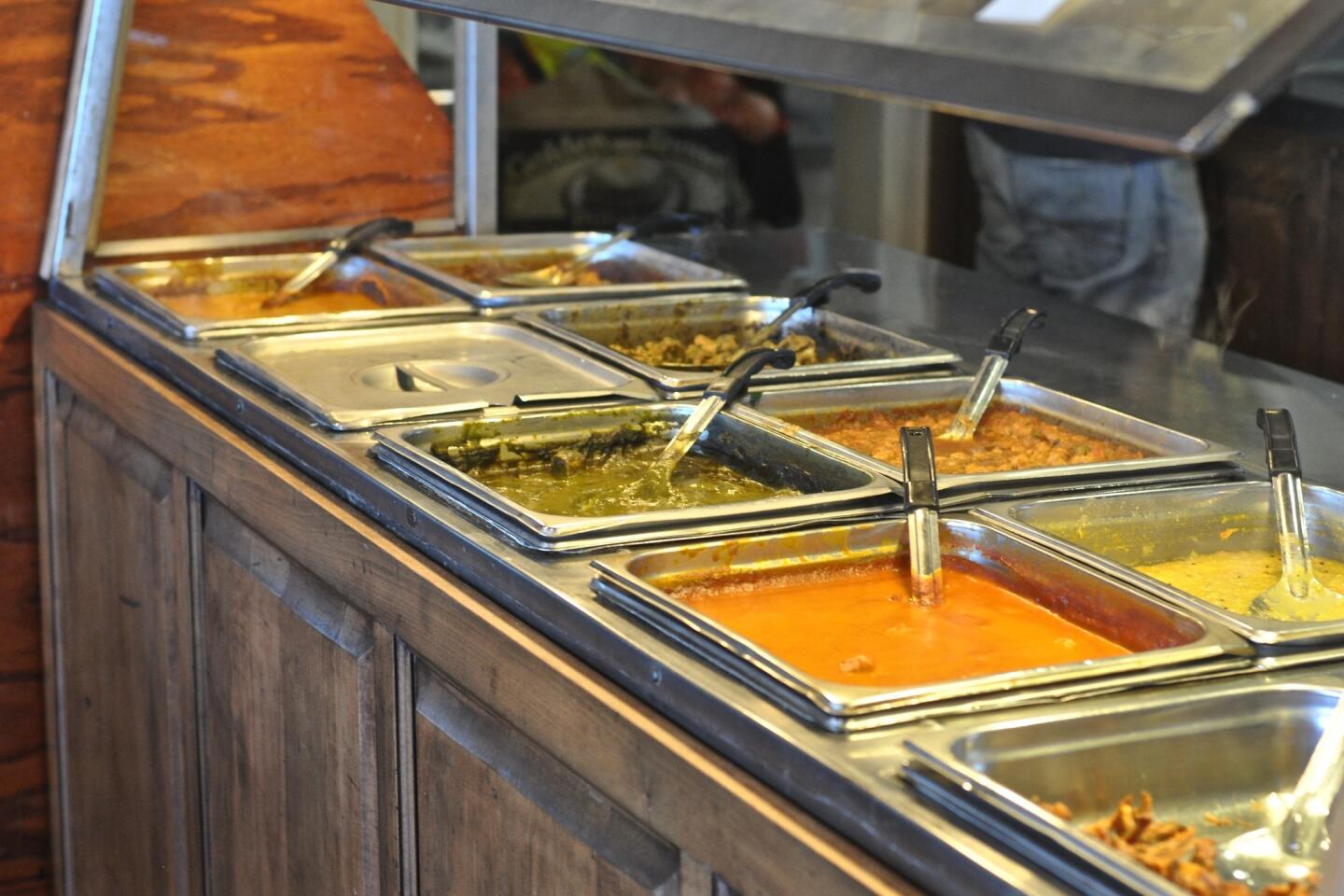 The line-up of cooked dishes at Zafran Pot includes palak paneer, dals, korma and other dishes.
(Amy Scattergood / Los Angeles Times)
The lamb biryani at Zafran Pot, a new Indian restaurant in Culver City.
(Amy Scattergood / Los Angeles Times)
For smokers: Actually, it's the chicken tikka masala that does the smoking. A steel bowl containing a small live coal is placed in the pot of sauce, then the pot is covered for 10 minutes of smoking. The sauce contains cream, cashews, tomatoes, onion and spices including paprika — smoked paprika, of course.
Who's cooking: Sneh Lata Gumidelli, from Bangalore. "I am not a professional, to be frank," she says, but she has catered and did well as a home cook. The chicken chops is a family recipe. The Hyderabadi biryani had input from family, chefs in India and her husband, Santosh, who is from Hyderabad. "I want the authentic to be present in whatever dishes I make," Gumidelli says, and so she grinds all her own masalas. She's health conscious too: She makes the peanut gravy salan that traditionally goes with Hyderabadi biryani with pumpkin seeds instead of peanuts for those with nut allergies.
What you're looking at: A tiny restaurant with a handful of tables and a display of cooked dishes that isn't a buffet. They're the choices for combo plates, composed of either four or six items.
A sweet ending: Skip the gulab jamun and get khubani ka meetha. This is a Hyderabadi dessert of small whole dried Indian apricots soaked, boiled, sweetened and scented with cardamom, then dished with vanilla ice cream.
Info: 10408 Venice Blvd., Culver City, (310) 838-2130, zafranpot.com
ALSO:
Jonathan Gold's 6 favorite Asian fried chicken joints in the L.A. area
Hungry for biryani? Here are 7 places in the L.A. area to get your fill
Next-level bean and cheese burritos and tacos at Sonoratown in downtown L.A.
Get our L.A. Goes Out newsletter, with the week's best events, to help you explore and experience our city.
You may occasionally receive promotional content from the Los Angeles Times.