If you're looking for a birthday cake offering that's a little classier than your typical grocery store bakery, here are nine Los Angeles bakeries that will definitely bring birthday party guests back for seconds. 
This is not a story about those garish kids cakes shaped like trucks or massive butterflies or Elmo. (If you want something tricked out like a Marvel character, maybe opt for a piñata.) These are classic birthday cakes, stacked in sedate tiers, mostly old-school vanilla cakes, paved with pale buttercream, maybe some writing or confetti, maybe not. Properly observed, a birthday deserves a layer cake, regardless of how old the person getting the party happens to be.
The cake shops and bakeries — plus a couple of restaurants — listed here are all in Los Angeles, some with locations farther afield. Their cakes are worth eating even if there isn't an occasion to mark.
Big Sugar Bake Shop: Big Sugar crams a lot of stuff into a small storefront. There are cakes, cupcakes, pastries, cookies, pies and tarts in the cases, plus shelves stocked with party supplies, including a good selection of cake stands — something surprisingly few cake shops stock. The 6-inch funfetti cakes come in various colors, including a vibrant pink, with the three layers of vanilla cake shot through with a riot of confetti-colored sprinkles, separated by layers of rich vanilla buttercream. $40.12182 Ventura Blvd., Studio City; (818) 508-5855; 612 S. Flower St., Los Angeles; (213) 489-1201; bigsugarbakeshop.com. @bigsugarbakeshop
Cake Monkey: Elizabeth Belkind and Lisa Olin specialize in their version of Hostess-y snacks such as Rollos, Cakewiches and Pop Pies. They also do individual-size layer cakes of various flavors. The mini confetti cake is built with three layers of vanilla cake and buttercream, and decorated with confetti candy. It's a classic cake, though one you might need to serve on your child's tea party set. $7.50. 7807 Beverly Blvd., Los Angeles; (323) 932-1142; and other locations; cakemonkey.com. @cakemonkeybakery
Kitchen Comforts: More flavor with flourless peanut butter cookies »
Lark Cake Shop: Lark, with locations in Silver Lake and Pasadena, bakes a full spectrum of pastries and offers vegan cakes and cupcakes too. Lark's 6-inch, three-layer vanilla cake is built with vanilla Italian buttercream and comes with writing if you specify. With a dense crumb and light frosting, it's a classic version of a birthday layer cake. If you're interested in something more personal, Lark takes orders on custom cakes (castles, animals, shoes and more); just send in a picture of what you have in mind. $39. 3337 W. Sunset Blvd., Los Angeles; (323) 667-2968; 1355 North Hill Ave., Pasadena; (626) 798-1031. larkcakeshop.com. @larkcakeshop
Magnolia Bakery: Magnolia opened in 1996 in New York City and has locations in Mexico City, Seoul, Manila and Los Angeles, among other cities. The Beverly Grove shop is a big, bright corner shop with cases loaded with the cupcakes that initially drew crowds, plus pastries, pies, icebox desserts and layer cakes. Among the cakes is a 6-inch, vanilla three-layer cake, with lavender frosting and pastel confetti pressed into the sides. $40. 8389 W. 3rd St., Los Angeles; (323) 951-0636; magnoliabakery.com. @magnoliabakery
Milk Bar: Christina Tosi makes a mean birthday cake, as you know if you have ever been to Milk Bar, followed anything about the shop on social media or have seen the giant picture of it on the wall outside her Melrose Avenue shop. The real version has a 6-inch diameter, three layers of confetti-strewn vanilla cake and vanilla frosting (sans frosted sides), and is topped with addictive cookie-dough-ish crumbs. It is the cake that launched Tosi's empire, and rightfully so. $49. 7150 Melrose Ave., Los Angeles; (213) 341-8423; many out-of-state locations. milkbarstore.com. @milkbarstore
Master Class: Hot cross buns with a citrus twist »
Proof Bakery: The few cakes that Na Young Ma makes at her Atwater Village bakery are seasonal, which is why you're getting her lemon chiffon layer cake these days, rather than the famous espresso chocolate layer cake. (Maybe make it yourself instead.) The lemon cake is an 8-inch round, composed of four layers of lemon chiffon cake and lemon cream made with farmers market lemons, and topped with blowtorched meringue and edible flowers from Alma Backyard Farms in Compton. It's a terrific cake: not too sweet and loaded with lemon flavor. $42. 3156 Glendale Blvd., Los Angeles; (323) 664-8633; proofbakery.com. @proofbakeryla
République: Pastry chef Margarita Manzke makes spectacular pastries, bread, desserts — and cakes, which you must order ahead of time. My choice would be her chocolate-caramel cake, three layers of chocolate cake sandwiched by chocolate-caramel ganache and salted caramel, and covered by a massive layer of more frosting. One reason to order and pick up the cake? You can skip the long line that seems to be permanently installed outside République. $72 or $84. 624 S. La Brea Ave., Los Angeles; (310) 362-6115; republiquela.com. @republiquela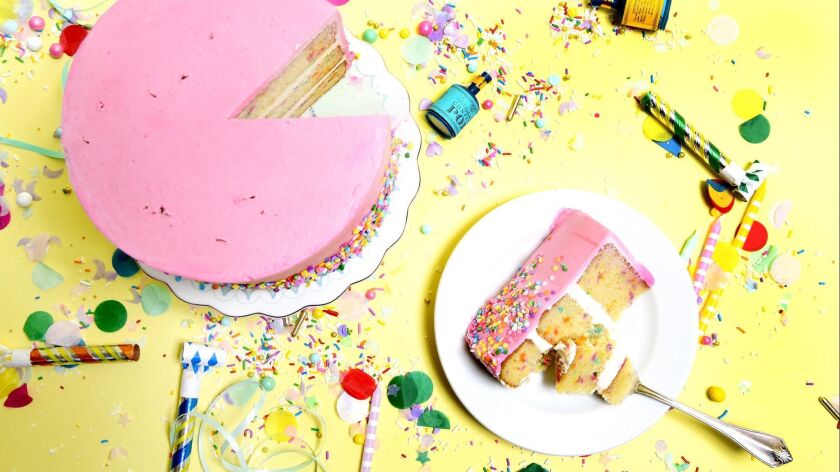 SusieCakes: The layer cakes at SusieCakes, which has 13 bakeries in Southern California, are impressive: old-fashioned chocolate cakes, vanilla cakes, confetti cakes, celebration cakes, cakes made with fresh fruit, red velvet, carrot and more. You can pick the flavor of cake and color of buttercream frosting, get stuff written on top, even order a pretty impressive Barbie cake (they provide the doll; the cake is the dome of her massive skirt). The 6-inch vanilla celebration cake has confetti embedded in the layers and turquoise frosting on the exterior. $39. 13029 Ventura Blvd., Studio City; (818) 659-2253; and other locations; susiecakes.com. @susiecakesbakery
Sweet Lady Jane: Opened in 1988 and now with a menu that includes breakfast, sandwiches and soups, Sweet Lady Jane is known primarily for the cases loaded with cakes. You can get birthday cakes shaped and decorated like huge turtles and soccer balls, as well as cupcakes, carrot cakes, and chocolate, red velvet, raspberry and coconut cakes. Among the most popular — especially for grownups celebrating birthdays — is the triple berry cake, three layers of yellow butter cake alternating with fresh berries and whipped cream, and topped with more whipped cream and fruit and buttercream decorations. $55. 8360 Melrose Ave., Los Angeles; (323) 653-7145, and locations in Santa Monica and Encino; sweetladyjane.com. @sweetladyjanebakerycafe
Instagram: @AScattergood
---