In one mega-complex, the Manufactory L.A. has many culinary experiences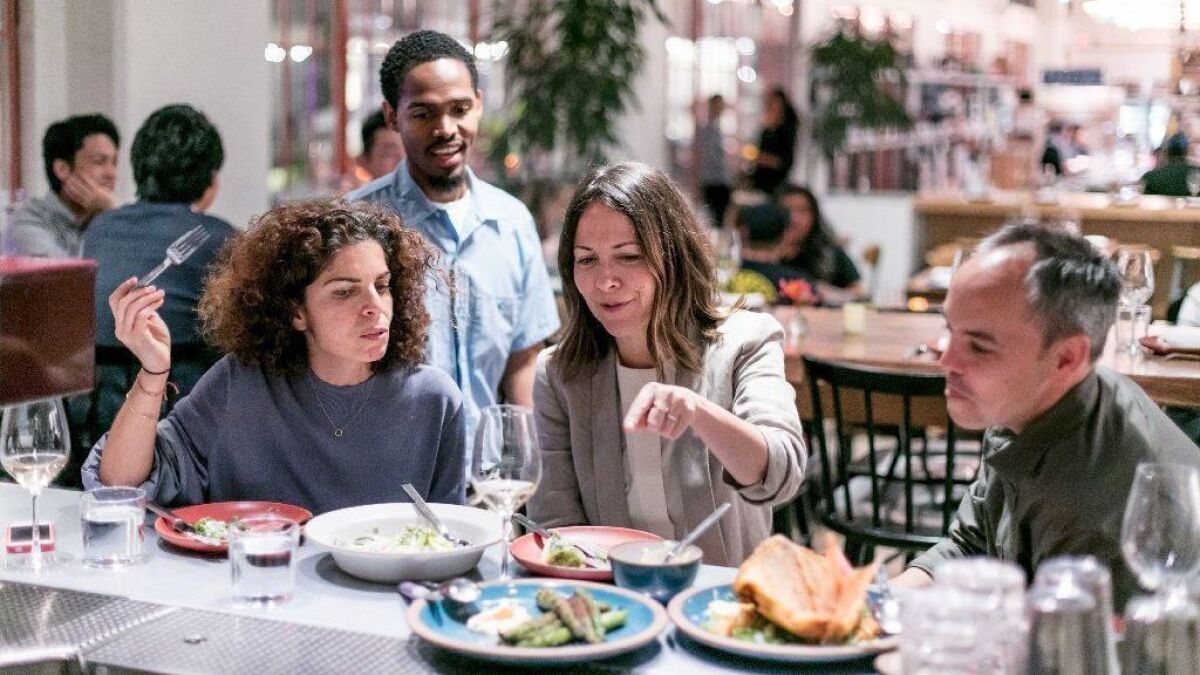 Restaurant Critics
The Manufactory L.A. — the first collaboration between chefs Elisabeth Prueitt and Chad Robertson of San Francisco's Tartine Bakery and Chris Bianco of Phoenix's Pizzeria Bianco — encompasses two restaurants, a bakery, a coffee roastery, a marketplace and a takeaway coffee and ice cream window. Our restaurant critics Bill Addison and Patricia Escárcega explore the culinary possibilities at the nearly 40,000-square-foot mega-complex inside Row DTLA.
Review: Tartine Bianco at the Row is where all your bread dreams come true »
Review: The Manufactory's Alameda Supper Club needs more Chris Bianco magic »
"The Window" (the official name for the ice cream/coffee takeout window at the Manufactory)
Every morning at 7:30 a.m., the small walk-up window at the Manufactory slides open for business, presenting a surprisingly wide and tempting menu of options. There is the custom coffee menu, of course, featuring a selection of filtered and cold-brew drinks made with beans sourced from smallholder producers around the world and roasted in the building. There is the daily selection of pastries; the sugar- and cinnamon-encrusted Morning Bun usually sells out first, but the almond-filled frangipane croissant is a delicious backup option. Should you ever have ice cream for breakfast? You should strongly consider it here. The Window may be the only place in downtown L.A. where you can find fior di latte soft serve, an ultra-creamy milk ice cream made using buffalo milk. There is a seasonally rotating menu of fruity sorbets, but if you're anything like me, you may develop an unhealthy attachment to the Window's butter croissant ice cream, which tastes exactly as you might hope — the thick, intensely creamy treat has a rich, praline-like sweetness that nearly ruins you for the real thing. Come early: The window closes every day at 4:30 p.m. — P.E.
THE MARKET BAR
A bonus dining option hides in plain sight at the Manufactory: the Market Bar, an L-shaped counter that divides the retail space and Tartine Bianco's dining room. It most appeals when the restaurants are slammed and sitting here, front and center near the entrance, doesn't feel so conspicuous; its seats are unreserved, and Tartine Bianco's full food and drink menus are available. The bar also has a separate menu with some standout choices for a light meal, including primo tinned seafood (brined razor clams, squid preserved in its own ink) served with salad and grilled bread, and a gorgeous plate of beef tongue sliced into thin, wide ribbons and draped over mild sauerkraut. To drink: a rosé or Carignan blend sold by the measure at $5 per inch. — B.A.
THE MARKET
At nearly 40,000 square feet, the Manufactory is a massive chunk of real estate; building out a fancy, multipurpose market area was an inevitable part of the project. Some market highlights: a well-stocked cheese counter (though, oops, I bought a $17 triple cream that was so overripe it was inedible); a bakery spread (go for the giant gougeres and, of course, Tartine's justly famous bread); prepared dishes such as rich chicken salad; cutting boards that cost hundreds of dollars; and shelves worth perusing full of tea, chocolate, jams, Chris Bianco's excellent canned tomatoes and bags of dried pasta.
As the Row DTLA campus fills with tenants, office workers and residents will likely queue for croissants and soups and the glorious, glorious flatbreads pulled fresh from the oven. For now the market can be a quiet place to shop, though the owners certainly have invested in its breadth. — B.A.
Instagram: @bill_addison
Twitter: @billaddison
---
Get our L.A. Goes Out newsletter, with the week's best events, to help you explore and experience our city.
You may occasionally receive promotional content from the Los Angeles Times.