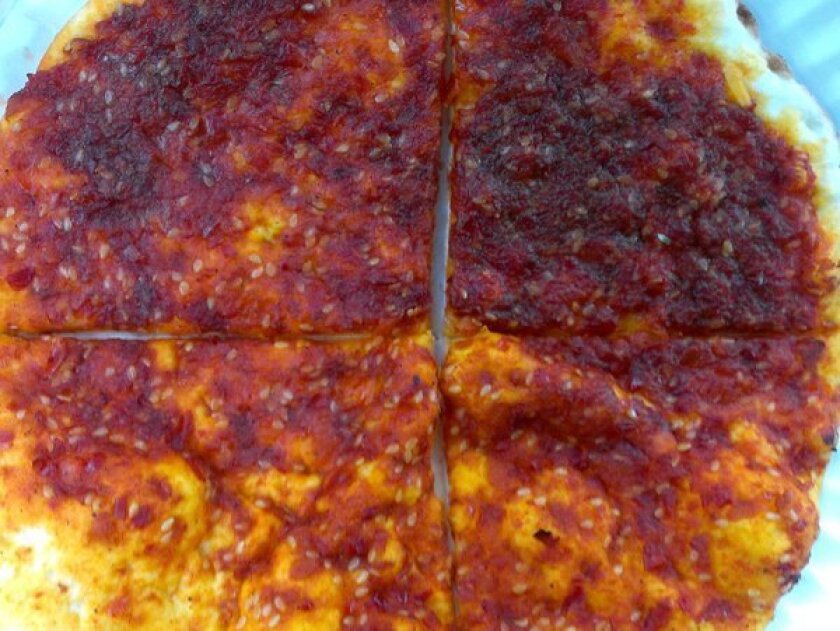 One dollar.
Can it buy you lunch?
It seems unlikely, especially now that it costs as much as $7 for a cup of coffee at Starbucks. Unlikely -- yes. Impossible -- maybe not.
Sipan Bakery in Glendale makes a respectable lahmajun, a.k.a. Armenian "pizza," smeared with ground beef, tomatoes, parsley and garlic. But it's Saipan's concoction called muhammarajun, the same dough topped with pomegranate-walnut dip muhammara before it goes into the oven, that's the unique standout.
The baker behind the counter will ask if you'd like it extra crisp (yes) and it comes fresh out of the oven, hot and crispy-crusted. The muhammara is spicy, sweet and tart, the whole thing sprinkled with sesame seeds. The only problem is it's so good, you might want to get two. That's $2.
1250 W. Glenoaks Blvd., Suite C, Glendale, (818) 240-0699, www.sipanbakery.com.
ALSO:
Craig Thornton's Wolvesmouth dinners to surface
---