Spiny lobsters back at Pearson's Port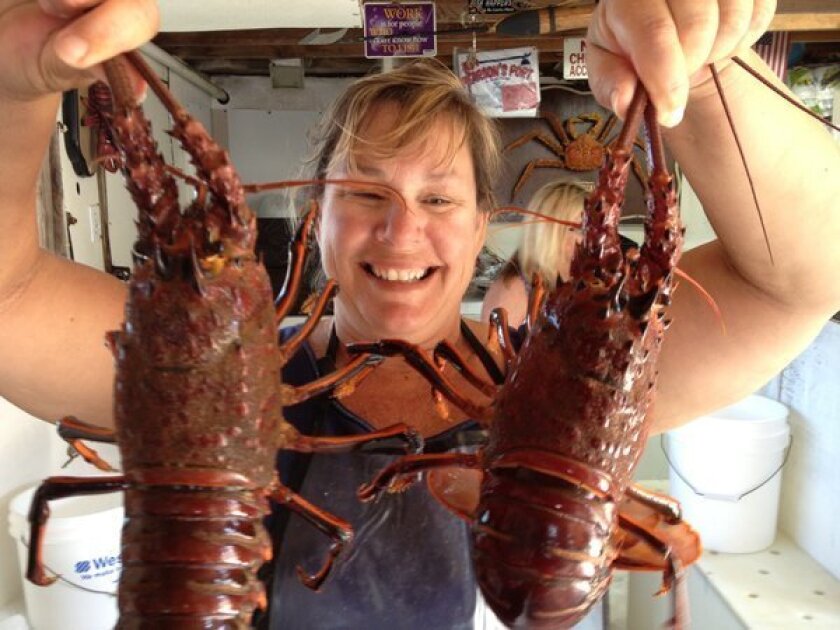 Just as surely as the calendar pages flipping over in one of those old movies (and a lot more quickly, it seems), spiny lobster season has returned to the Southland. And, of course, that meant the first of what I hope will be several trips to Pearson's Port in Newport Beach.
The commercial season for our native lobster began Wednesday (recreational fishermen had a head start of several days) and the holding tanks at Pearson's Port were already packed with feisty specimens.
Pearson's, for those who haven't been yet, is a little seafood shack located at the end of a short gangway just under the PCH bridge in Newport's Back Bay. It's the home of one of the few remaining local spots where you can find fishermen selling what they catch.
Or, in this case, fishermen's wives. Because while Tommy Pearson is out prowling the bay checking on his traps, his wife, Terese, is home running the store. She's pretty much an expert on all things spiny (and spotty for that matter – during the summer Pearson specializes in spot prawns).
Spinys are no bargain – this year's prices are a little less than last year, but still hit $19.99 a pound for the whole beast. But they are one of the iconic Southern California seafood catches. Their flesh is firm and muscular and though I don't find it as rich as Maine lobster, it has a minerally elegance all its own. It's like the difference between Chablis and an oaky California Chardonnay.
Have Terese clean and split the lobsters for you and cooking is easy. I grilled mine over a medium fire, moistening it from time to time with shallot butter, using a bunch of tarragon as a brush. A couple of minutes to sear the meat side, then flip it onto the shell side until the meat is firm and springs back when poked. The smaller lobster took about 7 or 8 minutes, the larger one more like 10.
A splurge of a meal deserves a special wine, so I served it with a bottle of 1997 Stony Hill Chardonnay – holding up quite well, thank you, and completely un-oaked. It's going to be a good winter.
Pearson's Port, 100 East Coast Highway Newport Beach, (949) 675-6771.
---
Get our new Cooking newsletter.
You may occasionally receive promotional content from the Los Angeles Times.