L.A.'s best bakeries for last-minute holiday pie orders
The final flourish for Thanksgiving is invariably pie. You might be making yours from scratch. Or maybe you want to put the task of baking holiday pies in the hands of a professional. If so, you're in luck ... but the clock is ticking. Make your Thanksgiving pie orders for pickup before the big day.
Los Angeles is a city of terrific bakeries and bakers, and ice cream makers too. Yes, there is ice cream pie for Thanksgiving (including plant-based ice cream), and there is cheesecake and pumpkin-filled sweet buns frosted with cream cheese. Traditional pies include chocolate toffee pecan pie, kabocha pie, espresso chess pie and brown butter apple pie. It's pies galore.
Or, if you want to get into the kitchen and roll out dough, you should definitely check out these recipes from cooking columnist Ben Mims for apple, pumpkin and not-too-sweet pecan pie.
Clark Street Bakery
More Info
Cobblermania
The motto of Cobblermania, which sells its goodies in L.A.-area farmers markets, is: "So good you'll (want to) slap somebody!" Let's just say I was thankful no one else was around when I tried them. The $14 cobblers, which have crust bottoms (making them somewhat indistinguishable from pie in any practical way) were very good. The strawberry rhubarb nicely balances the sweet strawberry and weedy bitterness of the rhubarb. The sweet potato cobbler, a holiday favorite, is silky smooth with plenty of warm spices. Proprietor Shae Seward, born and raised in L.A., will be at the Torrance and Hollywood farmers markets this weekend as well as the Culver City farmers market on the Tuesday before Thanksgiving. She recommends you get there early if you've got a particular flavor in mind, which may include the flavors named above as well as mango-blueberry-peach and a classic peach. For last-minute dessert needs, Seward will accept orders through Nov. 21 for pickup on Nov. 22 or Thanksgiving Day morning at Golden Bird (8300 S. Western Ave.), where she has baked her pies for more than a decade.
More Info
Friends & Family
More Info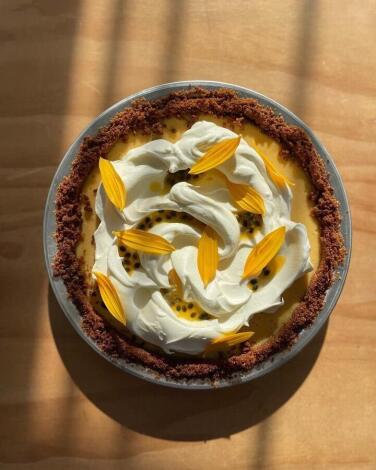 May Microbakery
More Info
The Pie Room by Curtis Stone
More Info
Sweet Rose Creamery
More Info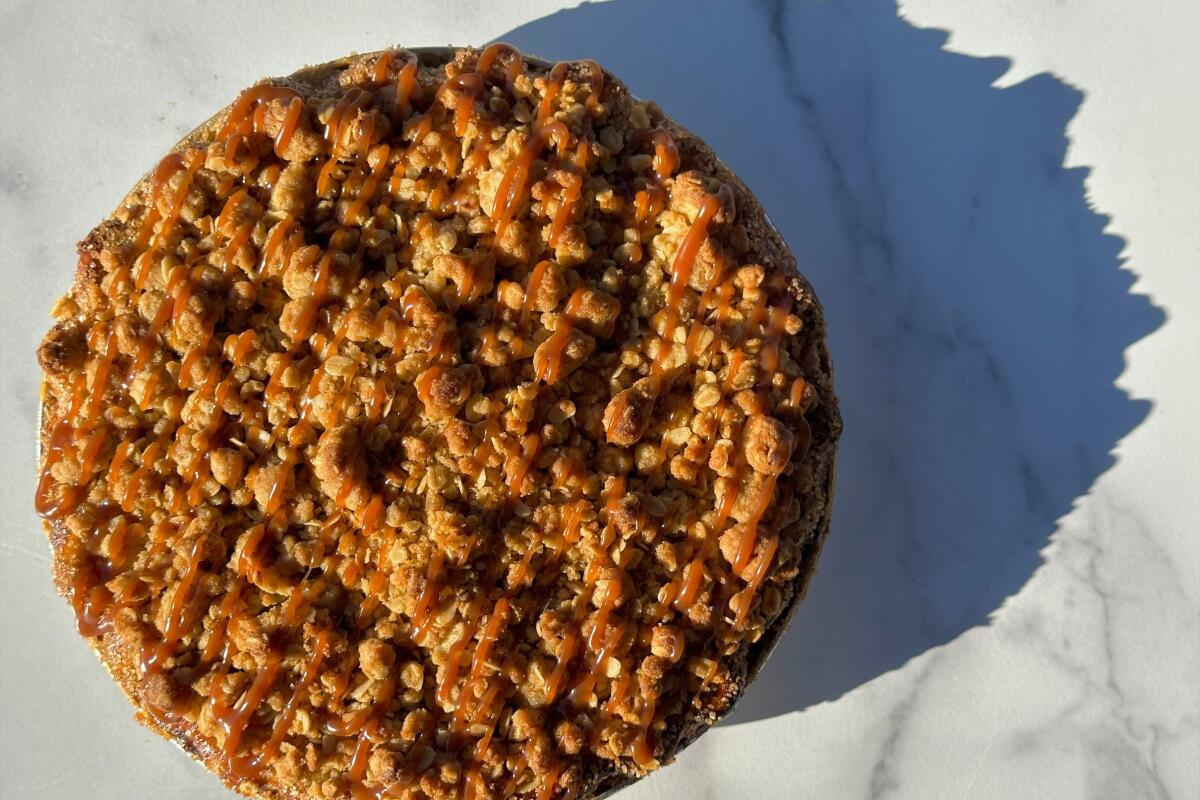 SweetBoy
Hollywood Hills West
Bakery
$$
Ben Sidell helms the desserts program at Saltie Girl, the East Coast-style seafood restaurant owned by his mother, Kathy Sidell, that expanded to a location in West Hollywood in late 2022. Regular offerings include a baked-to-order chocolate chip cookie with Valhrona chocolate and an apple-walnut tart. For the holidays, Ben is offering an apple caramel crumble pie with salted caramel and oat granola and sweet buns with pecans or pumpkin filling and cream cheese frosting. Sweet buns are $35 to $40 and whole apple caramel crumble pies are $50 apiece. Place your order by sending
@sweetboy
an Instagram DM with your preferred items and email address. Preorders close on Nov. 17 and pickup is Nov. 22 from noon to 3 p.m. at Saltie Girl.
More Info
Baking With Ish
San Gabriel Valley
Bakery
$$
The ube blondie pie at Ishnoelle Chin Richardson's small storefront at the
Blossom Market Hall
in San Gabriel is like three desserts in one. The buttery, flaky crust is made from a blend of flours from the Tehachapi Heritage Grain Project. Then comes a layer of ube blondie in a deep shade of purple. It's soft, chewy and full of the earthy, nutty flavor of the sweet yam native to southeast Asia. The top of the dessert is a delicate sheen of flan, mostly intact until you slice the pie and it slowly spills over the sides. It's extra decadent and a wonderland of textures. Richardson is taking holiday orders for the ube blondie pie, a sticky rice pie with dulce de leche and coconut caramel, an ube coconut cream pie and an ube pumpkin pie through Nov. 19 or until he sells out. Orders can be placed on his
website
.
More Info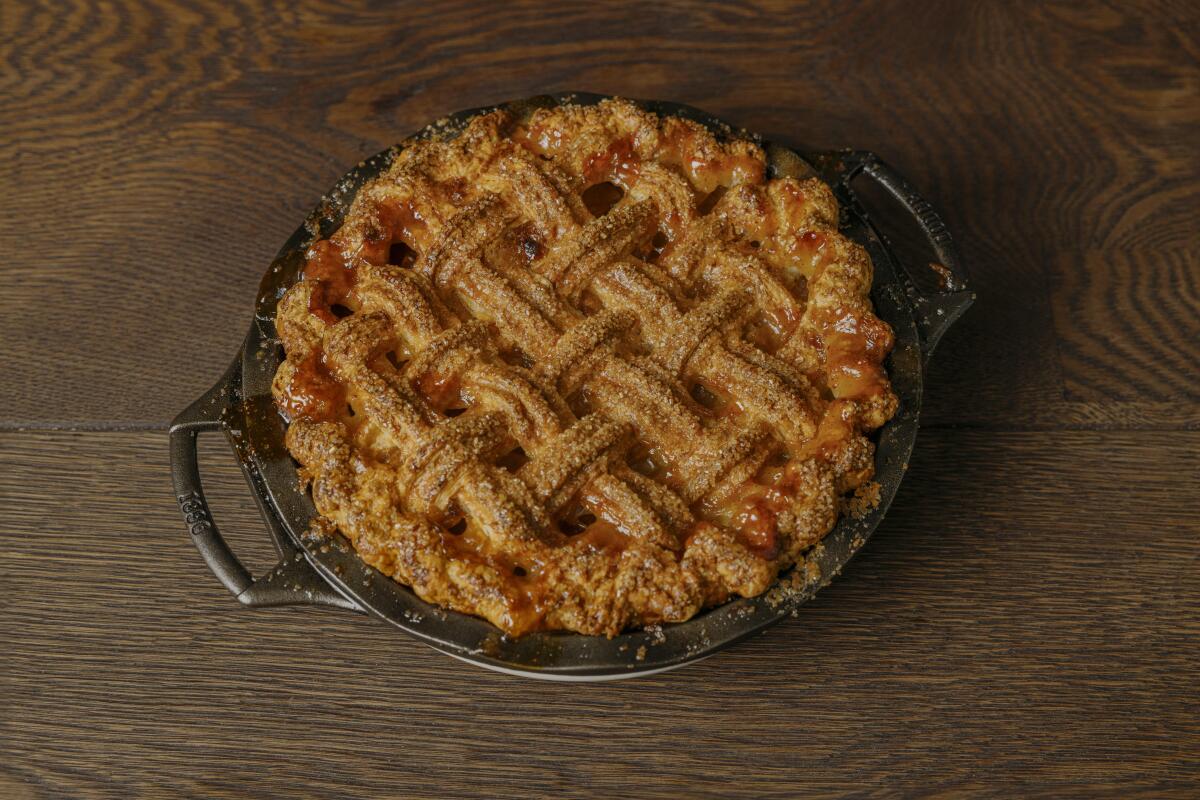 Yangban
Downtown L.A.
Korean
American
Jewish
$$
Every meal at Katianna and John Hong's Yangban restaurant in the Arts District inevitably ends with a slice of their whipped cheesecake. It doesn't matter how much I've eaten for dinner. Or how I swear I couldn't eat another bite. The cheesecake hits the table and it's game on. It's an excellent cheesecake, lighter and fluffier than most, thanks to a combination of whipped cream, whipped cream cheese and whipped coconut cream in the filling. The crust is ultra-buttery and crumbly, made with coconut biscuits, brown sugar and lots of roasted brown butter. It's the welcome exclamation point at the end of any meal, including a holiday dinner. The Hongs are selling whole whipped cheesecakes ($72) as well as jars of jam for topping ($16) along with Goguma custard pies and chocolate tarts for $72 apiece for the holidays. To order and schedule a pickup time, email
info@yangbanla.com
.
More Info
Get our L.A. Goes Out newsletter, with the week's best events, to help you explore and experience our city.
You may occasionally receive promotional content from the Los Angeles Times.