This burger shack is making the cheeseburger from 'The Menu,' and it's delicious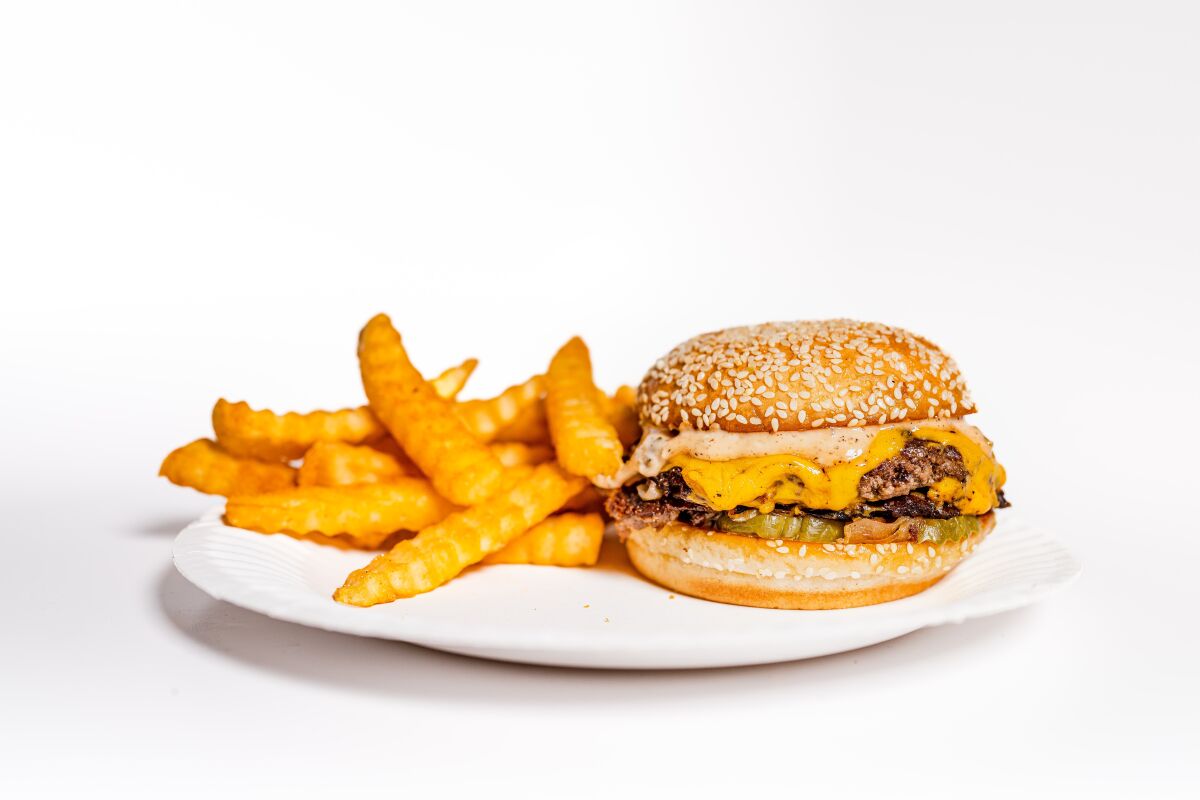 This week's recommendations will have you pining after a cheeseburger with a Hollywood twist and traveling to the top of a shopping center in the San Gabriel Valley for crab and karaoke.
A really well-made cheeseburger
I may have been the last food media person on the planet to watch "The Menu." Everyone I know (and many I don't know) have been asking me for months if I've seen it. They laughed in disbelief when I said no. Not seeing it became an act of defiance. Partly because I don't love horror films and partly because I'm still that stubborn kid who doesn't want to do something if I'm told. Last week, I caved. Mostly because I'd seen pictures and recipes for "The Menu" burger, and I wanted to know what all the fuss was about. But at the end of "The Menu" (I'm about to introduce a possible spoiler, so skip ahead to the crab if you need to), I did not want to eat the well-made cheeseburger. I kept waiting for some sort of gotcha Donner party moment, which luckily never came.
Irv's Burgers in West Hollywood started selling a burger dubbed "The Menu" as a monthlong special in January. It turns out that many, many people wanted to eat that burger. Due to its popularity, chef Armen Piskoulian says it will be sticking around (just ask for "a really well-made cheeseburger"). So when I stopped by during lunch on a recent Monday, just about everyone who walked up to the window ordered one.
The burger shack on Route 66 returns this month with new ownership. But the famous doodles, and their author, are still around.
While I waited for my order, I watched as a young man filmed himself pointing to a sign in the window advertising "The Menu" burger. He then proceeded to prop his phone up against the window so he could film himself eating his entire meal.
"It's been nuts," Piskoulian said on a recent call. "Crazy. We're pushing like 1,000 a week."
Famed chef Dominique Crenn helped the filmmakers create a culinary experience attuned to the tension between "givers" and "takers" at top restaurant.
"The Menu" burger comes with a side of crinkle-cut fries, just like in the movie. Although inspired by the film, it is not identical to the one Ralph Fiennes prepares with a twinkle in his murderous eyes. But it's pretty close. Piskoulian uses a blend of chuck, short rib and brisket, rolling the mix into balls and pressing each onto the hot griddle. He adds raw onion, then gives the patty a flip, so the onions are welded to the meat. Next come two slices of thick-cut American cheese. Piskoulian slides the patties into a buttered and toasted sesame seed bun and layers on Irv's sauce (Thousand Island that's heavy on the garlic powder, onion powder and black pepper). And instead of placing his dill pickle chips on the bottom bun (like in the movie), he puts them on top of the cheese.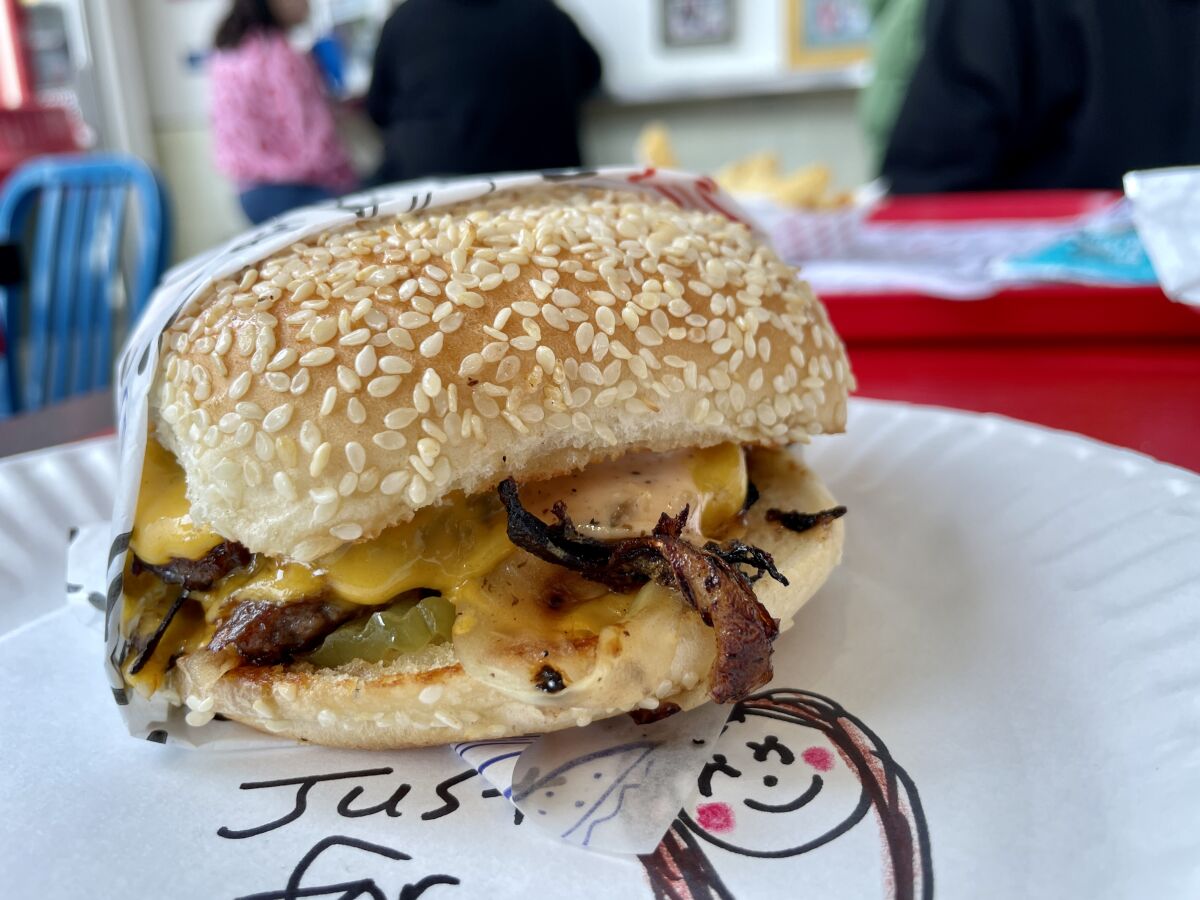 "When I watched that portion of the movie, I thought he pretty much made like a classic Oklahoma-style smash burger," Piskoulian said. "It's basically our Just For You Burger on the menu, but with the onions."
The patties are pressed rather than aggressively smashed, giving them a slightly thicker build and a good, crisp crust. The middle is a fatty, salty mass of melted cheese, seared meat and griddled onions, the way all good cheeseburgers should be, cushioned with pink sauce and pickles.
The new horror film "The Menu," stars Ralph Fiennes as a world-famous chef who exacts revenge on the worst of his customers and on the entire system of fine dining.
If you asked me to highlight what makes the burger special, I don't know that I could. It's just a really well-made cheeseburger, and that's the point.
West Hollywood's iconic burger shack is back with new ownership and new items — but the same smiling Sonia Hong.
Salted egg crab from Tang Dynasty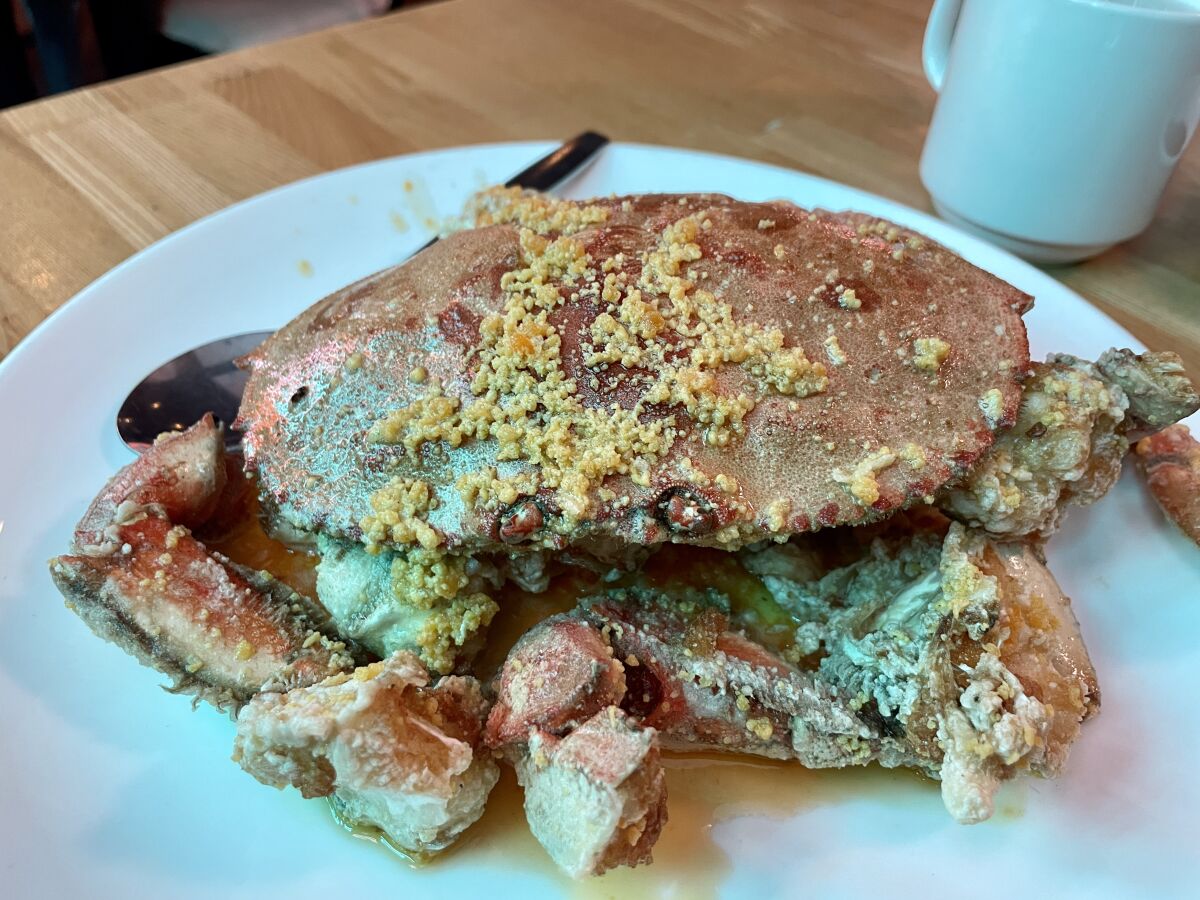 Tang Dynasty is on the third floor of one of the many mini-malls along Valley Boulevard in San Gabriel. It's in the same center as Killer Noodle, Shanghai Dumpling House, Nice 2 Meet U hot pot and Yo Yo Bakery. Dumplings, hot pot, spicy noodles and hot dog buns in the same plaza. I could spend a week eating in this center alone.
Tang Dynasty used to be Chang'an Restaurant, changing owners and names in late 2021. Named after the Tang Dynasty, thought to be one of the most celebrated golden ages of Chinese arts and culture, it is a restaurant that specializes in Hunan cuisine. There are plates filled with black squares of changsha stinky tofu, big bowls of dongan chicken and spicy pork stir-fries with fistfuls of chile. But co-owner Kelly Mu and her mother wanted the restaurant to be much more than a place known for its food.
"Me and my mom really wanted to kind of meet in the middle, because my mom wanted to do this really traditional Hunan comfort food, and I wanted to take advantage of the space and our liquor license and engage the younger population in the SGV," Mu said on a recent call.
Order the San Gabriel Valley newcomer's lu rou fan, glazed pork belly served with rice and a collage of condiments — just one of Luyixian's braised specialties.
It's one of the few places in the area that's open past midnight, and it serves beer, wine and soju and sake cocktails meant for a group. Some are even served in plastic syringes. There's a karaoke machine and a small stage area in the back corner.
I've yet to brave the shots, with names that include Wandering in Taipei and Meandering in Beijing, but I keep returning for the salted egg crab.
The Dungeness crab is presented with meaty nubs of orange yolk from salted duck eggs scattered along the top and clinging to the various legs and claws. It's already cut into pieces and sort of rearranged to be somewhat anatomically correct on the plate. No metal cracker is needed, depending on the strength of your canines and premolars. The best way to approach the crab is to suck the rich, buttery bits of egg yolk off the shell, crack the shell any way you can, then suck out the sweet meat. Dragging the pieces of crab through the excess sauce and crumbles of yolk on the plate is also a good idea.
The crab is far from a traditional Hunan dish, but Mu said it's something meant to appease large families, who may want some relief from the spicier items on the menu. I like to go with two people max. Fewer people to share your crab with.
Get our L.A. Goes Out newsletter, with the week's best events, to help you explore and experience our city.
You may occasionally receive promotional content from the Los Angeles Times.