(Shelby Moore / For The Times)
"Can I have my shawarma wrap made with one side of a pita?" I ask Adham Kamal, the owner of Sincerely Syria in Sherman Oaks. I gesture as if peeling the bread apart into two rounds. He nods with a knowing smile.
It's a common request that I learned from Lebanese friends. The thinner layer superbly intensifies the wrap's ratios. Kamal saws off shards of beef and lamb from the rotisserie behind the restaurant's counter, spreads the half-pita with tahini and rolls the meat tightly with chopped tomatoes and pickled cucumber spears. Then he griddles the bundle on a flattop, weighted with a grill press. This batch of shawarma is juicy; he sears every angle to a deep mahogany, ensuring the ingredients stay contained.
Kamal crinkles foil around the parcel before handing it over. I rip in, not wanting the crispness to steam away. He makes wraps appealingly compact, in the style he learned working at shawarma stands in Syria, where he was raised. The meat practically sprouts out. Most bites include one or both vegetables for treble brightness, but mostly the flavors boom with earthy bass rounded out by the tahini.
Sincerely Syria is one of two recently opened Syrian-run shawarma restaurants — the other is Mama's Shawarma in Northridge — that stand out in a city fueled by meat carved from revolving spikes and folded into flatbreads outlining our wealth of cultures.
If the concept of threading one's meal onto a stick and cooking it over fire is as old as humankind, the method of stacking sheer, richly seasoned slices of meat on a revolving vertical skewer was popularized with the Ottoman Empire in the 1800s.
Two brothers create a totally unique Syrian-Circassian culinary experience at Nawal, their weekend backyard pop-up
"Çevirmek means 'to rotate' or 'to roast on a spit' in Turkish," says Lebanese Syrian cookbook author Anissa Helou. "And the word is likely to be at the root of shawarma, which, in Arab countries, describes what the Turks call doner kebab: a very large, fat 'kebab,' once made only with pieces of lamb, but now also made with chicken."
Helou calls the renamed, yogurt-slathered adaptation by the Greeks — the gyro — the country's "most successful food marketing coup ever." In Los Angeles, decent enough gyros and doner kebabs can be found in scattered pockets. We far more revel in shawarma from the Armenian diaspora, including a nubbly, saucy pork version at Gharsi Xorovac in Valley Glen and the drippy beef Armenian Lebanese shawarma that rivals the namesake dish at Falafel Arax in Hollywood.
At Lebanese restaurants like Skaf's and Sunnin, with far broader, meze-heavy menus, shawarma is one among many options of individually skewered kebabs.
At Saffy's in East Hollywood, Ori Menashe fashions a luxury $26 version of a shawarma sandwich, the meat singed from blazing oak logs; the Avi Cue pop-up, which Food columnist Jenn Harris wrote about recently, also leans extravagant using Wagyu beef.
Saffy's in East Hollywood delivers sun-soaked flavors and another success to the Bestia and Bavel team
And certainly, Los Angeles gained from the contributions of Lebanese immigrants to Mexico in the late 19th and early 20th centuries; their lamb shawarma traditions helped inspire the achiote-stained pork, formed into massive stacks in the shape of trompos (spinning tops), that define tacos al pastor. Chasing definitive al pastor in L.A. is a subject onto itself.
What draws me to these new San Fernando Valley shops is how they deliciously exemplify the Syrian and Lebanese street-stand styles of shawarma. One keeps its focus squarely on the main event; the other diversifies its menu without losing focus on the centerpiece dish.
Sincerely Syria
The story of Kamal's narrow, handsomely spare restaurant, one of the businesses sardined into a dense commercial block of Ventura Boulevard near Van Nuys Boulevard, begins on another crowded urban corner: Hollywood Boulevard and Vine Street. In late 2021 he took over Hollywood Shawarma, a storefront with a few sidewalk tables squeezed between a juice bar and a tattoo studio. He had recently arrived from Venezuela, where immigrating Syrians have established a community since the late 19th century, and his prowess with the craft reinvigorated the flagging stand.
When I first tasted Kamal's shawarma six months ago, I thought it was the best I'd had in Southern California.
In a more comfortable setting, Sincerely Syria mirrors the same, admirably basic menu, and my opinion about Kamal's skills haven't budged. The two shawarma options loom among gleaming steel equipment. Their form resembles overgrown pine cones, in two distinct, woodsy tones: one is a the mix of lamb and beef, referred to as lahme in Arabic, and the other is chicken, or djej.
Marinades and spicing articulate the difference in flavors. Kamal won't divulge all his methods, but he bases the lahme seasoning on classic Syrian baharat, a spice blend that usually incorporates cumin, cardamom, coriander, cinnamon and black pepper. Lemon, garlic and chile flakes permeate the chicken.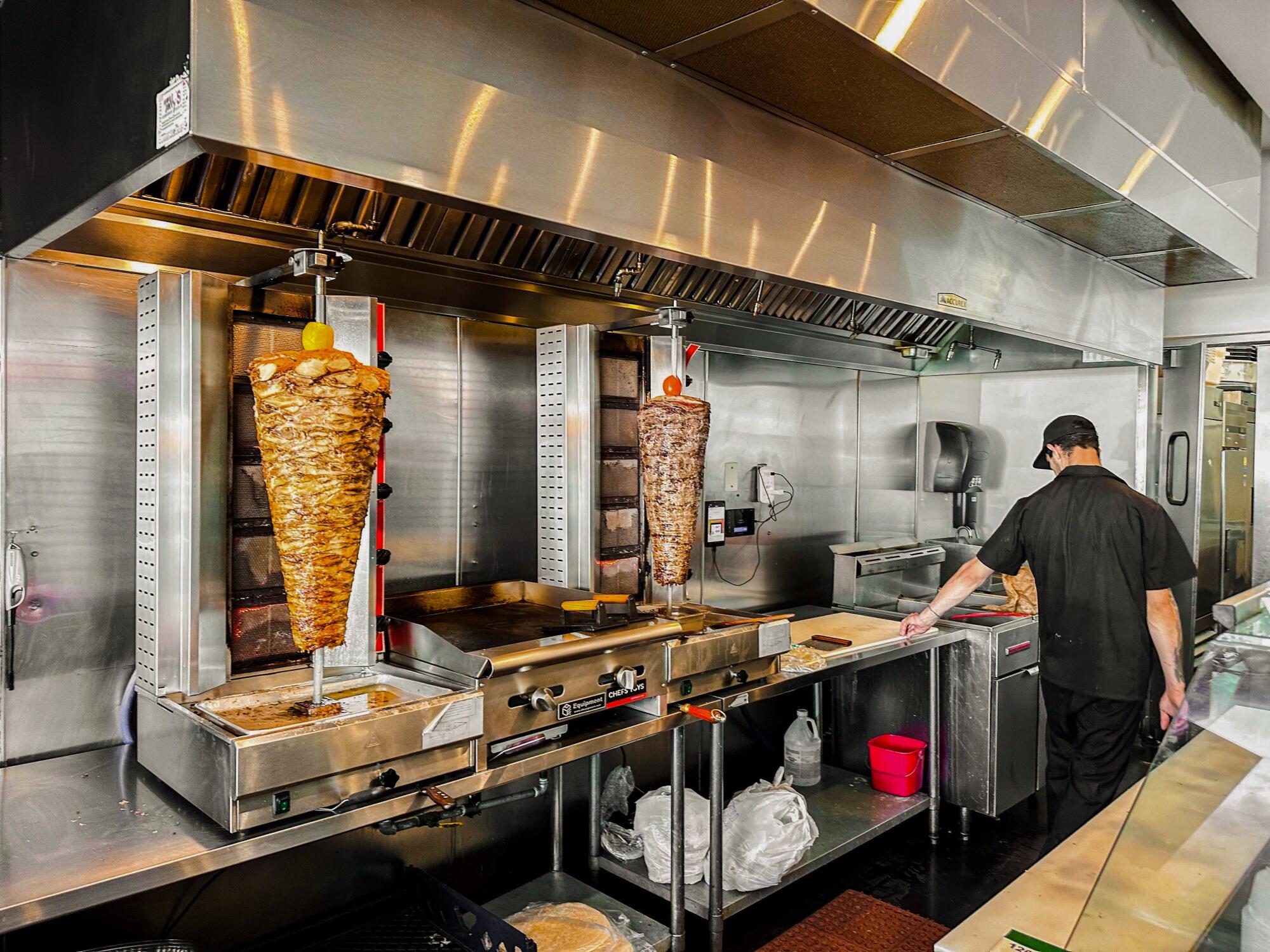 Each has its own canon sauce: tahini-based tarator for the lamb and beef, toum (whipped garlic sauce) for the chicken.
Choose between hand-held wraps, or 12- and 24-inch "combo" versions that come with extra pickles and fine-enough fries. The more I eat Kamal's food, the more I suggest starting with the smaller, fundamental sandwich to best appreciate the proportions. Once you calibrate your tastes, you can ask for customizations: Extra toum or tahini or pickles? A handful of fries in your chicken shawarma (a popular addition in Lebanon)? No problem.
For the larger combos, Kamal relies on flour tortillas to fill in for khubz, the papery Levantine flatbread typically used for shawarma cooked on a domed griddle called a saj. Kamal has the equipment for saj bread; he's looking to move Hollywood Shawarma to a sit-down space where he could start making bread on the saj. It would take his recipe to another level altogether.
Sincerely Syria opens for lunch and doesn't close until midnight. Service can seem slow, especially in the mid-stretch of the restaurant's long days. Multiple staffers might be darting behind the counter and it can still take 20 minutes, which feels protracted given the hyper speed at which I've seen cooks slice and roll shawarma in Beirut.
It's fastest when Kamal is around, but, more important, the quality is consistent regardless of his presence. I like the chicken with extra toum, though if I was eating only one (and I can usually down two) I'd go for the juicy, spice-riddled lahme.
Mama's Shawarma
Mother-and-son team Krstein Kantarji and Eyad Kawak came to Southern California to live near family after escaping the ongoing Syrian civil war, fleeing first to Lebanon. Mama's Shawarma began in early 2021 as a food truck, painted with leaping flames, that the pair parked adjacent to the Ralphs supermarket lot in Glendale. True to the imaging, the signature aspect of their chicken shawarma was extra-singed bits for maximum crispness, mingled with softer, well-braised pieces that allowed the lemon and garlic to hum.
In mid-2022 they paused operations before debuting a reboot in April in the Plaza Di Northridge shopping center, in a restaurant space formerly occupied by Kabob Station.
You see the slowly turning spits in the open kitchen right away. Same abiding possibilities: beef paired with tarator, chicken slicked with toum. The core options are the familiar tidy wrap sheathed in papery lavash, or the larger format served sliced with pickles and fries.
I'm partial to the chicken and its pleasing gradations of crackling and yielding textures. Sometimes the beef can run a little dry, and I miss the richness that the inclusion of lamb brings. On the plus side, batons of pickled turnips, dyed fuchsia from beet juice, that set off satisfying acidic sparks.
All in all, it's excellent to find Kantarji and Kawak's centerpiece dishes in a more permanent location.
Their Northridge menu covers plenty of additional ground: appetizers such as hummus and baba ghanoush, falafel, individual kebabs, tabouleh and other salads, cheeseburgers and sandwiches made gyro-style glossed with tzatziki. I'd direct you chiefly to the Syrian falafel, formed using a mold that punches a hole in the center of each ball; it looks like a cross between Indian vada and a small, extremely puffy doughnut. It's forthright with garlic and crunch.
A dish called touskieh on the menu turns out to be an alternate name for fatteh hummus, a deeply sustaining breakfast staple of chickpeas, crisped bread and pine nuts sauteed in butter. When I tried to order it Kantarji mentioned that, though it's listed, few people ask for it so she doesn't often end up prepping the dish. I'd drive from the center of Los Angeles to start a weekend day when she does.
Otherwise, I'm coming for shawarma.
Sincerely Syria  
14518 Ventura Blvd, Sherman Oaks, (818) 464-0126, instagram.com/sincerely_syria

Prices: Shawarma wraps $7.99-$8.99, larger combo plates $14.99-$25.99

Details: Open daily 11 a.m.-midnight. No alcohol. Street parking.

Recommended dishes: With a very short menu, it's all about shawarma.



Mama's Shawarma
19500 Plummer St., Northridge, (818) 818-6063, instagram.com/mamas.shawarma

Prices: Shawarma wraps $10.99-$13.99, large shawarma plates $16.99-$29.99. Appetizers and salads $4.99-$12.99. Kebab and falafel plates $11.99-$29.99.

Details: Open daily 10 a.m.-11 a.m. No alcohol. Lot parking.

Recommended dishes: chicken shawarma, falafel, tabbouleh.
Get our L.A. Goes Out newsletter, with the week's best events, to help you explore and experience our city.
You may occasionally receive promotional content from the Los Angeles Times.