Orangetheory Fitness aims to push exercisers into the zone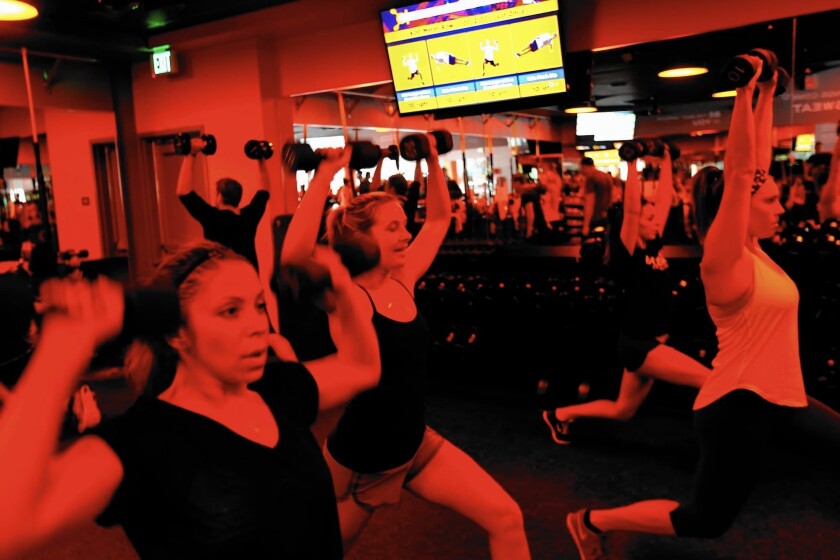 The Orangetheory Fitness studio is — as you won't be surprised to learn — decorated orange. But the name applies to the high-tech workout system the chain of studios uses. During class, each student wears a heart monitor and has a spot on a screen indicating how intense the workout is; of the five zones of intensity, you're aiming for orange (75% of your maximum) and perhaps a little red (85%) for at least 12 minutes of the hour interval workout combining cardiovascular and strength training.
The orange zone, studio owner Jim Cahlin says, is about like a good running pace.
The interval training class is well choreographed: Students work out on either a rowing machine or a treadmill with the teacher, Alli Forsythe for my class, calling out the levels of work to aim for, or with weights and suspension bands. After a time, everyone switches, a much-appreciated break. Somehow, Forsythe kept everything in mind: correcting postures for people lifting weights, encouraging newcomers, nudging others.
1431 2nd St., Santa Monica, orangetheorysm.com
Aura
Cahlin had assured me that the screen, with everyone's names and numbers, didn't lead to competition. "It's you against you in this class," he says. And he is right: It's just too much to try to figure out anyone else's accomplishments or failures. Which isn't to say I wouldn't be up for that if my husband was in class with me.
Effort
I've been a jogger for many years, so the treadmill wasn't too hard. But the rowing machine was a killer, and the weights were tough. Overall, I worked really hard and felt it. At the end, I had 16 minutes in the orange and red zones — I'll admit to a competitive spirit. The summary numbers get emailed to students after class.
Style
The hour goes by very fast, thanks to the three stations — rotated through twice — plus the stretching at the end. It also occupied my mind to watch my workout on the screen, even if I'm not convinced by how many calories it said I burned. (Those numbers always send me to the nearest ice cream shop — not a good idea.)
Cost
Memberships range from $79 to $189 per month, the latter for unlimited classes. A single class is $30. There are showers. There's 90 minutes of free parking in the adjacent city structure.
Please let me know if you love your fitness class and think we should try it. Email me or message me on Twitter @mmacvean

ALSO:
At New Paws on the Block, fitness classes let dog and owner work out together
At Rise Nation class, 30 hardcore minutes of up, up, up
Yoga Blend studio aims for a community-minded, noncompetitive spirit
---