Investigators focus on what makes Dorner tick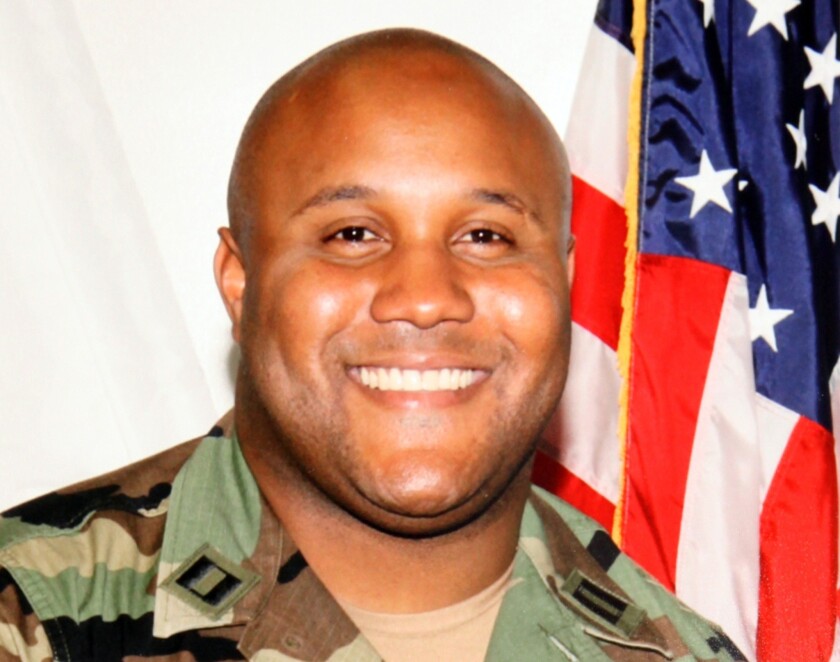 In the search for accused killer Christopher Dorner, police are poring over clues to answer another perplexing question: Is Dorner a methodical, well-trained professional? Or is he a panicked amateur in over his head?
Answering that question, authorities say, will help them make key decisions as the manhunt enters its sixth day.
"What makes him tick? We just don't know," said Lt. Andy Neiman, a Los Angeles Police Department spokesman.
Dorner, 33, is suspected of killing three people as he sought revenge for being fired from the LAPD. In an online manifesto police attributed to him, Dorner vowed to continue killing.
In the first days of the search, investigators consulted with criminal profilers from the FBI in an effort to understand how he might be thinking, said multiple sources familiar with the investigation who requested anonymity because they were not authorized to discuss the case.
Since then, the sources said, other consultants with expertise predicting criminal behavior and fugitive pursuits have been brought in as well. The group of experts includes a software engineer from the technology company the LAPD recently hired to build a computer system for analyzing crime data. The engineer, a source said, was advising authorities on how to sift through the 800 tips that have poured in from the public since a $1-million reward was announced Sunday.
Dorner's movements since the first killings on Feb. 3, in which the daughter of a retired LAPD official involved in Dorner's termination case and her fiance were shot in Irvine, have complicated attempts to understand him.
Days later, he traveled to the San Diego area, where police say he attempted to steal a boat but had to abandon the plan when the boat's propeller became tangled with a dock rope. His wallet and some other belongings were later found nearby. In court records filed last week, officials said they suspect Dorner was attempting to use the boat to flee to Mexico.
Hours later, he allegedly shot at LAPD officers guarding the Corona home of one of his suspected targets. Shortly after that, police say he killed a Riverside officer and wounded another in an ambush. Then Dorner's pickup truck was found engulfed in flames in a heavily wooded area near Big Bear Lake. Officers swarmed the area. With no definitive sightings since, authorities continue to focus their search in Big Bear.
Officials have been uncertain how to interpret Dorner's actions.
Why was his wallet left behind? Was the plan to steal the boat thought out or an impulsive move? Was his truck abandoned as a ruse to throw them off his trail?
The truck, which had a broken axle and remnants of multiple weapons inside, could have been damaged in an accident, some authorities surmise.
It was ditched near the house of a relative of a known Dorner "associate," according to court records.
With temperatures below freezing at night in the area and a heavy snowfall, police wonder whether Dorner had the skills to escape or even survive.
"We could be chasing a ghost and won't know it for months until the snow melts," one top LAPD official said.
Dr. Mary Ellen O'Toole, a former FBI profiler not involved in the Dorner case, said it would be increasingly difficult for a fugitive in Dorner's position to avoid capture. "It's not likely that he could have accounted for every contingency that happened," she said.
"The weather, the size of the manhunt, how quickly they got up there ... all of those are variables. Did he really anticipate and plan for all of those?"
The chances that Dorner will slip up, she said, will rise as the stress of being the target of a manhunt takes its toll.
"Mentally, he's never been in this position before, where he is now the hunted. He's more likely to make mistakes, and when offenders make mistakes, that is a benefit for law enforcement."
In the manifesto, Dorner is described as having a mastery of firearms and the skills to evade police as he targets more victims, regardless of how many are looking for him. "I know your TTP's," the statement said, referring to techniques, tactics and procedures. "I will mitigate all risks, threats and hazards. I assure you that Incident Command Posts will be target rich environments. I will ... destroy, exploit and seize designated targets ... I have nothing to lose. My personal casualty means nothing," the manifesto states.
Authorities, however, question just how strong Dorner's skills are.
Despite his military and police background, police and court documents reveal that his LAPD training officer complained that Dorner was a tactically deficient officer. Regardless of Dorner's true capabilities, LAPD Chief Charlie Beck and others involved in the search have said they have no choice but to take Dorner at his word and assume he is well armed and as dangerous as he claims.
Since the manifesto surfaced, Beck has dispatched LAPD officers to protect more than 50 people thought to be possible targets of Dorner.
The effort has been an "incredible burden on our resources," he said.
Some of the suspected targets have gone into hiding, sources said.
The call that one received Wednesday evening reflected how seriously Dorner was being taken. "Where are you?" the officer was asked by police. "Where is your family?"
The veteran officer asked what the call was about.
"Listen to me and listen closely," the caller said. "There's been a threat made against you. You are not safe. Your family is not safe."
Half an hour later, officers arrived at the threatened officer's home and set up a security detail. Officers armed with semiautomatic rifles stood guard and escorted the officer and his family on outings.
joel.rubin@latimes.com
andrew.blankstein@latimes.com
kate.mather@latimes.com
---