Chino Hills 7-Eleven still waiting for its Powerball winner to come forward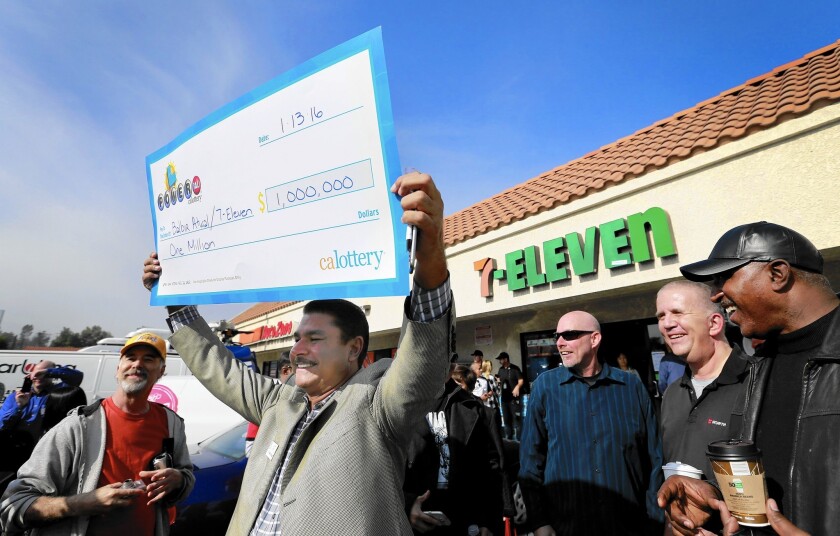 The Chino Hills 7-Eleven buzzed with the excitement of a party Thursday morning.
Customers snapped selfies and sipped Slurpees and employees offered free pizza to the crowd. Store owner Balbir Atwal smiled ear-to-ear, carrying around an oversized prop check for $1 million, the business' take for selling one of the three tickets that won the $1.5-billion Powerball jackpot.
But the person (or persons) with the biggest reason to celebrate remained a mystery.
"We're waiting for the big jackpot winner," said California Lottery spokesman Russ Lopez. "We could be waiting a long time."
Jackpot winners have up to a year to claim their prize. Once they do, they're likely to find that they face an entirely new life, one with incredible opportunities and, perhaps, unimagined pitfalls.
On Thursday, amid the celebrations, lottery officials warned the winner to ready himself or herself for the changes to come.
"Just do what you need to do to be prepared," Lopez said. "People are going to come to you for money, and how are you going to develop a strategy to deal with that?"
Even split three ways, with winners in Florida and Tennessee, Wednesday's winner is poised be the largest lottery prize winner ever in California, with a $528-million payout before taxes.
"It's not like taking your paycheck to the bank," said California Lottery spokesman Alex Traverso.
Horror stories about sudden millionaires who lost it all, declared bankruptcy or saw their families torn apart are easy to come by.
People who win such large amounts often have a hard time keeping perspective, said Don McNay, a Kentucky-based financial consultant who specializes in helping people who have come into sudden money.
"I hope they do things smart," he said. "What I tell people to do is keep your circle very, very small. Don't be buying brand-new cars for all your friends. Don't take a hundred people to the Super Bowl."
Lottery officials encouraged the winner to download its "Winner's Handbook."
Among the first pieces of advice in that 14-page pamphlet: "Consider changing your cell and home phone numbers." Another piece: "Spending fast and furious will only leave you fast and furiously broke."
Winners' names are public record in California and most other states. And the stories of those who struggle after their wins are often well-publicized.
Jack Whittaker, a West Virginia sewage treatment contractor, was already a millionaire when he won $315 million in the 2002 Christmas Day Powerball at age 55.
About eight months later, while he was drinking at a strip club, $545,000 was stolen from a briefcase in his SUV.
Within two years, Whittaker lost a granddaughter to a drug overdose that he blamed on the money, ABC News reported. In 2009, his daughter was found dead. Whittaker and his wife divorced. He blamed it all on the lottery.
"I wish I'd torn that ticket up," Whittaker told ABC.
Lottery officials don't track what happens to winners, Traverso said. But, he added, it's likely that negative stories get much more attention than successful ones.
When winners arrive at lottery offices to claim their prizes, he said, officials try their best to talk with them and offer advice. The winner's pamphlet also offers tips on hiring accountants, attorneys and financial planners.
At the 7-Eleven on Thursday, stories of loss were far from the minds of those who gathered to celebrate. A sign that read "Millionaire Made Here" had been hung behind the register.
Cashier Rea Paras said people had been buying lottery tickets all morning.
See more of our top stories on Facebook >>
"It's just crazy," she said. "They say, 'This is the lucky store.'"
Chino Hills Mayor Art Bennett swirled among the crowd.
"I'm just here sharing the story of how proud and thrilled we are that this happened in our community," he said.
Councilman Peter Rogers, who joined Bennett at the store midmorning, predicted the 7-Eleven would become "a destination."
Customer Rita Doerner, 75, came from her home in nearby Chino to buy a Powerball ticket.
"I told my husband ... I gotta go see if I can buy a ticket," she said. "I just think it's great. Especially because it's Chino Hills, not Beverly Hills or L.A. But right here in our backyard."
She held her newly purchased ticket in her hand. If she wins, Doerner said, she'd give most of the money to a children's hospital.
"At 75, there's not really much you need," she said.
Twitter: @palomaesquivel
Twitter: @haileybranson
MORE ON POWERBALL
Chino Hills has a Powerball winner. What happens next?
Lottery won't be a big win for California schools; never has, never will
Powerball: What sports teams could you buy with your winnings?
---
Get breaking news, investigations, analysis and more signature journalism from the Los Angeles Times in your inbox.
You may occasionally receive promotional content from the Los Angeles Times.