Obamacare repeal would also affect your employer health insurance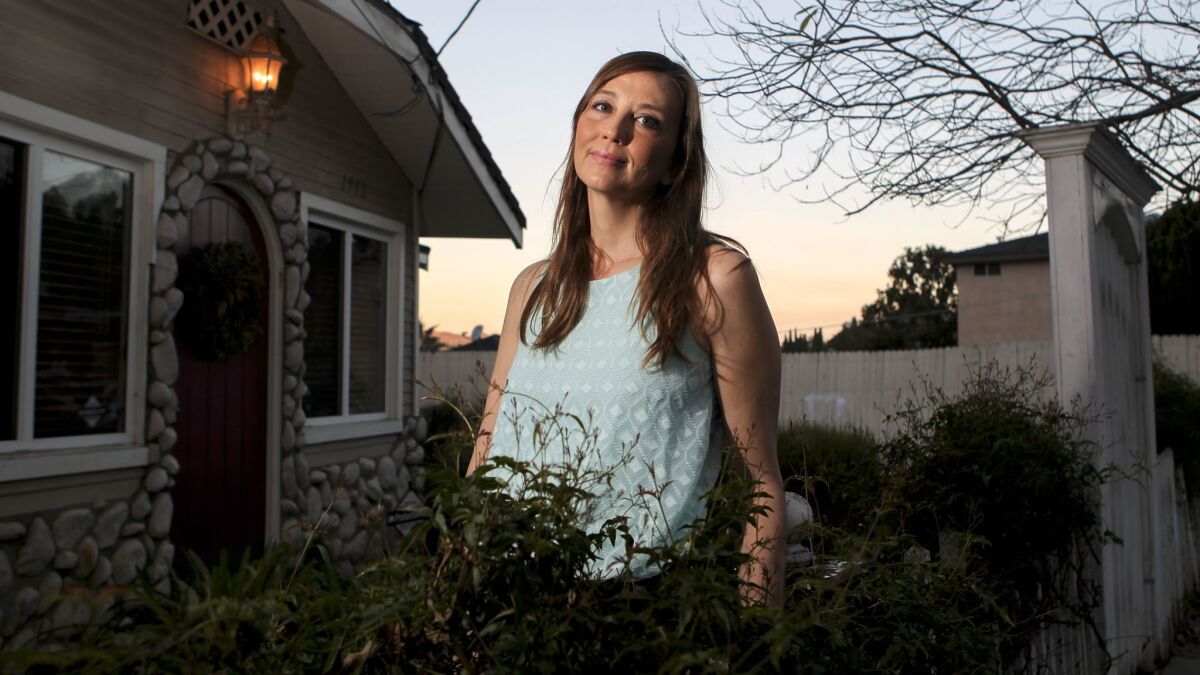 Stephanie Blythe isn't due to give birth until April, but she already ordered a breast pump through her insurance company because she's worried about the future of the Affordable Care Act.
"Once I have it, they can't take it away from me," said Blythe, 31.

For the record:
10:57 p.m. May 29, 2023
An earlier version of this article said repealing the Affordable Care Act would require a two-thirds majority in the Senate. It would require 60 votes in the Senate.
About 5 million Californians gained health coverage because of Obamacare, either through Medi-Cal, the state's low-income health program, or the insurance exchange Covered California. But beyond that, more than 10 million Californians like Blythe who have insurance through their employers also received new benefits under the Affordable Care Act.
The law mandates that insured Americans don't have to pay out-of-pocket for certain healthcare services and supplies, including breast pumps. With repeal of Obamacare now on the table, people like Blythe are rushing to take advantage of the more than 50 fully covered services, including mammograms, flu shots, colonoscopies and birth control.
Full coverage for "all those things could go away," said Alina Salganicoff, vice president and director of women's health policy at the Kaiser Family Foundation. "It affects everybody … it's not just the people who've gotten coverage, it's everyone with private insurance."
Blythe, who lives in Visalia, said she saved a few hundred dollars by not having to buy her own breast pump. Pregnant women also get folic acid supplements as well as screenings for anemia, diabetes, alcohol abuse and STDs with no cost-sharing under the law.
"If I want to continue breast feeding I'm going to have to pump and do that at work," Blythe said. "If it's something the ACA covers for you, then why not take advantage of it?"
Obamacare also allows parents to keep their children on their health plans until they turn 26, a provision Trump has said he wants to preserve. It also bars insurance companies from denying coverage to people with pre-existing medical conditions and from instituting annual or lifetime coverage limits.
The ban on spending caps has been a relief for Heather Keller, an actress who lives in Mount Washington. She was diagnosed with breast cancer just over a year ago, and her treatments have cost hundreds of thousands of dollars.
She thinks she wouldn't be able to continue her immunotherapy treatments without the Affordable Care Act. "I don't know how much it would cost us or if they would just drop me," she said. "It's scary."
Nicole Evans, a spokeswoman for the California Assn. of Health Plans, said that if there are changes to the national law, health plans are locked in for a year, so a 2017 plan contract can't be altered before the end of the year.
Repealing the whole law would require 60 votes in the Senate, which the GOP would be unlikely to secure. They're instead trying to push through a partial reversal using a budgeting process, which experts say wouldn't affect the provisions that apply to employer-sponsored insurance.
But some of those regulations are likely to eventually become a target, especially as lawmakers look for ways to trim the cost of health plans. Rep. Mark Meadows (R-N.C.), chairman of the House Freedom Caucus, included the preventive services rule in a list of regulations Trump should roll back in his first 100 days.
When the Affordable Care Act was passed in 2010, the Obama administration argued that no deductibles or co-pays for some immunizations and screenings would lead to a healthier population and lower healthcare costs over time.
But critics say forcing insurance companies to include these benefits makes health plans unnecessarily expensive.
Bob Moffit, a senior fellow at the conservative Heritage Foundation, said that when insurance companies are forced to absorb the full price of these services, the cost just gets pushed into people's premiums, making them unaffordable for many. He said he hopes Trump approves changes to Obamacare that would give insurers and consumers more flexibility.
"There's nothing free about preventative services," Moffit said.
The insurance company regulations don't apply to health plans that were in effect in early 2010 when the Affordable Care Act was signed into law; about 23% of workers had coverage through a so-called "grandfathered" plan last year, according to the Kaiser Family Foundation.
Jace Shoemaker-Galloway, 58, plans to schedule a mammogram and a well-woman visit within the next few weeks in case of any serious changes to Obamacare. She takes preventive care seriously after a colonoscopy in 2012 turned up a precancerous growth, she said. Colonoscopies, which can cost upwards of $1,000, are also one of the health services covered under the ACA with no cost-sharing.
"That colonoscopy that I had I think really saved my life," said Shoemaker-Galloway, who receives insurance through her employer, Western Illinois University in Macomb, Ill.
Experts say well-woman visits, breast pumps and contraception are in particular danger because they're on a list of covered preventive services that apply only to women and could be undone without a congressional vote.
The list needs to be adopted by an agency within the U.S. Department of Health and Human Services, and under Trump's administration the agency "could refuse to adopt the recommendations, pull down the guidelines from its website, or take other action," said Janel George, director of federal reproductive rights and health with the National Women's Law Center.
Experts say it could very well come under fire because contraception coverage has been a particularly contentious part of the law, with the federal government being sued twice by faith-based organizations which said they shouldn't have to pay for birth control.
"People who are morally opposed to birth control and abortions are forced to pay for it," either as taxpayers or employers, Moffit said. "That's not the rhetoric of freedom."
George said the undoing of the preventive services mandate could harm women's access to healthcare and their finances.
"This came about because women were disproportionately bearing the burden of these healthcare costs," George said.
She pointed to one study that found that women with private insurance who took birth control pills in the U.S. saved $1.4 billion alone in 2013, the first year plans began covering contraception with no cost-sharing.
"You have repeal of this provision, then women could be faced with a lot of these high out-of-pocket costs," she said.
soumya.karlamangla@latimes.com
Twitter: @skarlamangla
ALSO
Healthcare insurance hell: If at first your claim is denied, try, try again
Trump's Health secretary pick fought to limit coverage in one of America's neediest states
How to fight back when an insurer denies your healthcare claim
The stories shaping California
Get up to speed with our Essential California newsletter, sent six days a week.
You may occasionally receive promotional content from the Los Angeles Times.