L.A. Unified magnets accepted less than half of applicants this year
Magnet schools in the Los Angeles Unified School District accepted fewer than half of students who applied for the 2016-17 school year.
The district received about 44,000 applications to attend magnets, which are themed schools that are open to all students, regardless of where they live. Magnets are among the only schools for which the district provides transportation, because they were created as a way to help desegregate the district.
The numbers come as L.A. Unified tries to keep students in traditional public schools and stem decreasing enrollment. The high interest in magnets shows that those types of schools could be a way to bring students back, school board member Richard Vladovic says. Many students have left the district for independent charter schools, which are publicly funded but can be privately run.
The district might be losing students who get waitlisted to charter schools or other districts, said Vladovic. "I'm absolutely convinced there is a flight of children," Vladovic said at a budget committee meeting Tuesday.
Currently, about 101,000 students attend independent charters in L.A. Unified, and around 542,400 attend traditional schools and affiliated charters. And there's an effort by advocates and philanthropists to pull half of L.A. Unified students into charters in the next eight years.
Because the demand is so much higher than the number of spots available, students gain admission to magnets through an intricate lottery system. Students can earn points for every year they apply to a magnet school and get rejected, and they get points for already attending a magnet school. For example, when applying for a middle school magnet, you get points for finishing fifth grade at an elementary magnet.
Some of the most in-demand schools get thousands of applications every year.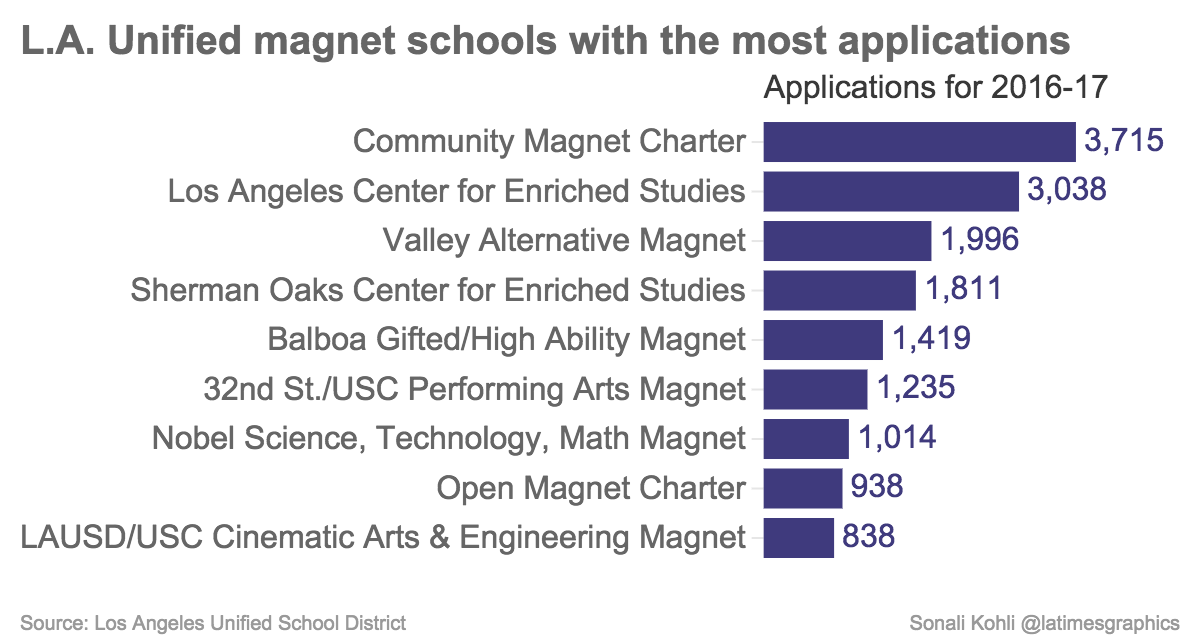 Not all the parents applying want their children to attend the following year—at least some apply to the most popular schools every year expecting to get wait listed, but that allows them to rack up points that will count in their favor when they apply to the school they want.
Schools receive funding on a per-pupil basis, so losing students to independent charters means losing thousands of dollars per student.
Expanding magnets might be a way to keep those students in L.A. Unified schools, Vladovic says. Students on magnet wait lists are "the most vulnerable to leave the district" because they're looking for options other than their neighborhood schools, he said in an interview after the Tuesday budget meeting.
The district did not immediately provide data on how many students who are rejected from magnets attend an L.A. Unified school the following year and how many leave the district. The Times has submitted a public records request for that information.
Magnet schools that share their campuses with neighborhood schools could use extra classrooms to whittle down their wait lists, Vladovic said.
"This isn't going to grow enrollment," Vladovic said. "It's going to stop the decline."
The district already expands magnets wherever there is room and demand, said Keith Abrahams, the head of student integration services. There are 146 magnets that share campuses, and 52 with their own campuses.
Some of the most popular magnet schools, though, don't have room to expand.
"We try to open up as many seats as possible every year," Abrahams said. "Our most oversubscribed magnets are full, dedicated magnets."
This fall, 16 new magnet programs will open with about 5,800 seats, and 14 schools will expand by one to three teachers, adding 515 spots.
The Academy for Enriched Sciences recently moved from sharing a campus with another elementary school in Woodland Hills to its own space in Encino, said Amy Petry, the school's magnet coordinator.
For 2016-17, the school, which opened in 2010, will add two kindergarten classes, Petry said.
"The reason we did expand is because parents were asking us," Petry said. "They were the ones kind of driving the decision."
Reach Sonali Kohli at Sonali.Kohli@latimes.com or on Twitter @Sonali_Kohli.
---
The stories shaping California
Get up to speed with our Essential California newsletter, sent six days a week.
You may occasionally receive promotional content from the Los Angeles Times.