The country's second-biggest school district has a new superintendent. But what does she even do?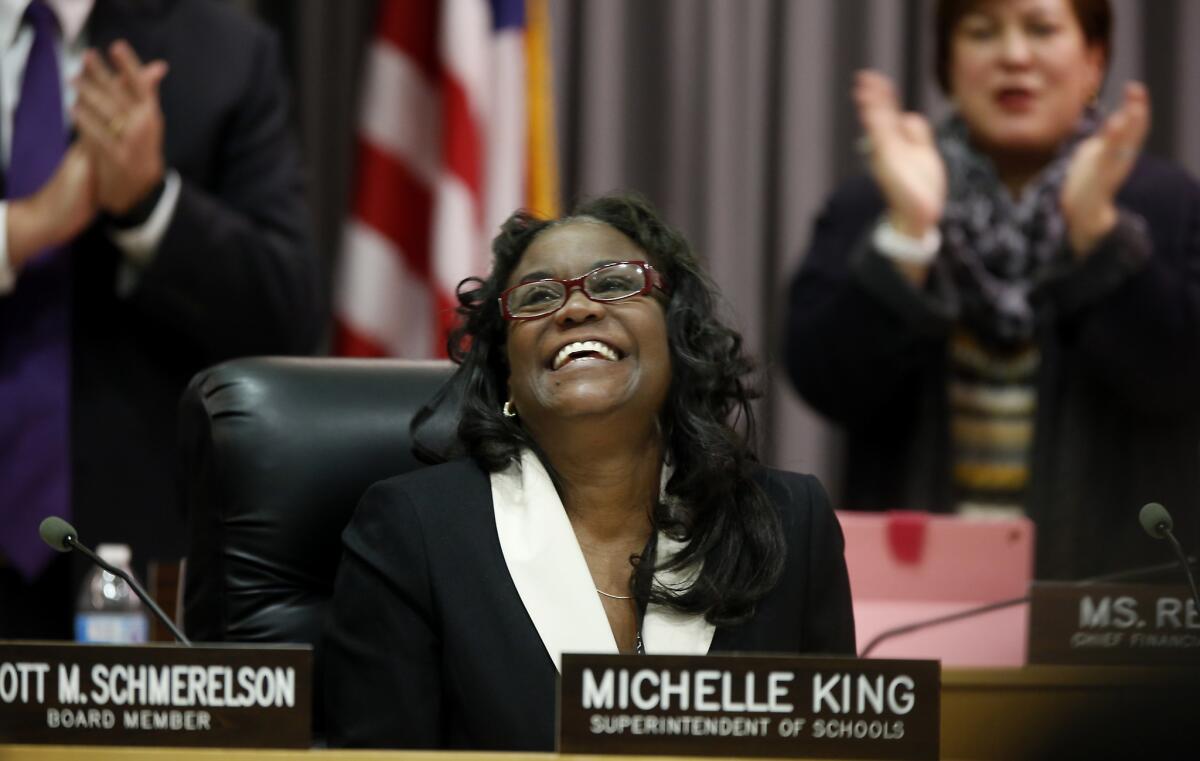 If your child attends a public school, you might find yourself asking questions. Who is in charge of making sure the principal is good? Who controls contracts with food vendors so that your kids have healthy lunches? Who is responsible for acquiring textbooks? Who sets the tone on what teachers should be doing?
The answer is the superintendent.
In the L.A. Unified School District, the Board of Education recently approved Michelle King, a career educator who has worked at L.A. Unified for more than three decades, to take on that role. Here's a primer on her job and why it matters to you:
Why should I care about this superintendent person, anyway?
Because she controls almost everything about the world your child inhabits between the hours of 7 a.m. and 3 p.m. (or more or less, depending on your kid). And if you're not a parent, she controls a budget of $7.08 billion in taxpayer dollars.
Think of the superintendent as the CEO of all the city's schools. The Board of Education is then the board of directors. The board decides what needs to happen in schools, and its members hire a superintendent to execute their plans.
The superintendent is in charge of the day-to-day operations of a school district, including curriculum, classroom supplies, hiring teachers and administrators, and coordinating with nonprofits that provide help outside of school. Most of the superintendent's decisions must be approved by the Board of Education.
And it's not just your child who is affected. L.A. Unified is the second-largest school district in the country.
How does the superintendent interact with my school?
The L.A. Unified superintendent is in charge of an organization that caters to a population that has more people than the state of Vermont, or about 732,800 students, including independent charters and adult education.
In a large district such as L.A. Unified, deputies implement programs in most areas. The superintendent will conduct school visits -- particularly this week, as King tours the district as its new leader.
But she oversees about 60,000 employees, so much of her influence will be felt from above.
It's hard to delineate precisely which decisions come from the board and which come from the superintendent, but this example might help: Although it might be the board's initiative to improve graduation rates or reading proficiency, it is the superintendent who proposes and garners support for a plan to achieve those goals, such as former Superintendent John Deasy's program to provide each student with an iPad.
The superintendent is also the face of the district, so it's her job to make sure her staff, students and parents understand what the district wants for the children it serves.
How much of a say do I have in the choice of superintendent?
The seven members of the L.A. Unified Board of Education are responsible for hiring the superintendent. You vote for them. Sometimes they do this without public input. For example, Deasy was hired without outside help. The board has also brought in Ramon C. Cortines as an interim superintendent without consulting outside parties.
For the latest search, though, the district launched a public campaign, asking community members to come to forums and fill out online surveys to discuss what they want to see in the next superintendent. About 1,600 people attended the interviews or focus groups, and about 9,500 responded to the survey.
How do I know if the board selected a good superintendent?
That depends on whom you ask and when you're asking. Depending on the schools' challenges at any given time, the board might be looking for an insider or an outsider. In choosing King, school board members noted that she's been in the district more than 30 years, as a student, teacher, principal, deputy superintendent and parent.
Some teachers said they liked that King had been a teacher herself, because that means she has a deeper understanding of the challenges they face in the classroom than a someone coming from the outside.
The search committee also relied on the results of the survey and interviews they conducted.
How do I tell the superintendent what I need?
For L.A. Unified, King's email address is michelle.king@lausd.net. Parents can also attend school board meetings, which the superintendent often attends.
How much is the superintendent paid?
Michelle King earns a salary of $350,000, plus health and welfare benefits. She also has access to a district car and driver. The district will pay for her security, if necessary, as well as business-related travel or meals and expenses to attend local, state, and national meetings.
In urban districts around the U.S., superintendents were paid an average of $242,000 in 2014, according to a survey by the Council of the Great City Schools.
Who pays for the superintendent?
You do. Public school budgets are taxpayer-funded, though they sometimes get relatively small amounts of supplemental donations from foundations and philanthropists.
If the job is to manage the school district, why is so much time spent on politics?
At its core, the job of the superintendent is a management role, because the Board of Education is supposed to provide an overarching vision for the district. However, the board ostensibly hires someone who plans to achieve its goals and who has the savvy to convince the public and community leaders that its plan is a good one.
In turn, the superintendent must be able to work with politicians and community members to support her initiatives. Those can range from persuading voters to issue bonds for school construction projects, or convincing parents that a program is a good idea.
How long does the superintendent stay?
The average tenure of a superintendent in an urban school district is about three years, according to a survey from the Council of Great City Schools. But it varies by district. Cortines was in office a little longer than one year, but he made clear from the outset that he would leave at the end of 2015. Deasy lasted about 3 1/2 years.

Next door at Long Beach Unified School District, meanwhile, Superintendent Chris Steinhauser is in his 14th year as the schools chief. He said the key to lasting a long time is forming good relationships with community members and board members, and having a long-term plan in place that both board members and the superintendent can adhere to.
How do I know if she's doing a good job?
There are no tangible metrics in King's contract. She'll be evaluated annually, and these are the goals she will work toward, according to the contract:
100% graduation rate (the district's is currently about 70%)
"Proficiency for all students"
100% attendance rate
"Engaged parents and families"
"Safety of schools as well as other job performance factors," such as enrollment, the district's budget and the district's financial health
How do you think the superintendent should be rated? Join the conversation on Twitter @LATEducation.
Reach Sonali Kohli on Twitter @Sonali_Kohli or by email at Sonali.Kohli@latimes.com.
Sign up for Essential California for news, features and recommendations from the L.A. Times and beyond in your inbox six days a week.
You may occasionally receive promotional content from the Los Angeles Times.